2015 Bundeschampionate Qualifier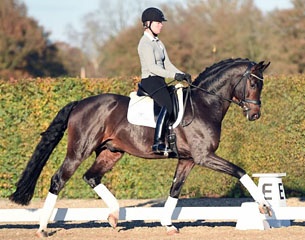 The 5-year old Filius Bonacci H and the 6-year old For Romance won the Bundeschampionate qualification classes held at the regional shows at the Anakenenhof in Hamburg, Germany, on 3 - 7 June 2015. The entire event was dedicated to the warm up and qualification classes for the Bundeschampionate and thirty-three horses lined up to contest the L and M level dressage horse tests.
The 5-year old dressage horse qualifier was judged by Horst Eulich, Ralph Schmidt and Wolfgang Schierloh. Tanja Sauerwald and Wilhelm Huske's Westfalian stallion Filions Bonacci H (by Filius Bedo x Rubinstein) won the class with a 7.8, a score that does not suffice for a ticket to Warendorf. The bay stallion got 7.5 for trot and walk, 8.5 for canter, 7.5 for submission and 8 for general impression. Steffen Frahm and the state stud Dillenburg owned Ben Kingsley (by Benetton dream x Londonderry) finished second with 7.6. The liver chestnut staiion got 8 for trot, 7.5 for walk, canter, submission and general impression.
The 6-year old division was judged by Eulich, Schierloh, and Peters Olsson. Professional dressage rider Kira Wulferding aced the class aboard Lodbergen's Oldenburg licensing champion For Romance (by Furst Romancier x Sir Donnerhall). The pair scored a total of 8.1, receiving 8.5 for trot, 7.5 for walk, 8 for canter and submission and 8.5 for general impression. Kathrin Sudholter and the Hanoverian stallion Desario (by Dimaggio x Pik Pavarotti) were the runners-up with 7.8. They got 8 for trot and canter, 8.5 for walk, 7 for submission and 7.5 for general impression. Sudholter tied in second place with Wulferding on the Oldenburg mare Soiree d'Amour (by San Amour x Latimer) who got 9 for trot, 7.5 for walk and canter, 7 for submission and 8 for general impression.
Photo © Tanja Becker
Results - 2015 Bundeschampionate Qualifier - Anakenenhof
5-year olds
1. Filius Bonacci H (by Filius Bedo x Rubinstein) - Sauerwald,Tanja  - 7.80  
2. Ben Kingsley (by Benetton Dream x Londonderry) - Frahm,Steffen  - 7.60   
3. Best Dream HR (by Benetton Dream x Stedinger) - Bammel,Manuel  -  7.50
4. Superior (by Sancisco x Velten Third) - Fischer,Lukas  - 7.40 
5. Shamwari Debonair (by De Niro x Show Star) - Pape,Susan  - 7.30  
5. Bespoke (by Belissimo M x Lauries Crusador xx) - Pohlmeier,Anne-Kathrin  - 7.30  
7. Daimler (by  Dancier x Rotspon) - Finger,Annemarie  -  7.10   
8. Solo Dancer (by Sir Donnerhall x Feiner Stern) - Wolf,Friederike  - 7.00   
8. Exclusiv D (by Edward x Donnerschwee) - Weikum,Jonas  - 7.00   
8. Royal Rose M (by Royal Classic x Weltmeyer) - Pohlmeier,Anne-Kathrin  - 7.00   
8. Belrose (by Belissimo M x Florestan) - Droege,Hedda  - 7.00   
12. Erinnerung (by Axis x Benz) - Bendfeldt ,Madeleine  - 6.90   
12. Lando  (by Londontime x Florencio) - Blanken,Stefan  -  6.90   
12. Dahlhoff (by De Niro x Fürst Piccolo) - Sauerwald,Tanja  -  6.90   
15. Sanchero (by San Amour x Bonheur) - Husenbeth,Nadine  - 6.80   
15. Decamaro (by Diamond Hit x Belissimo M) - Maruhn,Esther  - 6.80   
17. Forever Love (by ) - Samyn,Anemone     -  6.60   
18. Baroness Bonifatia (by Bonifatius x Fishermans Friend) - Ulbrich,Marieanne  - 6.30   
18. Formotion (by Fürst Nymphenburg I x Sao Paulo) - Werner,Iris  - 6.30   
20. Fior da Lisa (by Fürst Romancier x Hochadel) - Senkel,Andrea  - 6.10   
Berlusconi (by Belissimo M x Rotspon) - Koecher,Vivien - RET/DNS 
6-year olds
1. For Romance (by Fürst Romancier x Sir Donnerhall) - Wulferding,Kira  - 8.10
2. Desario (by Dimaggio x Pik Pavarotti) - Sudhölter,Kathrin  - 7.80
2. Soiree d' Amour OLD (by San Amour x Latimer) - Wulferding,Kira  - 7.80
4. Dujardin H.B. (by Dancier x Connery) - Lübbecke,Jolan  -7.70 
4. Fortuna  (by Fidertanz x De Niro) - Oberdieck,Sabine  - 7.70
6. Federer (by Fineliner x Longchamp) - Frieling,Sandra  - 7.60   
7. BG Schwarzgold (by Imperio x Consul) - Böhnke,Sascha  -  7.50   
8. Ernesto  (by Ehrenwort x Florestan) - Droege,Hedda  -  7.40   
9. Firewall (by Fürst Nymphenburg I x Carbid) - Andresen,Freia  -  7.00   
10. Fantastic Lady (by Florencio x Sandro Hit) - Küppers,Sinja  -  6.90   
11. Fuchsberger  (by Fidertanz x Sandro Hit) - Samyn,Anemone     -   6.70   
12. Shirin's Diva (by Imperio x Ravel) - Tewes,Wenke  - 5.80
Related Link
Eurodressage Coverage of the 2015 Bundeschampionate