American Dressage News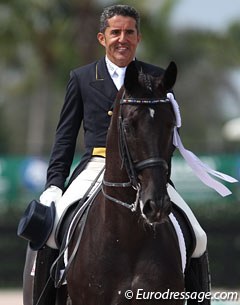 American Grand Prix rider, Olympian and U.S. Pan Am team gold medalist Cesar Parra has been cleared by the Hunterdon County Superior Court jury of charges of cruelty to a horse. The civil court jury voted unanimously 8-0 to dismiss the case against Cesar Parra.
"This is such a big relief," Parra told Eurodressage. "The whole situation is sad. Never would I want to have a horse get hurt.  I knew the truth, but was advised not to comment on anything through the years, even when horrible untrue things were being said about me, so that was frustrating. To have a unanimous verdict of no cause from the jury is a great feeling."
The allegations were brought by Trudy Miranda, who claimed negligence by the trainer. She accused Parra for injuries her horse William PFF sustained when he flipped over backward while being lunged at Parra's Performance Farm in Whitehouse Station, New Jersey, almost six years ago.
"The formal finding of 'no cause' came two days before Cesar's 52nd
birthday and was the first by a jury after four years of legal wrangling over injuries sustained by the chestnut stallion on 6 June 2009.
For Parra the four-year legal battle was a struggle for justice, even more so as personal attacks on social media ensued in its wake during the court case.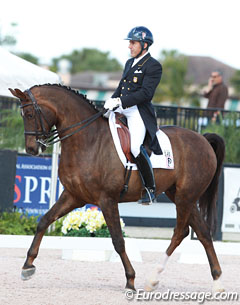 "It was difficult, no doubt about it," Cesar admitted. "They say you find out who your friends are and I really did. However I'm blessed with so many good friends, and ironically I have made many new friends as people from all over the world contacted me with stories of their personal experiences, or essays of support, that really helped. It was great to have the family and team that I have backing me up. They really helped."
Cesar has learnt a few lessons out of this situation and it has definitely changed the way he looks at things. 
"The first big lesson I learnt is that I need to get both sides of a story before making a judgment.  As humans we can be very quick to jump to a conclusion without having the full set of facts.  With this experience I will not be doing that anymore!   A few of my current employees come to observe the trial, so they really can understand how very involved things get once they are in court. I was worried that the big picture might get lost in all the little details. You can't imagine until you live through something like this. In the end you have to believe in yourself and have faith."
Cesar is relieved to put this dark chapter behind him, so he can focus on the positive. With a barn full of great clients and wonderful horses, 2015 is promising to be a good year. Cesar has high hopes for Fashion Designer OLD (by Faustinus x De Niro), which he owns in partnership with Martin Sosnoff. Blickpunkt (by Belissimo M x Fidermark), owned by Cavallias and Eduardo Fischer, has been progressing nicely over the winter season in Florida, and Cesar's new find, the 5-year old Don Cesar (by Desperados x Manhattan), is a world class youngster in the making. He will of course continue to train, improve and compete his number one Grand Prix horse, Dutch warmblood Van the Man (by Obelisk x Landjonker), who he now owns.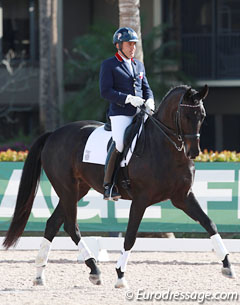 "I am truly happy that my focus can get back to what I really love: my family, my horses and the training," said Cesar. "We have a few fantastic young horses coming up. Fashion Designer OLD has made his first starts in the Developing PSG classes in the U.S. and I am thrilled with him.  Don Cesar is a top horse and we will be preparing them both for the US Developing and Young Horse Championships in August.  Blickpunkt is starting to show off his talent, so I am excited to get back in the ring with him."
The lawsuit has not scared off new investors to partner with Parra on finding, training and selling good horses from Europe. With American O-judge and former U.S. Dressage Team technical advisor Anne Gribbons coaching him and his horses, Cesar believes the future is bright.
"We have started a new, very strong and exciting partnership and with a European family, so we are buying very good horses that will be competing and training back and forth from the U.S.A. to Europe," he stated. "I am very excited about it, we have some big plans already in the works that will be formally announced very soon."
Related Links
Piaffe Performance Farm Team Continues Winning Ways at 2015 Global Dressage Festival
Oldenburgers Fiderhit OLD and Fashion Designer OLD Gear Up for 2014 U.S. Young Horse Championships
Oldenburg Society Bestows OLD Designation on Fiderhit and Fashion Designer
Van the Man and Dr. Cesar Parra to Represent U.S.A at 2014 World Cup Finals
Cesar Parra and Van the Man Clinch Victory in Grand Prix Freestyle at 2013 CDIO Wellington