2015 CDI Barcelona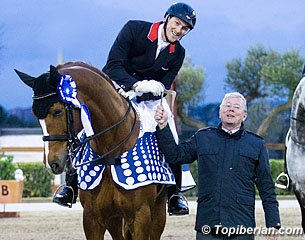 It was a family affair on the first day of competition at the 2015 Barcelona Dressage Tour on Wednesday 18 March 2015. Not only did Michael Eilberg and the gorgeous Woodlander Farouche (by Furst Heinrich x Dimaggio) win the Prix St Georges with 75.684% in a league of their own, but also his sister Maria Eilberg finished third with Royal Concert.
The British brother-sister duo sandwiched Dutch Joyce Leanarts and her lovely Show Boy (by Show Star.Michael and Farouche won the opening test of the Small Tour level and the BCN Dressage Tour was honoured that Eilberg chose their show to present Farouche for the time ever at an international FEI level competition. It was the flowing trot, the nice contact and her amazing balance that charmed the judges. An outstanding flying change at C in between the canter pirouettes and her elastic and ground covering walk were real highlights of the test.
Farouche, who is bred by Lynn Crowden, became the 'Queen of Verden', the World Champion at the Young Horses World Championships, for two years in a row in 2011 and 2012. Rivers of ink ran then, describing her as 'feminine', tall, skinny, under her young rider Michael Eilberg somehow, an almost fragile looking mare. The commentaries of the president of the panel back then, were very positive: the wonderful quality of her gaits, her elasticity and her elegance, her outstanding balance and the beautiful presentation were pointed out.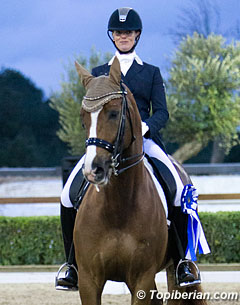 What spectators witnessed in Barcelona was just that happy, balanced and elegant horse, but one could see that the teenager had turned into a young lady. Farouche grew, she looks stronger and more athletic with a lot of muscle tone, matching now the size of her rider, who is a tall young man. He led her with invisible aids through their winning test.
The interesting young rider Michael Eilberg comes out of a real 'horse family' and has stepped into the spotlight last summer in Caen were he was part of Great Britain's silver medal winning team. The Eilbergs don't need a presentation, but for those who might not know, father Ferdi Eilberg has been Michael and Maria's trainer since the beginning.
Farouche's character is lovely and she likes the audience, we were told, and that was clearly felt by the spectators. But boy, she can buck which she proved in the prize giving ceremony! Overall she is a real athlete: very strong, quite massive and with an impressive muscle tone. A super combination on the scene and Michael makes it look that riding her is just a lot of fun! Everyone is looking forward to seem them in the Inter I.
Dutch rider Joyce Lenaerts did it again. She is participating with lots of horses in the BCN Dressage Tour and on Wednesday she rode in several good tests. Show Boy lived up to his name, a very elegant red coated horse with whom she finished in second place in the small tour. The horse has such wide elastic, elegant strides and is a big uphill mover. His strong canter was probably one of the most ground covering one could find in the whole class. Such big movements sometimes are difficult to handle in the walk, and thus their walk pirouettes were today one of their weaker points.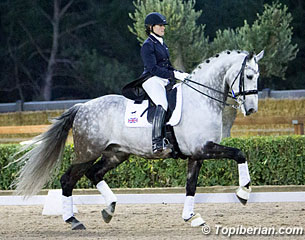 Maria Eilberg and Royal Concert became third. She is a very fine rider, already well known on the circuit as she has represented her country many times. Now she came back with Royal Concert —this dapple grey seems to be a horse with a lot of basic quality. The test was fluent, very correct, no doubt the trot was the highlight, some medium trots and the walk pirouette to the left showed special quality. Spain is welcoming the Eilbergs, and it was a pleasure to see them compete in Barcelona.
The best Spanish Rider was Beatriz Ferrer Salat with her beautiful Edgar Wallace (by Ehrenwort) placed fourth with an average of 70.605%. He is 'home made' for the past 4 years—Beatrice is training and presenting him herself. Also these two debuted in the national and international categories. The couple showed more maturity (as they hadn't been out since 2012) and are a promising combination, so Beatriz was very happy with this first appearance at the level.
So there is no BCN Dressage Tour without excellent top competition! Last year Danish, GB-based Anders Dahl and his amazing Selten HW were the small tour highlights. The organizers would have loved to have had them back!
Day of debuts..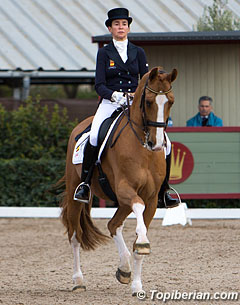 Parallel to the international competition, a CDN2* is taking place with national tests. There were some interesting new combinations on the scene with riders such as Nuria Vila and Annabelle Collins, who became winner and second placed in the 'Classica 1' yesterday, a national transition class open to foreign riders also. The winner is one of the 'Alma maters' of this magnificent Dressage Tour: Nuria Vila with London Pride (by Londonderry x Fisherman), owned by Marta Gonzalez. The dam of this gorgeous mare is Finja, who finished her sports career way too early, leaving her wonderful daughter now to be competed by Nuria. She debuted in this level in February, but her average of 70.691% in BCN is her personal record. Behind her, another one of the pillars of the Dressage Tour, Annabelle Collins with Dimacho BCN (by Johnson x Sandro Hit, have been together for five years. Last year's winning couple in the 6-year old has obtained again good results at their debut and achieved a score of 67.805%.
In the 4 year old class everyone was debuting today. Enrique Brewah,  the professional rider from Can Alzina won the class with Dynamic Dave BCN (71.200%). Second placed in this class went to María Albiñana (from Madrid) who rode Lario de Adama de Susa (by Locksley x Rotspon), a Hanoverarian bred from the Madrid based studfarm Adama de Susa received an 8 for her fantastic walk reaching an overall average of 69.100%.
This first CDI3* had Albany Trustee appointed as the principal sponsor. The town halls of Sabadell and Polinyà, 'Mondepra Piscinas' (swimming pool builders) are other collaborators enjoying this dressage competition. This CDI3* also enjoys sponsoring the Spanish stud Adama da Susa and Liberto.
The event will be streamed Live on www.topiberian.com with comments from Bobby Fernandez de Bobadilla, the former director of Dressage at the Royal Spanish Federation.
For any additional information please go to www.eventos.topiberian.com or www.events-barcelonahorses.com. Scores can be followed in real time on scores.topiberian.com.
Very soon, more to come on BCN Dressage Tour 2015. The Show goes on! This afternoon the highlight will be the Grand Prix for Freestyle from 17.18 pm this afternoon. Don´t miss the show, and tomorrow we´ll come back with more information.
by Katharina Braren - Photos © Top Iberian
Related Links
Scores: 2015 CDI Barcelona
2015 Barcelona Dressage Tour Ready for Kick Off
The 2015 Barcelona Dressage Tour is Around the Corner