2015 CDN Keysoe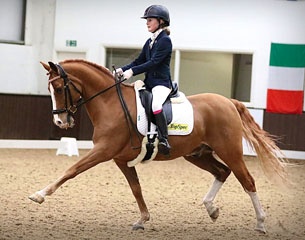 British Young riders from all over the U.K. flocked to Bedfordshire for Keysoe's annual U25s High Profile show on 14 – 15 March 2015. Dressage's brightest young stars took to the stage with their equine counterparts as they battled it out for the top prizes in classes ranging from prelim to U25 Grand Prix at this national show.
At FEI pony level British new comer Holly Kerslake reigned in the Team Championship Test. Aboard the 16-year old German bred Doctor Little (by Devito) she scored 71.28% to top the leader board, edging out Ottilie Bardsley on the 15-year old Dutch bred Dublin (by De Vito II x Evenaar). She placed second with 69.49 and kept India Sheridan on Smart Move at bay (67.82 - 3rd). In the Individual test Bardsley bested the class with 70.92% and in the Kur to Music Sheridan aced the test with 67.50%
At Junior riders' level, Bethany Shipley and her 9-year old KWPN bred Bravoure (by Sandreo) posted a score of 66.89% to claim the team test. She was followed by Lily Latimer Smith on the 13-year old Dutch bred Vazire (by Jazz x Ferro) with 65.00%, who won the individual test with 68.29%. Shipley climbed her way back to the top and took home the trophy in the kur to music with 69.88%.
Young rider Victoria Maw led the pack in the team test aboard Bon Rouge  with 67.89% and referred Amy Bird on the 8-year old Dutch bred Cambel B (by Vivaldo) to second place with 67.63%. Former British FEI pony rider Robyn Smith, now an 18-year-old and based in Glasgow, claimed first place in the individual test on Gail Smith's 17-year-old British-bred gelding Foold Uz (by Fulton x Caletto) with 72.11%. The kur went to Daisy Coakley on Aramis T with 71.38%
In the U25 Grand Prix 22-year-old Bobby Hayler took first riding her father, Paul Hayler's 13-year old British-bred stallion Aldborough Rubenhall (by Rubioso x Donnerhall). The duo scored a solid 67.15% to win the class.
Related Links
Scores 2015 CDN Keysoe
Horobin, Blackmore, Thurman-Baker Win 2014 British Youth Riders Championships
British Youth Riders Prepare for Arezzo at Training Camp. Hutton Out, Knapton In
British Youth Teams' Support for 2014 Finalised