2015 CDIO Vidauban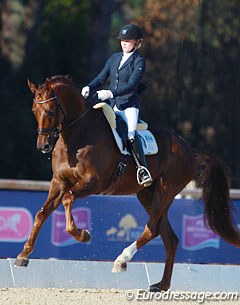 It was a double debut for Jeanna Hogberg at the 2015 CDIO Vidauban on 5 - 8 March 2015, as the young Swede kicked off her campaign with a double win in the 5-year old class on newcomer Springbank VH and a Grand Prix debut on the 11-year old Duendecillo P.
The eye catching liver chestnut Springbank VH was a league of his own in the 5-year old division in Vidauban. The Skovens Rafael x De niro x Rohdiamant offspring scored an 8.00 in the preliminary test and an 8.50 in the Finals test. The liver chestnut licensed stallion Duendecillo P (by Don Romantic) finished seventh in the Grand Prix for Kur with 65.620  and fourth in the Grand Prix Kur with 70.725%.
"Springbank VH won both his classes, and the important thing was for him is to be in this environment and to do his first real competition,"  Jeanna told Eurodressage.  "Duendecillo did his first Grand Prix and had a few mistakes but still did a good test. In the freestyle he was even better."
Arriving at Vidauban with a stomach flu, Jeanna says she "puked all night" on the eve of her first ride. It resulted in her being a little confused and lost her way in the kur.
"However, I came up with something and managed anyway. I think the music didn't fit that well to the movement and Rui Pedro Godhino, who made the freestyle, pulled at his hair.  But we got 70.7% and were placed fourth."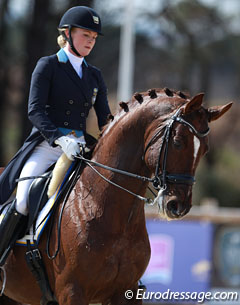 Jeanna told Eurodressage that both horses felt in tip top shape and that she is looking forward to the next year of competition.
"Springbank VH is a fantastic horse with great potential. He is from the same breeder as Darcia (her WEG Grand Prix horse). The challenge is to keep him with you and make sure he does not get tense in these new and exciting environments. Duendecillo P is an approved stallion and this is his first year in Grand Prix. Nothing is really difficult for him, so I think he needs a year to improve and strengthen everything. He's got a lot of power and movement," she explained.
With Jeanna since December 2011, Duendecillo P spends two or three months breeding during the summe  and then it's back into training the rest of the year.
"Springbank VH is a youngster that I welcomed in July last year. I had to ask very nicely to get him," she confessed. "Now I have bought a small part of him."
Text by Sarah Warne - Photos © Astrid Appels
Eurodressage's Astrid Appels took photos of all riders competing in the CDIO Vidauban. If you are interested in photos, contact us by email with your name and the name of the horse
Related Link
Eurodressage On the Scene at the 2015 Vidauban Dressage Festival