2015 CDI Wellington
The 2015 Dressage in Florida show circuit continued on 20 - 22 February with a big field of competitors and multiple winners in the CDI 3*/4* in Wellington, Florida. Mikala Gundersen and Belinda Trussell took highest honours in the 4* field, while Allison Brock, Lara Griffith and Anna Marek topped the leader board in the 3* big tour.
Gundersen Takes the Grand Prix and Kur
With Lars Petersen and Mariett skipping showing for a week, Danish Mikala Gundersen (DEN) and My Lady had plenty of room to move into the winner's rciel. She took home the prize in the Grand Prix and Kur to Music. Gundersen and My Lady performed a nearly flawless freestyle receiving a 75.625%, followed by Karen Pavicic (CAN) and Don Daiquiri in second with a 72.250% and Kasey Perry (USA) aboard Trostruplunds Scarlet in third with a score of 72.025%.
The weather was crisp, but the wind has significantly decreased compared to yesterday making it more of a pleasant atmosphere for both horses and riders. "I had a very fresh horse tonight, but very focused in the warm-up. It was the best warm-ups I've had so far here overall. She can be a bit difficult in, and it didn't feel like that tonight," said Gundersen. "I think she was really good in the ring. She was still a little tense from yesterday in the big atmosphere, but she was able to do a lot of the movements really well. I felt some of my highlights would be the changes and the passage work, for sure."
The pair, who has had a string of very consistent performances in Wellington this season, continue to strengthen the accuracy of their tests. "There were still a few bobbles, and those are things I need to work on removing so that we don't lose points," she commented.
Trussell Wins the 4* Grand Prix Special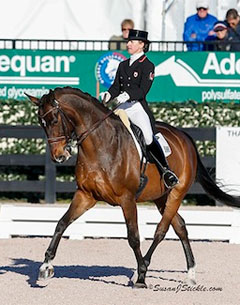 Belinda Trussell (CAN) and Anton smiled their way through the awards ceremony for the Grand Prix Special CDI 4* as they topped the competitive class on a 71.490% with Shelly Francis (USA) and Doktor following in second receiving a 70.667%, and Megan Lane (CAN) and Caravella placing third with a 70.608%
Trussell was beaming during the press conference and could not say enough great things about Anton's performance. "This week he felt great. I feel like he's in the best shape of his life; he just is fantastic. The training has been going very well and he just kind of clocks through everything. He's a professional now."
Trussell has not only seen vast improvements in Anton's physical fitness but also in his mental capabilities too. "As a younger horse he was so hot and I find that at this stage in his life, he's much more relaxed and I can really ride to his potential now, where before I felt sometimes I had to ride below it because I didn't want to scare him," she explained. "I feel like we're at a point where he's letting me in and the overall picture is starting to come together."
Brock, Griffith, Marek Dominate the 3* Big Tour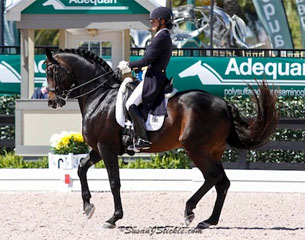 Allison Brock (USA) and Rosevelt captured another win this season, topping the Grand Prix CDI 3* class scoring a 71.600%. Lara Griffith (GBR) and Rubin Al Asad followed in second with a 71.020%, and Shelly Francis (USA) and Danilo came in third receiving a 69.540%. "I felt in my own head a lot more confident," said Brock. "Once you get the first one out of the way, it is always easier. I knew he could handle the venue. I was really only concerned about how the weather would impact his ability to focus."
The crisp, windy weather during the Grand Prix was a major factor for most riders, especially those on sensitive horses, but Brock was pleased with the way "Rosie" handled the atmosphere and the environment considering their warm-up was more difficult than she anticipated. "The warm-up was a bit tricky for me today. The gusting winds with all of the flags flapping, it made it pretty difficult for him. I'm proud because he really went in the ring and let it go and carried on. He was really about as honest as he could have been considering the circumstance."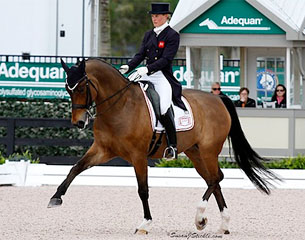 Lara Griffith (GBR) and Rubin Al Assad placed first in the Grand Prix Special. The pair scored a 69.608% to take the win, narrowly edging out Sharon McCusker (USA) and Wrigley, who finished in second receiving a 69.098% for their efforts. Christilot Boylen (CAN) and Drentano rounded out the top three with a 67.392%.
"This was the second Grand Prix Special I've ever done with him and it went really well, but it's still new to us," she commented. "We had a few mistakes today in the test, but in general we're on the up!" The training opportunities available to Griffith in Florida have greatly increased her confidence in the partnership since arriving stateside only a few weeks ago. "This horse show has been very successful for me so far. He has improved dramatically in the Grand Prix from two weeks ago from the work we've put in since being here" said Griffith. "I really wanted to replicate the ride that I had in the Grand Prix on Thursday today in the Special. The general way of going is a lot better."
Griffith has produced Rubin Al Assad from Third Level and the pair looks to be a promising combination for Great Britain in the future. "He only had a single flying change when I first started riding him, and I always think its amazing that now we can get 15 in a row!" Griffith is excited for where the partnership will go and they will continue to contest and gain experience from the CDI competition in Wellington during the remainder of their stay in Florida.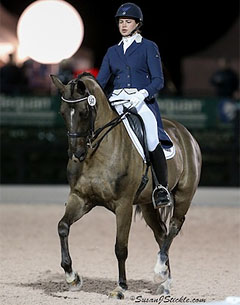 Anna Marek (USA) and Unico G used the atmosphere under the lights to their advantage and brought home the win in the Grand Prix Freestyle CDI 3*with a 72.025%. Christoph Koschel (GER) and Tiesto followed in second scoring a 71.125%, and Lauren Sammis (USA) and Whitman finished in third receiving a 69.875%.
Marek was thrilled with the performance she was able to get out of "Nico" in front of the large crowd and with the below average temperatures. "Nico was great tonight. At first I was nervous about the atmosphere because I had only done one other Freestyle here under the lights last year, but it really seemed like the atmosphere actually made it better tonight. He was a really good boy, and there's not much to complain about," smiled Marek.
The pair recently started rehearsing their routine, re-evaluating their music from last year, and adding more technical movements to the test to make it more challenging. "We're working on the more difficult movements in the Freestyle. I added the changes on a broken line, and he's pretty good and reliable in the changes. He and I have been riding Grand Prix for quite a few years, but this is our first time at this level," explained Marek. "We're learning together and each time it gets easier. Now I feel like going down the centerline, whether it be in a Grand Prix or a Freestyle, I can trust him and he trusts me and we can ask for more."
Kimberly Herslow Produces Small tour Hattrick
Kimberly Herslow (USA) and Rosmarin swept the CDI1* competition handily winning all three classes in the Small Tour. The pair won the Prix St Georges with 72.474 %, the Intermediaire I with 73.789% and the Inter I Kur Intermediaire 1 Freestyle CDI1* today with a 75.525%.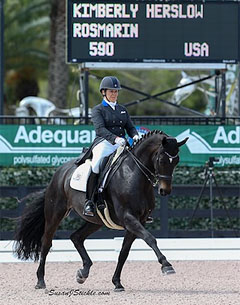 Herslow and Rosmarin or "Reno" as he is known around the barn, had a spectacular week, ultimately championing the entire CDI1* with three wins. "I feel like we're in a new place, and we're getting consistent now. We used the last show to get back in the groove, and I feel like with this show we have made a good step in the training to get to where we need to be," said Herslow. "I would like to make his pirouettes have a bit more power, and I know they can. They're certainly improving, and that's something that comes with time. Now that we've tapped into the fifth gear it's getting the strength to come along with that," she explained. "That is something I know that I can work on, which will of course carry over some more expression in the changes too."
Herslow bought the 10-year old Hanoverian gelding "Reno" as a three-year-old at Hof Westendarp in Germany and has been his only rider since, bringing him up through the levels herself. "He tries so hard for me, and we have an awesome trust in each other. He understands that trust, and I get 110% from him in the ring every single time. My brain has to be in right place and when I am, he's right there with me," she said. Two years ago Herslow trained by Lars Petersen but for 2015 she switched to Debbie McDonald.
As for the future, the pair plans to contest two more shows in Wellington and then hopefully earn a spot on the U.S. team for the 2015 Pan American Games to be held in Toronto, Canada this summer. "He'll stay Small Tour until after the Pan American Games, and then we will go from there," Herslow pointed out. "We've been working on the Grand Prix so he'll most likely move up after that, but he's only coming 10 now. He's young, and I want him to have him last as long as I can."
Photos © Susan Stickle
Related Links
Scores 2015 CDI Wellington