2015 CDI-W Neumunster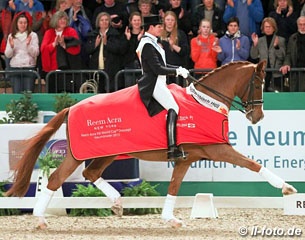 Ulla Salzgeber and Herzruf's Erbe led another German whitewash at the seventh leg of the World Cup Dressage 2014/2015 series on home soil in Neumünster on Sunday 15 February 2015. At Stuttgart (GER) last November, host country riders claimed the top four finishing spots led by Fabienne Lutkemeier and D'Agostino. Today however, 25-year-old Lutkemeier had to settle for runner-up spot behind the veteran Salzgeber who has made a great comeback with the horse with which she finished third at the Reem Acra Final in Leipzig (GER) four years ago.
Standing third in today's line-up was Isabell Werth who was more than pleased with the improving performances of El Santo NRW, but it was a tough day at the office for Hans Peter Minderhoud from The Netherlands. A breakdown in the sound system meant he had to halt his performance while his musical score was restored to working order. However, last to go in the 15-strong line-up, he demonstrated his consummate professionalism by resuming from where he left off to finish a close fourth with Flirt.
Battle for places
With only two further qualifying opportunities remaining, the battle for places at the World Cup Dressage Final in Las Vegas in April is in full swing. And for German riders the fight is even tougher because so many of them are well-placed to make the cut, but there is an entry limit of just three from each country.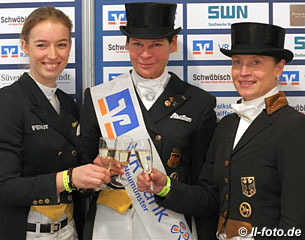 As today's competition evolved, Finland's Terhi Stegars was the one to beat in the early stages, having posted a strong score of 77.600 with her popular stallion Axis TSF. This pair are always a big hit wherever they go, but they need points to be in with a chance of making it to the Final. Finishing 11th in yesterday's Grand Prix things weren't looking too optimistic, but they threw down a super performance today in front of a crowd who know them very well.
"I live now in Luxembourg, but it feels like coming home!" said 40-year-old Stegars who had no fears about competing in the intense atmosphere  of the Neumünster ring. "My Axis doesn't mind it at all" she said. "I rode him here for the first time when he was three, that was 13 years ago, and his first show ever. I did my professional riders degree here, so people around here know me since I was young. I've been gone for a number of years, so it's nice to come back and show what we have learned together!" she said.
Surpassed
It came down to the final five before her score was surpassed by yesterday's Grand Prix winners, Lutkemeier and D'Agostino, who posted the first mark over 80 per cent, at the end of an elegant and balanced test that put 80.775 on the scoreboard. Fellow-countrywoman, Isabell Werth, followed with her usual flourish to slot in behind that with 79.850 with El Santo NRW and then Salzgeber set sail to raise the bar even higher.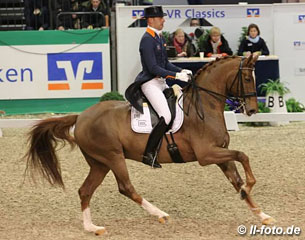 Herzruf's Erbe's career has been interrupted more than once by injury, and he spent 11 months on field-rest before returning to the competition ring at the end of 2013. But this indoor season, the chestnut horse has rallied brilliantly, finishing third and then fourth at the World Cup qualifiers in Lyon (FRA) and Odense (DEN) last October before winning both the Grand Prix and Freestyle in Frankfurt (GER) in December. "After Frankfurt I was hoping we can win a bit more, and today I would have been very happy to just finish in the top three!Salzgeber said after posting 82.775 which would not be bettered.
There were still two to go however, and the penultimate partnership of Hoennerups Driver and Anna Kasprzak from Denmark made a big impression with a lovely test. His rider put the quality 11-year-old Danish-bred gelding through an uncomplicated floorplan that demonstrated lightness, calmness and natural rhythm along with some glorious extended trot suggesting huge future potential. Their score of 78.300 placed them fourth, but, they dropped one spot to fifth after Dutchman, Minderhoud, brought the competition to a close.
So consistent
Talking about her winning ride, Salzgeber said "his highlight is that he is so consistent, he's not looking around, he is with me and that gives you control so you can ride every exercise like you want it". She has decided however, that she will not campaign the World Cup Dressage circuit any further with Herzruf's Erbe. "At this stage I'm in seventh place on the leaderboard but he is 16 years old now and, for the sake of his welfare, I think it's best to stop the World Cup qualifiers to be fair to him. The European Championships will be our next target" Salzgeber explained.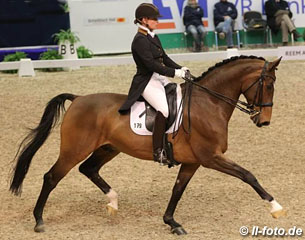 Runner-up, Lutkemeier, said of her test today, "there was a little mistake in the flying change after extended canter but my horse was more settled than yesterday and really focused, so I am very pleased with him."
Isabell Werth was delighted with her third place finish. "I'm really happy and really proud that the first three places went to Germany today, and I'm very happy that I got an improved score from Amsterdam!" she said. Talking about El Santo NRW she continued,  "he had a long break of about five months from international competition so I'm really happy that we are on our way back and our scores are close to what they used to be. Today was a good experience, so we will go to Gothenburg now".
Indeed Gothenburg in Sweden presents the penultimate qualifying opportunity for riders in the Western European League in two weeks' time, as the pressure for one of the coveted places at the World Cup™ Dressage 2015 Final nears boiling point.
The next leg of the series takes place at Gothenburg, Sweden on Saturday 28 February 2015.
by Louise Parkes for the FEI - Photos © LL-foto
Related Links
Scores 2015 CDI-W Neumunster
Photo Report: Grand Prix Action from the 2015 CDI-W Neumunster
Eurodressage Coverage of the 2014-2015 World Cup show circuit