2015 CDI Wellington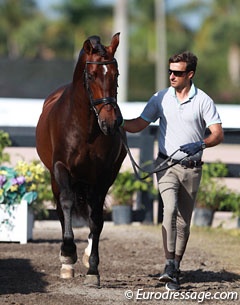 The 2015 CDI 5* in Wellington, the biggest dressage competition of the 2015 Dressage in Florida show season, is scheduled to kick off tomorrow on Thursday 5 February 2015 with the CDI 3* and 5* Grand Prix classes after a successful trot up on Wednesday in which all horses passed the inspection. The weather was beautiful today in Wellington, but thunderstorms are forecast for tomorrow morning.
The horse inspection went smoothly this morning 4 February 2015 and it was immediately followed by the international Prix St Georges, unfortunately taking place in the indoor arena as the field of competitors was too big to fit into a one-day schedule outdoors.
Grand Prix riders got the opportunity to familiarize their horses in the main show ring though in their final preparation for tomorrow's competition.
Eurodressage is on the scene to cover this show and editor-in-chief Astrid Appels took snap shots of the training sessions and trot. See the photo gallery below.
Photos © Astrid Appels
Related Link
Eurodressage On the Scene at the 2015 CDI 5* in Wellington