Eurodressage F.O.C.U.S.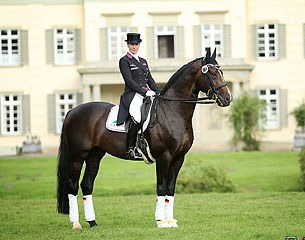 German born and Monaco based Bernadette Brune has been devoting her life to building a state of the art equestrian centre at Domaine Equestre des Grands Pins in Vidauban, France, and becoming a force to be reckoned with in the dressage world.
With her Oldenburg licensed breeding stallion Spirit of the Age OLD, which she describes as a "once in a lifetime horse," the 40-year old has been successfully climbing the ladder on the international show circuit.
Dressage was not Bernadette's first choice of discipline. The blonde was a more thrill-seeking rider and loved show jumping, but a back injury forced her to take up a new lifestyle in which the excitement of show jumping was replaced by the ballet of dressage.
With a barn full of top dressage horses, from foals to Grand Prix level ones, Bernadette has a myriad of horse types and characters to ride, but with her Grand Prix stallion Spirit of the Age OLD she seems to have a unique partnership. Bernadette automatically gets a smile on her face when training and competing the 11-year old Stedinger x Donnerhall x Rohdiamant offspring. "He even has his own Facebook page," Brune gushed about her stallion.
The Incredible Story of Spirit
Bred by Michael Mehrtens in Jever, Germany, Spirit of the Age was born in 2004 and has traveled the globe like a real rock star. As a youngster he was reared by stallion owner Gerd Sosath, who sold him Dieter and Martina Brandes. They saddle broke the young dressage talent and sold him via the Oldenburg Auction to Karl Heinz Reipen of Awakino Stud in New Zealand.
The stallion won the New Zealand Young Dressage Horse Championships as a 5-year old. In 2011 Awakino stud sent him back to Germany to be trained and competed by Thomas Rive and they sold him at the 2012 Oldenburg Spring Elite Auction in Vechta, Germany, in March 2012. Despite a not so successful try-out at the auction centre, Bernadette was very intrigued by the stallion and saw his potential as a sales horse for clients due to his exceptional rideability and good behaviour.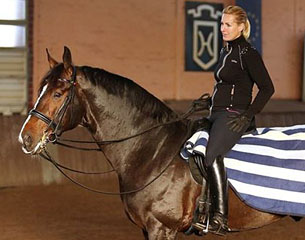 "At the auction I tried him among other horses and only rode him a few minutes. I tried a half pass, which didn't work, and a flying change that was even worse, but he was still very easy and pleasant to ride," Brune reminisced. "After trying the horses I took him out of his box and I just thought 'wow, what a beautiful horse and how sweet he is with the groom'."
Brune ended up purchasing the M-level competed stallion and picked him up one month later in Germany. She was pleasantly surprised to see a higher potential horse in his home surroundings. "He had much better gaits than I imagined and when I started training him at home and playing with the movements, he just did everything I asked him to. We fit so well together," Brune added.
Two weeks after his arrival in Vidauban, Brune and Spirit of the Age made their show debut at a national show and finished third in the Prix St Georges and Intermediaire I with 66%+ scores.  Thomas Rhinow of the German Oldenburg Verband, who regularly gives clinics at Bernadette's farm in Vidauban, was baffled to see the progress in the horse. Two weeks later the pair contested the small tour at the 2013 CDI Biarritz and won the Intermediaire I. It was the beginning of an amazing success story.
A Dream to Own and Ride
Spirit of the Age OLD proved to be a dream to work with at home. Brune was right about his rideability and the joy he gives her in the saddle is apparent from the relaxed disposition the rider has when you see the duo in the show ring.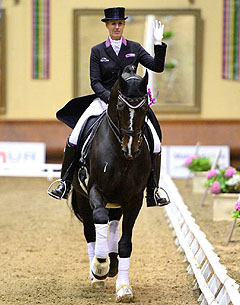 "Spirit is always willing to work and learn. He never has a bad day," she explained. "He is always pleasant to ride and I ride him with a rubber baby bit at home. We only work dressage three to four days a week and for the rest go hacking, or I take him on the race track or lunge him."
The stallion's laid back personality makes him very attractive for breeders who aim to get a nice foal out of their mare, which will be easy to handle, uncomplicated and rideable.
"He is not 'stalliony' at all. He is so easy to handle by the farrier or the otheopath, he is never sick, he is solid as a rock. He can be the big boy when he arrives on the show grounds but he's very relaxed in his stall. He sometimes is a bit intimidated in the show ring when he sees all the people around him, but he always tries his best.  Even when I give him the wrong aids for the one tempi's, for instance, he just takes care of them as if he were to say, 'don't worry, I'll do it.' I am always so amazed about that. He is not a naturally spectacular horse, but he always tries his best to please you and will fly when you ask him to."
Spirit has left an impression on all the lives he has touched. "His breeder as well as the Brandes family always come to watch him when I show him in Germany," Brune added. "They really follow his career."
Exceeding All Expectations in 2014
Brune and Spirit of the Age OLD exceeded all expectations in 2014 when they reached Grand Prix together while still earning ever improving scores. The 2014 show season was one filled with numerous highlights, beginning with their national Grand Prix debut at which they scored over 70%. They also won the Oldenburg Regional Championships at Grand Prix level in Rastede, placing ahead of experienced rider Bianca Kasselmann and German WEG individual bronze medal winning Kristina Sprehe.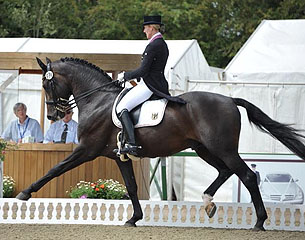 The pair made their mark at international level representing Germany at the 2014 CDIO Nations' Cup in Vidauban and competing across Europe at high profile dressage shows in Hagen, Treffen, Fritzens, Hickstead, Saumur, Oldenburg and Salzburg. He was placed almost at all shows he did last year.
"In the Grand Prix Kur at Evelyn Swarovski's farm in Fritzens the crowds went wild when I rode the two tempi changes on a circle, followed by one tempi changes on the diagonal and back to two tempi's on the circle," Brune remembered. "Also at the Oldenburg Stallion Gala he was so great and really grew 10 centimeters as the audience clapped. He's a real crowd pleaser."
To Brune the highlight was the CDI 5* in Salzburg where Spirit gave his best performance to date. He scored 69.120% in the Grand Prix and 68.627% in the Grand Prix Special.
"Spirit really proved himself as best Oldenburg stallion competing for Germany in dressage," Brune concluded.
Sky Is the Limit
Those recent results have made Bernadette very hopeful of the future. Her beliefs are strengthened by the fact that her stallion gives her even more at home! She mainly trains with renowned coach Udo Lange, who helps her to fine tune her riding skills and bring Spirit to the next level.
"Udo teaches us all the secrets of dressage. He emphasizes on the position of the rider and I learn to be precise and in control of my own feelings. Udo believes it's very important that the horse can be warmed up easily with a long relaxed neck to loosen the back. He is never tough on the horse," she said.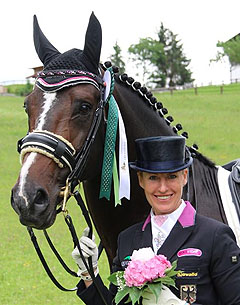 Bernadette also credits her horse as the professor in the partnership as he responds best to correct aids and a good seat. By being a better rider herself, Brune was able to improve Spirit's gaits and got more expression in them as well as power for the piaffe and passage.
"It's only my third year at Grand Prix after being a jumping rider and Spirit brought me to CDI 5* level. How great is that," she rejoiced. "He is really gifted in piaffe, the tempi changes, the pirouettes and he has a great walk."
Spirit of the Age OLD is licensed for Oldenburg breeding and has his first crop of foals on the group. Bernadette has one filly by him, who stands out with her strong body and light-footed movements.
"This filly is as gentle as her dad and easy to handle," said Bernadette. "I think Spirit can produce good, quiet foals out of nervous mares. He really passes on his super character."
Spirit of the Age OLD is available via frozen semen at Bockmann's stud. His semen quality is good as all mares covered last year were directly in foal.
Spirit of the Age OLD has had a big winter break and was not ridden for a month so he could recharge his batteries in the paddock. Bernadette has just picked up training again in preparation of the 2015 outdoor show season.
"Our big goal is to get over the 70% barrier at international shows," said Brune. "We'll start the season at Vidauban and I would like to do shows in Hamburg, Wiesbaden or Paris. We will just try to become the best we both can."
Photos © Thomas Henkensiefken
Related Links
Stallion at Stud: Spirit of the Age OLD
2015 Vidauban Dressage Festival Promising to be Spectacular Dressage Extravaganza
Stallion at Stud: Tolegro
Stern von Afrika, Best Seller at the 2012 Oldenburg Spring Elite Auction in Vechta