2015 World Cup Finals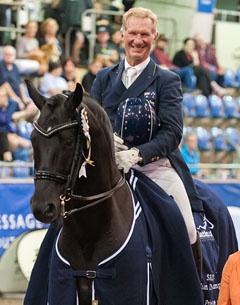 Russian riders were absolutely dominant when taking the top three, as well as five of the top six placings in the World Cup 2014/2015 Central European League which drew to a close at Kaposvar, Hungary last October. Elena Sidneva pipped last year's winner Tatiana Dorofeeva for the title, while Inessa Merkulova clinched third place for the second year in a row.
Only Estonia's Dina Ellermann managed to prevent a complete Russian whitewash of the top six when slotting into fourth ahead of Marina Aframeeva and Vera Khalikova in fifth and sixth spots.
Sidneva sealed the series victory when finishing fourth at the final leg, and finished a full five points ahead of runner-up Dorofeeva.
The 10-leg North American League meanwhile will reach its halfway stage this week in Wellington, Florida with Canada's Karen Pavicic out in front, while Australia's Heath Ryan leads the Pacific series with just one last event to run.
Central Europe
Competition in the Central European series was strong, and 50-year-old Sidneva made a good start when finishing fourth at the opening leg at Lipica, Slovenia last May. Her score of 73.425 with Romeo Star left her close behind third-placed Uwe Schanz and Di Sandro whose German counterparts, brother and sister Jessica von Bredow-Werndl and Benjamin Werndl, filled the top two places. Jessica went on to make another big impression in the  World Cup 2014/2015 Western European League with her horse, Unee BB, in more recent months and the rider, who recently turned 29, is currently lying 10th in the world rankings list.
Austrian-based Sidneva did not line out at the second leg staged in Nizhnly Novgorod where Russian riders proved unbeatable on their home turf, with Inessa Merkulova and Mister X pipping Marina Aframeeva and Vosk while last season's Central European champion, Dorofeeva, slotted into third with Kartsevo Upperville ahead of Vera Khalikova (Ucordo) in fourth. The first visitor to get into the Freestyle line-up here was Bulgaria's Katsiaryna Varchenia who posted 67.025 with Daily Double for fifth place.
Secured her grip
When Sidneva returned to action in the third leg at Brno in the Czech Republic however she firmly secured her grip on the leaderboard with a big win ahead of Italy's Leonardo Tiozzo. Sidneva produced the only score over 70 per cent when posting 75.100, while runner-up Tiozzo, who just over a year ago took up the ride on the World Cup veteran gelding, Randon, which was formerly competed by Poland's Michal Rapcewicz, earned a mark of 69.900. Estonia's Dina Ellerman was back in the ribbons when third here on a score of 69.600 with Landy S Akvarel.
Sidneva did not attend the next three legs, at Moscow where home starters again stole the show as Regina Isachkina (Diaz) pipped Dorofeeva (Upperville), at Czosnow in Poland where Ukraine's Inna Logutenkova (Don Gregorious) pinned Poland's Anna Lukasik (Ganda) into second place and at Tailinn, Estonia where Merkulova produced her second win of the season. Merkulova's big-moving Trekehner, Mister X, posted 76.875 to pin Logutenkova's Don Gregorious into runner-up spot here, and the result left Merkulova just three points behind league leader Dorofeeva with just one last leg remaining.
But the leading pair didn't feature at the final round in Kaposvar, so the 13 valuable points collected by Sidneva for her fourth-place finish were enough to clinch the Central European series title by a five-point margin.
North America
Canadian riders have enjoyed tremendous success over the first five rounds of the 10-leg North American League which is currently headed by Karen Pavicic from Surrey, British Columbia. Partnering Don Daiquiri, the 13-year-old Oldenburg gelding with which she competed at the 2014 World Equestrian Games in Normandy, France, the 43-year-old rider heads America's Catherine Haddad Staller and Hotmail by a narrow margin at the halfway stage of the series, while Pavicic's fellow-countrywoman, Jacqueline Brooks from Cedar Valley, Ontario currently lies third.
The League began at Palgrave, Ontario last June where it was an all-Canadian affair at the top of the scoreboard as Diane Creech (Devon L) pipped Belinda Trussell (Anton) for pole position while Megan Lane (Caravella) slotted into third ahead of Brooks and her 2012 Olympic mount, D Niro. 
The next two legs were staged at Saugerties, New York in August and September, with Toronto-born Ashley Holzer coming out on top at the first event with her stallion, Dressed in Black, before Brooks posted a win at the following fixture with D Niro.
Holzer then brought out the lovely mare Tiva Nana to top the line-up at Devon in Pennsylvania, USA in September with a big score of 76.125 while her Canadian colleague Pavicic pulled in second with Don Daiquiri on 73.575 ahead of Haddad Staller and Mane Stream Hotmail in third on 73.100.
And at the first of the two legs to be staged in Wellington, Florida this month, it was Denmark's Lars Petersen who stole the limelight with a lovely performance from the evergreen 17-year-old mare, Mariette. A great score of 78.325 gave this sparkling pair more than four percentage points of an advantage over their Danish counterparts, Mikala Munter Gundersson and My Lady who earned a mark of 74.075 for second place. Both riders are eligible for points in the North American series, but those collected by Sweden's Caroline Darcourt for third with Paridon Magic are accounted for in the Western European League.
Catherine Haddad Staller finished fourth with Hotmail, and although Pavicic and Don Daiquiri had to settle for fifth this time out they find themselves edging the American partnership by just 0.035 points at the top of the leaderboard going into the sixth leg of the series at the same venue this weekend.
The best two qualifying scores for each horse-and-rider combination are taken into account to decide the final North American League placings, so there is still some way to go in this series which will draw to a close at San Juan Capistrano, California in March.
Pacific
Meanwhile the Pacific League draws to a close this coming weekend when the last event in the four-leg series takes place at Boneo in Australia.
It all began in Brisbane last July with a win for Chantal Wigan and Ferero ahead of Katharine Farrell and Luxor in second and Sue Hearn with Remmington in third.
Then Heath Ryan won the next two legs at Sydney and Melbourne with the Oldenberg, Regardez Moi. London 2012 Olympic competitor, Mary Hanna, was runner-up in Sydney with Umbro ahead of Brett Parbery (DP Weltmeiser) in third, Caroline Wagner (Tango V) in fourth and Sue Hearn (Remmington) in fifth while Heath Ryan also steered Utopian Cardinal into sixth place for good measure.
Hearn and Remmington then rocketed back up to second place at Melbourne ahead of Katharine Farrell (Luxor) and Parbery (DP Weltmeiser). Hearn's mark of 70.725 left her just over a single mark behind Ryan and well within the qualification criteria for the regional Final.
In order to be eligible for selection for the Pacific League Final, combinations must have competed at a CDI-W or CDI3* qualifying event on at least one occasion in the preceding 12 months, and must have gained a minimum of at least 64 percent in the Grand Prix Freestyle.
The winner of the Grand Prix Freestyle at next weekend's Final in Boneo, Victoria will qualify for the much-anticipated Reem Acra FEI World Cup™ Dressage 2014/2015 Final in Las Vegas, USA in April, so it's still all to play for over the coming days.
FEI World Cup ™ Dressage Central European League 2014/2015 - Final result :
1.    Elena Sidneva RUS            -        48
2.    Tatiana Dorofeeva RUS            -        43
3.    Inessa Merkulova RUS            -        40
4.    Dina Ellerman EST                -        35
5.    Marina Aframeeva RUS            -        28
6.    Vera Khalikova RUS            -        26
7.    Anna Lukasik POL                -        24
8.    Aleksandra Szulc POL            -        22
-- FEI Press Release
Related Links
Eurodressage Coverage of the 2014-2015 World Cup show circuit
All Star Line Up for 2015 Pacific League World Cup Final in Boneo
Merkulova and Mister X Impress the Judges and Crowds at the 2014 World Cup Qualifier in Tallinn