2015 CDN Thermal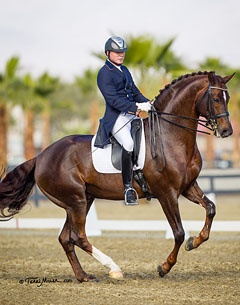 After retiring his top Grand Prix horse Rafalca in the summer of 2014, American Olympic team rider Jan Ebeling has begun a new chapter in his dressage career with fresh new horses. Introducing several new equine names at the 2015 CDN Thermal on 9 - 11 January 2015, Ebeling is  thrilled with their first outing of the year and especially with the result of his new number one, Rassolini.
The 12-year old Hessian branded stallion Rassolini (by Rubioso N x Silvano N) was acquired by a group of 10 people around investors Ann Romney, Beth Meyer and Amy Ebeling in April 2013. Jan and Rassolini made their Grand Prix debut last year but in 2015 the gorgeous liver chestnut stallion will have to step up to the plate. Ebeling confirms the horse has made a huge jump in his training and showing.
"Scoring a 74% with Axel Steiner judging was a great accomplishment and made me feel that our training process is on the right track," said  an excited Jan.
On top of a third and a first in the Grand Prix on Rassolini, Jan also came home with a first and a second in the developing PSG Horse class on  Ann Romney's Hanoverian bred Santo Domingo (by Sir Donnerhall x Stedinger) and her 9-year old Hanoverian bred Bakari (by Breitling x Cavan). Jan also posted another win in the Intermediaire II on Amy Ebeling and Elizabeth Meyer's 10-year old Hanoverian bred Breitan (by Breitling x Cavan).
Jan says that the show atmosphere was quiet and relaxed, but especially the excellent footing, stabling, and management at Thermal provided a great platform for the season debut. Ebeling stated he accomplished the goals for this national competition.
"My horses were very energetic and reliable, very focused," he said. "The aim in Thermal was to get my horses out in a nice national show, in an arena that is not familiar to them, with good judging and footing.  I wanted to test all of their current competition levels, of which most of them have moved up. I feel very confident entering the show season with this positive experience under my belt."
With that experience in mind, Jan will now make the switch over from training at that level to riding in competition.
"I will give more focus in my every day training on test riding, parts of the test primarily, without over schooling movements," he explained.
With four very talented horses in competition, Jan describes the strengths of each one, and what he has in mind with respect to their individual futures.
"Santo Domingo has super gaits and rideability, is great in the show arena, while Bakari is a bit hot, very smart, tries to please, and is a powerhouse with great gaits. My goal with these two is to compete in the developing Prix St Georges for the Untied States. Breitan is surely one of the best and most talented horses I have ridden, everything in him is big - gaits, size, heart - but as he is still very green at Intermediate II I will continue his training this year and take him to Europe for training and showing when he is more confirmed."
Ebeling's new number one Rassolini is "the dream." Ebeling has high hopes for the beautiful stallion who is coming strong into this Grand Prix. He will also take him to Europe for the summer show circuit there.
Jan's main aim for 2015 is to prepare his horses for their level and bring them on to Grand Prix.
"They are all super talented FEI horses, all a bit different, but special.  My goal is to have them be at their best for the selection shows, prepare them for long term training and competition, and have them all become top Grand Prix horses."
by Sarah Warne - Photo © Terri Miller
Related Links
Three CDI's Scheduled in California for 2015
Jan Ebeling's Rafalca Retired at 2014 Central Park Dressage Challenge
Ebeling and Rafalca Withdraw from 2014 U.S. WEG Team Contention
Peters and Ebeling Ace the Big Tour Classes at 2014 CDI San Juan Capistrano
Rassolini Sold to the United States, Secured for Jan Ebeling
Ebeling Earns Ticket to 2011 World Cup Finals by Winning 2011 CDI-W Burbank