USPREA Breeding News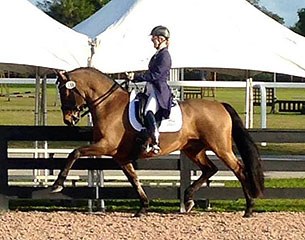 The first 2015 USPRE Florida Series High Point Challenge was held at the Global Dressage Festival on 9 - 11 January 2015 and there were a number of new horses and faces in the running.
Four shows have been selected for the Florida Series of the USPRE High Point Challenge in 2015: the CDI-W on 9 - 11 January, the CDI 5* on 4 - 8 February, the Palm Beach Derby on 4 - 8 March and the CDIO Nations' Cup on 24 - 28 March 2015.
This program is designed to encourage PRE riders of all levels to train and compete in rated dressage shows. The USPRE High Point award is available at any USDF dressage show around the country when organized by members. Currently, the program has developed series' in two locations: Florida and California. The schedule of shows where USPRE High Points are awarded is posted below. Grand Champions of the series' are awarded a USPRE riding jacket.
At each designated show, USPRE will pin the following High Point winners:
Open High Point, National Levels
Open High Point, FEI Levels
AA High Point, National Levels
AA High Point, FEI Levels
CDI High Point
JR/YR High Point
The winners of this first round were:
Janne Rumbaugh and Junior--CDI High Point at Grand Prix (61.3)
Allegra Hohm and Guadalupano--Open FEI High Point at Prix St. George (67.237)
We would like to recognize the participation of several other close contenders:
Emily Copeland and Festivo
Pablo Gomes Molina and Ambicioso de Jama
Juan Matute, Jr. with several of the lovely horses of the Yeguada Ymas.
USPRE is a Founding Sponsor of the Adequan Global Dressage Festival in Wellington, FL.  This 10-show series with seven international competitions (CDIs) in one location during the months of January through March is now the world's longest and riches Dressage series. The AGDF has attracted more corporate sponsorship than any other show series in the US, with the exception of the World Equestrian Games in 2010.
As a Founding Sponsor, USPRE has had the opportunity to have prominent name exposure as well as disseminate our message through a promotional advertising, award and event campaign that runs the entire 12 weeks of the circuit, directed at a demographic population most likely to consider the purchase of a PRE Horse for elite sport.
At the USPRE events held in conjunction with USPRE Week, up to 700 Wellington equestrians have turned out to attend a Spanish-themed party and enjoy riding demonstrations featuring top international riders and their PRE athletes. USPRE is currently the only breed association using show sponsorship in this way to reach our target audience.

In addition to our use of the venue during the third week of January, and our world-wide name and product promotion, our Sponsorship provides one VIP table in the Global Pavilion for each of the seven CDI shows. USPRE Members are invited to use the table pending availability. If you know your date of visit, please contact Joan Mack or the USPRE office to make a reservation. These tickets are free of charge.
Related Links
Spanish Delegation to Attend 2015 USPRE Week, Lead Seminars for Breeders
USPRE Announces Winners of the First Copa USPRE
USPRE Dressage Committee Introduces New Initiative for FEI Riders: the COPA USPRE