2015 VSN Trophy Finals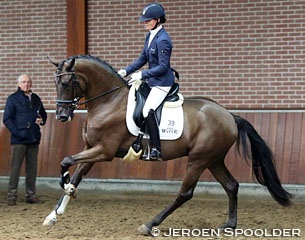 Former Dutch pony team rider Demy Kurstjens and the rising 4-year old Glamour became the winners of the 2015 VSN Trophy Finals held in Lunteren, The Netherlands, on Saturday 10 January 2015. The VSN Trophy is a dressage talent spotting competition with a qualification round and finals, to which 22 pairs were invited.
The 2015 VSN Trophy Finals were a Belgian judging affair with Grand Prix rider Stefan van Ingelgem and guest judge rider Nick van Laer as judges.
Kurstjens steered the dark bay Glamour (by Charmeur x OO seven) to victory. Bred by Dirk Fiechter and owned by Nico Witte, Glamour received a 10 for rideability and potential from Van Laer. The horse also scored 8.2 for walk, 9 for trot and 9.5 for canter. With an 8.9 for rideability and 9.0 for general impression, Glamour also dominated the first round of the finals. He scored a total of 54.6 points.
"I'm so proud of this fantastic horse," said Kurstjens. "I'm very grateful to Madeleine Witte Vrees and Nico Witte for giving me this opportunity. I have such great horses."
The five highest scoring horses in the first round of the finals were test ridden by Van Laer. The runner-up was Maria Brouwer on Gamble (by Furstenball x Balzflug). He scored 9.5 for walk, 8.3 for trot, 8.1 for canter, 8.7 for rideability and 8.8 for general impression. With a 9.0 from the guest judge rider, Gamble scored a total of 52.4 points to become the reserve champion.
Tim Coomans' Dutch warmblood Genua TV (by Charmeur x Jazz) landed third place.  He scored 7.3 for walk, 9.2 for trot, 9.0 for canter, 8.5 for rideability and 8.8 for general impression. Van Laer awarded him an 8.5 so Genua totalled 51.3 points.
Interesting to note is that the 2011 KWPN Foal Champion Gregwaard, who was never presented for the stallion licensing, now made his mark under saddle by finishing fourth with 49.5 points. He got 9 for walk, 8.5 for trot and canter, 8 for rideability and 8.5 for general impression. Van Laer gave him a 7 for rideability and potential. Gregwaard (by Florencio x Jazz) tied in fourth place with Guadeloupe Beau (by Bordeaux).
Complete results here
Photo © Jeroen Spoolder - Spoolder took photos of all competitors at the 2015 VSN Trophy Finals
Related Links
Hexagons Fusion Wins 2014 VSN Trophy Finals
Atomic Wins 2013 VSN Trophy Finals
TC Dolly Wins 2012 VSN Trophy Finals
TC Celanique Wins 2011 VSN Trophy
Chinook Wins 2010 VWF Dressage Cup for 3-year olds
Bretton Woods, Winner of the 2010 VSN Trophy Finals
Annerijke Wins 2009 VSN Trophy
Zaragoza Wins 2008 VSN Trophy
Game Boy Wins 2004 VSN Trophy