2014 Ecco Cup Finals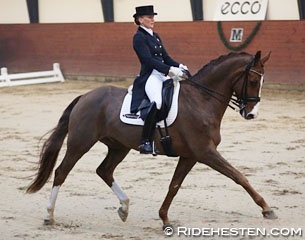 Pony riders Anne Sophie Sorensen and Sara van Deurs Petersen, junior Sille Engermann, young rider Henriette Dam Vestergaard and Under 25 Grand Prix rider Nanna Skodborg Merrald became the grand champions of the 2014 Ecco Cup Finals for Danish youth riders held at the Middelfart equestrian centre in Middelfart, Denmark, on 5 - 7 December 2014.
The Ecco Cup series is a national show circuit for Danish youth riders in which they get the opportunity to practise the kur to music more often. A series of qualifiers take place throughout the year leading up to the big finals in which two rounds are contested for the overall championship.
The Danish FEI Dressage Pony division is split into two categories based on the ponies' height. The tallest ponies are sorted in category 1 and Sara van Deurs Petersen and her 11-year old dark bay Farbenfroh (by Farewell x Rakt's Rocky) were the clear winners with 74.593% in the first round and 78.292% in the Kur. She totalled 152.885%, more than 6% ahead of runner up Sandra Aagaard Hyrm on Der Harlekin.
In the smaller pony division Anne Sophie Sorensen and her 13-year old Jumanji (by Jacobspeel's Rocky x Luzern) outclassed all competition and was the only pair to score above 70% in round one. With 75.081% and a 78.375% earning freestyle, Sorensen won Pony Category 2.
In the Junior riders division Danish team rider Sille Engermann and her 11-year old German bred Fernet D (by Furst Heinrich x Fagott) reigned supreme with two victories scoring 74.254% and 75.750%. Team mate Alexandra Sorensen and the 11-year old Camiro Mandoe (by Future Cup x Alfarvad Champion) finished second overall.
In the young riders class Henriette Dam Vestergaard prove her class again. She was not selected on the team for the European Championships, but aboard Leopold (by Loudini x Temple Wind xx), Henriette won the 2014 Nordic Baltic Championships, the 2014 Danish Championships and now the 2014 Ecco Cup Finals. She bested both rounds with 74.737% and 76.500%. Maja Andreasen and the 11-year old Skjoldsgaards Monte Vo (by Munchhausen x Schwadroneur) placed second.
The Under 25 division only featured four riders and Nanna Skodborg Merrald, who has already gained experience on the senior circuit, won the Ecco Cup on her sister's 11-year old Weltliebe (by Weltjunge x Andiamo). She scored 70.504% and 75.917% for the trophy. Victoria Vallentin, who is officially a junior but moonlighting as an Under 25 rider, finished second on Select (by Sandro Hit x Grundstein).
Photo © Ridehesten
Results - 2014 Ecco Cup Finals
Pony Riders - Cat 1

1. Sara van Deurs Petersen - Farbenfroh - 74.593 - 78.292 --- 152.885
2. Sandra Aagaard Hyrm - Der Harlekin B - 72.561 - 73.542 --- 146.103
3. Celine Rørbæk Silfen- Dreamgirl - 72.276 - 73.250 --- 145.526
4. Karoline Rohmann - Adriano B -  71.707 - 73.750 --- 145.457
5. Louise Fauerholm Christensen - Vegelin's Goya - 73.130 - 72.250 --- 145.38
6. Malene Aborg  - Westerhuis Jorik - 69.837 - 71.292 --- 141.129
7. Nikoline Ulrich  - Dornick Son - 70.447 - 70.375 --- 140.822
8. Christine Marie Senger - Norlunds Vincente - 69.106 - 71.292 --- 140.398
9. Camilla Søndberg Thomasberg Andersen  - Constantin's Lady - 69.146 - 70.917 --- 140.063
10. Sophie Nyholm Kristensen  - Toftegaards Hurricane - 67.602 - 70.375 --- 137.977
11. Natalie Hering - Klinsmann - 66.585 - 70.667 --- 137.252
12. Sigrid Magnussen - Centrum - 65.650 - 70.625 --- 136.275
13. Victoria Cecilie Bonefeld Dahl - Spartacus - 65.325 - 69.750 --- 135.075
Pony Riders - Cat 2
1. Anne Sophie Gerstorf Sørensen - Jumanji - 75.081 - 78.375 --- 153.456
2. Sandra Gottlieb Lyngø - Hojvangs Bondeo -  68.455 - 74.125 --- 142.58
3. Emilie Bryde Thrane  - Lasco - 69.187 -  72.875 --- 142.062
4. Caroline G. Falkenskov - Traumer - 67.317 - 71.833 --- 139.15
5. Emma Pedersen  - Milan AM - 68.496 - 70.458 --- 138.954
6. Julie Stacey Jensen - Little Sky - 67.967 -  69.333 --- 137.3
7. Maiken Damm - Odbjergs Imitz -   68.211 - 68.625 --- 136.836
8. Maria Mejlgaard Jensen - Thers Hey Harlekin - 68.130 - 66.750 --- 134.88
Junior Riders
1. Sille Engermann - Fernet D - 74.254 - 75.750 --- 150.004
2. Alexandra Sørensen - Camiro Mandoe - 71.974 -  73.167 --- 145.141
3. Laura Hviid - Denzel - 70.702 -  73.208 --- 143.91
4. Pernille Koch Rasmussen - Heslegards Robert -  68.333 - 70.792 --- 139.125
5. Rie Wichmann - Trostruplunds Romano - 67.544 - 70.167 --- 137.711
6. Michaela Tækker  - Landlyst Landia - 67.061 - 70.333 --- 137.394
7. Trine Fisker  - Ankulgards Rozitta -  66.667 - 70.333 --- 137.000
8. Clara Rosendahl Westergaard  - Hestbaekvejens Begman -  66.754 -  69.333 --- 136.087
9. Kathrine With Petersen - Moresco Essenbaek - 67.544 -  68.333 --- 135.877
10. Nana Gajhede - Dark Knight -  66.316 - 68.875 ---  135.191
11. Emilie Røy  - Ophelia - 66.798 -  67.375 --- 134.173
12. Rose Marie Henriksen - Rosentanz - 64.912 - 68.583 --- 133.495
13. Emma Nymand - Hojmoses Leopold -  64.912 - 67.583 ---  132.495
14. Line Fiilsøe Hansen - Svalegards Chap Mann - 62.368 - 68.833 --- 131.201
Young Riders
1. Henriette Dam Vestergaard - Leopold -  74.737 - 76.500 ---  151.237
2. Maja Andreasen- Skjoldgaards Monte Vo - 72.851 - 74.792 --- 147.643
3. Mille Larsen Warncke- Donna Fetti -   68.904 - 72.958 --- 141.862
4. Caroline Aarosin - Day Dream - 69.167 - 70.625 --- 139.792
5. Celine Boddum Clausen - San Rabino - 67.149 - 71.500 --- 138.649
6. Sarah Fauerholm Christensen  - Furst AP- 68.114 - 67.875 ---  135.989
7. Cecilie Lyndrup - Lambada -  67.149 - 68.667 ---  135.816
8. Kathrine Springborg  - May Candeloro -  68.991 - 66.083 ---  135.074
9. Julie Liocouras  - Pantani - 66.711 - 68.250 --- 134.961
10. Marie Skov Olesen  - Brizard -  66.404 -  67.958 ---  134.362
11. Emma-amalie Wraa  - Furst Fahrenheit L -65.965 - 66.375 --- 132.34
12. Michala Mejlgaard Jensen  - Uno - 64.693 - 67.167 ---  131.86
13. Anne Fabricius Tange - Sundorfs Aqino - 64.825 - 61.542 ---  126.367
14. Regitse Rubæk - Romina Alsidig - 61.360 -  64.958 --- 126.318
Under 25
1. Nanna Skodborg Merrald - Weltliebe - 70.504 - 75.917 ---  146.421
2. Victoria Vallentin  - Select Ecco - 66.977 - 71.667 --- 138.644
3. Michael Juel Sproegel - Sambuca - 67.597 - 69.333 ---  136.93
4. Julie Dankau - Overgaard's Lawell - 62.248 - 58.958 --- 121.206
Related Links
Hansen, Christensen, Sorensen, Zibrandtsen, Jeppesen Win 2013 Ecco Cup Finals
Engermann, Jorgensen, Zibrandtsen, Dufour, Kasprzak win 2011 Ecco Cup Finals
Smidt, Skodborg Merrald, Kasprzak Win 2010 Ecco Cup Finals
Maya Jørgensen Wins 2010 Danish Pony Championship
Skodborg Merrald, Tange, Dufour and Kasprzak Win 2008 ECCO Cup Finals