French Equitation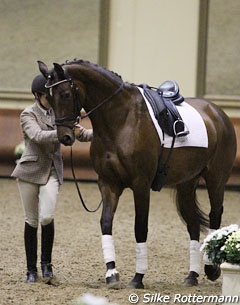 "The cult of tradition does not exclude the love for progress," were the winged words of Cadre Noir's legendary écuyer en chef Colonel Danloux many decades ago. The question still stands how far progress can go without destroying traditions?
Current day international dressage sport no longer discloses national riding styles as they have for the greatest part disappeared through "globalized equitation". Does French Equitation still exist in modern day dressage? It has relocated itself far away from the competition ring, practiced by passionate amateur riders who are predominantly looking for a harmonious and horse friendly way of riding dressage rather than competitive success at any price. 
What are the reasons that a method, which is totally corresponding with the current FEI dressage rules, has practically died out in the competition arena and, furthermore, what role does the Cadre Noir play in this regard?
The Cadre Noir: A Difficult Balancing Act
If riding according to the traditional French principles doesn't seem to play any noteworthy role in competitions anymore, which role can the institution play so people consider it the most important guardian of this riding approach? For a long time the Cadre Noir in Saumur was the place where not only the modern traditional French equitation was practiced, but from which also meaningful international dressage competitors emerged representing a specific style. The 1932 double Olympic champion Xavier Lesage is the most famous, but a very long time ago. Until the 1980s members of France's most prestigious riding troop could take their stand even at the most important shows. A team with three Cadre Noir riders (Carde, Flament, Le Rolland) even finished second in the 1979 CDIO Aachen Nations' Cup.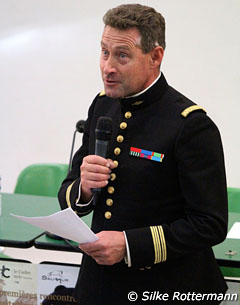 Today there are still riders from the Cadre Noir competing internationally, but their riding-style is necessarily adapted to what seems required in competitions and no longer focuses on representing a national riding style. Might this be human and understandable or is it regrettable?
Fortunately The inscription of traditional French equitation into UNESCO is sufficient to save it from slowly disappearing in its purity. As the last enduring academic school with military roots the Cadre Noir is considered one of the "main preservers" of classical French Equitation, even though it stresses that it is not at all exclusive in this aspiration. However, due to circumstances of our times, it faces a very difficult, maybe barely solvable, task. The reason why it is so difficult is that some members of the Cadre Noir have totally justified sportive ambitions and today it seems quite difficult to do the balancing act between becoming successful and sticking to national riding traditions at the same time.
So  should it be surprising to see a renowned Cadre Noir rider train in public training sessions with the neck significantly rolled and the poll not the highest point? What they apparently forget is that wearing the famous black uniform is not only an honor, but an obligation. It should be the more so since the UNESCO-inscription three years ago. These riders should feel an obligation to uphold traditional equitation like it was practiced in Saumur for more than a century. The Cadre Noir has the incredibly big responsibility, but equally big chance to preserve a priceless tradition and this is much more than showing courbette and croupade in beautiful golden-pink glimmer tack. Even though the institution itself denies to be the exclusive preserver of the tradition, it is undoubtedly its most important.
French Equitation and Sport: Seminar in Saumur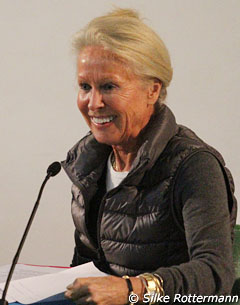 A large group of people think that dressage as culture and art and dressage as sport are two different animals because of the significant gap between the competition arena and the one outside. In theory this shouldn't be. A theory manifested by the FEI itself which once created the sport of dressage with the sole intention to protect "the Equestrian Art from the abuses to which it can be exposed and to preserve it in the purity of its principles" (FEI dressage rules, article 419). Even though these lines date back to 1929, they are still part of the recent 2014 FEI dressage rule-book.
Which role can traditional French equitation play in the sport, in particular the international dressage sport? This question was one of the topics during the French equitation seminar "Premières Recontres de l'Equitation de Tradition Francaise" on 16 - 17 October 2014 in Saumur, France. Organised by the "French Institution of the Horse and Equitation" (IFCE) together with the "Comité Equestre de Saumur", the event gathered  the Who's Who of French Equitation, including Olympic medalists Michel Robert and Margit Otto-Crépin as well as international dressage competitors Catherine Henriquet and Alizée Froment, either for lectures or practical demonstrations.
The lectures were held in the sold out "Amphitheatre" of the National Riding School (ENE) and covered a wide range of aspects with a slight focus on history and evolution. The demos on Friday morning in the Grand Manège reflected the variety which can be found in this country's traditional equitation, though all based on certain common principles.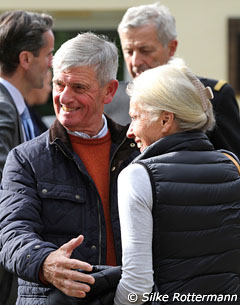 It was the task of France's former European dressage champion and World Cup winner Margit Otto-Crépin to suss out the topic of "French equitation in international dressage competitions." Those who had expected an in-depth investigation into the matter which could only have meant the admittal that this style of riding has almost died out in the FEI arena, had to listen to some very general assessments. Otto-Crépin, France's last Olympic medal winner in dressage with silver at the 1988 Olympics in Seoul, stated that amongst international riders French equitation is not be very well-known for the reason that many of the reference-books have not been translated from French into other languages. The native German said that she considers it a pity that nowadays only few French riders still practice this classical method "which is the ideal method to show a horse in balance and lightness and which at the same time is comfortable for the horse."
Otto-Crépin closed her comparatively brief lecture with an appeal that it is time more French riders work according to their country's traditional principles. While France's dressage grande dame completely ignored the obvious question why so many riders ignore a system that worked for decades and has proven itself to be horse-friendly, the discussion that followed came more to the heart of the matter.
Belgian dressage trainer Pierre Beaupère pointed out that there are very good riders internationally, but that the problem is that "spectators too often applaud horses which had been mechanized by rollkur-training. I think that the public plays an important part in this and should support only ethical riders." Otto-Crépin resolutely replied that internationally the FEI has launched the 10-minute-rule after the meeting in Lausanne and that stewards control its application.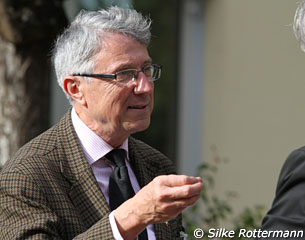 Whereas Beaupère mentioned the problem that not only the judges, but also the spectators have a certain say in the kind of methods that are fashionable (or not) in competition, Otto-Crépin's former national coach Christian Carde was more clear. Facing the attending I-/O-judges he asked if riders when strictly training after French principles would be adequately honored by them? Alain Franqueville, recently retired chef d'equipe of France's dressage team, made the effort of giving an answer, but was rather off the point by saying that Germany's Helen Langehanenberg shows an equitation close to the French one. Nobody felt able to give a reply to Carde's second question: if there's a French competitor really riding after French principles? It painfully hit the nail on the head.
One couldn't help, but get the impression that real and open discussion on these important points wasn't appreciated by the officials who led the debate. Maybe this is understandable from their point of view as this seminar was probably rather considered a promo event for French equitation than one in which the cards were really be put on the table regarding a few points, including the poor state of French equitation in competition.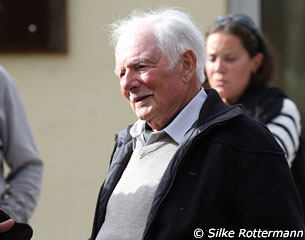 Pierre Beaupère, who also lectured on "French Equitation seen from the view of a foreigner," told Eurodressage that "I think the idea to get together so many people interested in lightness, collection, in the old masters and something that is more about beauty and art than performance is fantastic. But after many years in this dressage world, I'm still amazed to see how the sectarianism and the dogma continue to block its positive evolution. The debate about competition arose, of course, during the discussion, as we still tend to oppose classical and competitive riding. The biggest problem with competition is the ethical question what riders are prepared to do to their horses in order to win a medal. It's exactly because I have no problem with competitions that I had to respond when it was said that top riders today are all riding classically and with respect for their horse. It's actually quite funny to think that the FEI seems to be the only one that doesn't knowsome of the top riders today are using abusive methods!"
French Equitation Put to Practice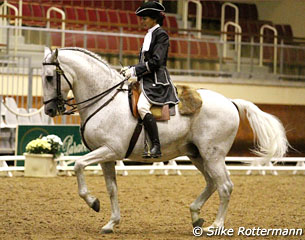 The practical demonstrations that followed on Friday morning in Cadre Noir's magnificent Grand Manège showed the whole variety within French equitation. After the Cadre Noir presented two younger dressage horses and elaborated on the training of their famous sauteurs horses, spectators saw something which made the whole dilemma obvious. Dany Lahaye, a renowned breeder and rider of Lusitano horses, a long-time student of the legendary Nuno Oliveira, first presented her 23-year-old stallion and later on an 8-year-old. Both horses showed, tacked in traditional bridles and saddles of Portugal, what one is also looking for in any competition arena: a totally relaxed horse from top to tail, in a light contact and great self-carriage. Her grey stallions showed the Grand Prix movements with correctly developed impulsion and in true collection.
It was undoubtedly beautiful equitation, a proof to what French equitation can lead and a painful reminder of the kind of equitation that has disappeared from the show ring. Would it impress spectators at a CDI show? How would judges react to horses being presented in such a totally relaxed, quiet manner? Isn't a certain degree of tension to increase the expression of the horse indispensable nowadays?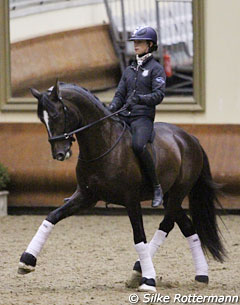 A horse which never shines as much in the competition arena as when being presented bitless or with a neck ring is French international rider Alizée Froment's Lusitano Mistral. The extremely charming dark bay horse is well-known for his displays at exhibitions, shows and also at the Global Dressage Forum a few years ago. Alizée first presented him with a bitless bridle that consisted of a padded English noseband with two reins attached to the sides. Afterwards she rode him only with a drawstring around his neck. The small Lusitano presented himself in great harmony with his rider, with beautiful cadence and impulsion and above all, in a totally outstanding suppleness which especially showed in the lateral work.
Maybe yet less well-known is Magda Pommier, a native French living in Geneva. The 31-year-old blonde is a successful competitor in young horses classes and she has competed up to Prix St Georges. In Saumur she showed her 15-year-old Lusitano Tutcho. The big framed grey was first ridden in a snaffle bridle and then only on a thin drawstring in several Grand Prix movements. It was impressive that the self-carriage and neck didn't change at all in comparison with the demo in the snaffle. Finally Pommier was even able to piaffe her horse from the ground with the tip of her fingers against his shoulder.
Even though these rides were very different from one another, they all showed the hallmarks of the French school: Horses moving in lightness, impulsion and suppleness.
Conclusion: Paper Doesn't Blush
The importance of French traditional equitation as a part of a centuries old equestrian culture is without a doubt shown in the UNESCO-inscription since 2011. However the inscription alone is not sufficient to secure the continuity of a riding style. Paper doesn't blush. A style dies out or lives on not because its protection on paper, but through its representatives.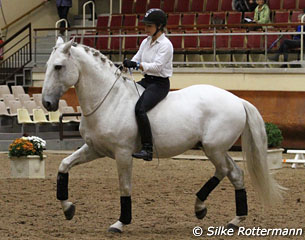 Regrettably nowadays riders seem forced to make a decision between competing and following a country's equestrian tradition in order to become successful. Even though the principles of French equitation are present in the FEI rules for international dressage competitions, the application is in jeopardy. How else can it be explained that a style of equitation which suits the international FEI rules no longer plays a role in the show ring?
As much as it is interesting and justified to talk about French equitation's history, evolution, its great masters and social aspects in a seminar like in Saumur, it seems much more important to discuss the reasons why French equitation, which once produced Olympic gold medals, has predominantly drifted into spheres outside the competition ring.  That crucial topic was probably too hot to tackle, to be confronted and dealt with.
By Silke Rottermann for Eurodressage
Related Links
History of French Equitation - Part I: Dressage a la Francaise
History of French Equitation - Part II: Modern French Classical Equitation
Photo Report: New Ecuyer-en-Chef Welcomed at 2014 Musicals of Cadre Noir
Christian Carde Clinic in Finland: "Good Riding is Good Riding"
Bernard Maurel Appointed Head of French Equitation UNESCO Project and Documentation Department