Veterinary News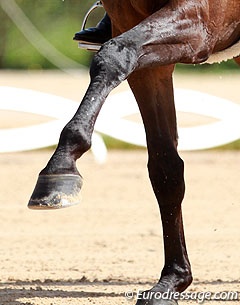 Stem cells are making their mark on the treatment of tendon injuries in sport horses and while the use of stem cells and its benefits in such cases are still in early stages of analysis, results are showing. While it may not speed up or completely solve the recovery of damaged tendons, it may aid the tendon to repair itself in a way more similar to how it was before the damage occurred and the tendon is thus less likely to suffer re-injury.
"The use of stem cells in tendon injuries modifies the normal repair process and creates new tissue that is more like the tissue of a normal tendon," says Professor Roger K.W. Smith. 
"There doesn't seem to be any difference in the duration of the recovery and horses will go through the same recovery process. However, we have found that the use of stem cells reduces the re-injury rate by 50%."

Beginning his work as a vet in 1987, in 2001 professor Smith became aware of the American work being done in the area, and as tendon injuries were his area of expertise, he decided they could do the same, but better.

"In the US they were injecting neat bone marrow into the tendon with the concept of injecting stem cells. However this was a fairly imprecise way, given that there is not many stem cells in neat bone marrow!
 We quickly developed techniques of putting equine bone marrow through a culture step to increase the number of stem cells in the culture, and were the first to clinically undertake this procedure.
 We started working with 10 million stem cells for each treatment, but we have now increased the dose to 20 million as we now know we lose a lot of cells at the time of implantation."

Stem Cell Treatment in Its Infancy?!
Dr Sue Dyson of the Royal College of Veterinary Surgeons is a specialist in Equine Orthopaedics and feels that knowledge about the use of stem cells in tendon repair is really at a very early stage. Initially it was thought that the cells themselves may stimulate the production of repair tissue which was more like normal tendon tissue than scar tissue and therefore less likely to re-injure.

"It seems however that the stem cells are present in the injured tendon after injection for only very short periods of time and while they may trigger some responses, the exact nature of those responses is still poorly understood," said Dyson.

So how does this procedure work?
 The stem cells that are used clinically, which are more properly called mesenchymal stem cells, can be produced from either a bone marrow aspirate, a sample of adipose tissue, or in some laboratories from blood and umbilical cord and cells generally have to be cultured for several weeks before there are an adequate number to be used clinically.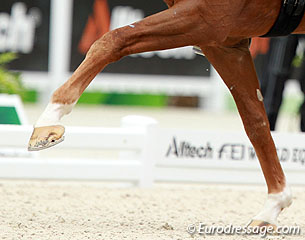 "The cells are generally derived from the horse in which they are going to be used with the exception of the blood derived cells, which are currently being produced allergenically and frozen prior to use. However the legislation in the UK prevents the use of these allogeneic cells clinically at this time. Any type of tendon injury in which the periphery of the tendon is completely intact are potentially amenable to treatment. There is limited evidence to suggest that acute, i.e. recent injuries are more likely to respond well than more long standing injuries," adds Dr Dyson.

Used most commonly in the treatment of tendon injuries, particularly those of the superficial digital flexor tendon in the cannon region, stem cells are also used in the treatment of suspensory ligaments, in the deep digital flexor tendon within the digital flexor tendon sheath and elsewhere.

"The standard procedure involves acquiring a bone marrow aspirate. This is acquired with the horse heavily sedated and a special needle is inserted into the sternum and the bone marrow is sucked out and put into special vials. These vials are then sent to a laboratory where they are cultured. When a sufficient number of cells have been cultured, these are sent back and are then injected into the tendon or ligament under ultrasound guidance. A similar procedure takes place when cells are derived from adipose tissue," says Dr Dyson.

Stem Cell Treatment, Only for Deep Pockets

While Professor Smith's main research interests have work has been primarily focused on preventing tendon injuries, recent funding in the UK has prompted an expansion of his research portfolio in was more readily available in the stem cells and repair research fields, and has now applied this work research to on many sport horses, both eventing and dressage.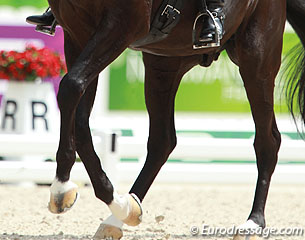 "In the UK ethical approval and veterinary approval has been granted to allow the use of this treatment in performance horses.
It is not performing-enhancing, as it just modifies repair process, and therefore does not enhance or improve the original tissue," he stated.
Althought it is still an unlicensed procedure in the US, Professor Smith says it is being used round around the world, from the US, and UK, to all across Europe, and also Australia.

"Still the biggest hurdle to this form of treatment is the cost," Smith told Eurodressage. "It is not the easiest thing to grow, and you need both expertise and laboratory time which is expensive.
 Cost in the UK adds up to around 1000 pounds per culture, and therefore most clients only use the stem cells on a once off basis. 
In the US they some are employing two separate implantations, one early on and one later, but this is costly, and most people who have spent the money and not had success are reluctant to try the same again."

While most tendon injuries were typically treated with a period of rest followed by controlled exercise and ultrasound monitoring, the use of stem cells still requires this same procedure and length of time out of work, but the 50% reduction in re-injury still makes it an alluring options for performance horses.

Tendons and Beyond
So does the use of stem cells in equine medicine stop with tendons? 
Accoring to Dr Dyson, mesenchymal progenitor cells have the ability to induce the production of a variety of tissues, and while as yet there have been no trials of stem cells in other major organs, the cells have been used in joints with very variable results.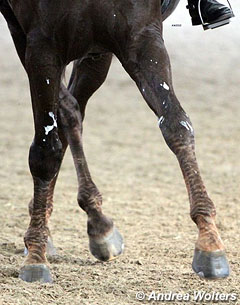 "There have been studies done into the effect of stem cells in the treatment of meniscal injuries in the stifle, plus in the fracture repair process and the treatment of oesteoarthritis," adds Professor Smith. 
"It is also known that stem cells reduce inflammation, so it may one day be used to treat other inflammatory diseases."

According to Professor Smith, stem cells are becoming more and more popular in the treatment of tendons in particular, but he adds that his work is also focused on how to prevent these injuries occurring in the first place.

"Preventative strategies are still my major goal and we have investigated the effects of the early introduction of exercise in foals to improve the quality of tendon strength prior to commencing proper training, and using genetics to help identify those at risk.
 Interestingly humans and horses both have a similar mutation in the gene that makes them more prone to tendon injury."

Stem Cell Treatment, a Hush Hush Affair
International high performance dressage riders are resorting more often to stem cell treatment for their injured horses, but they are afraid to publicly speak about it as they fear that the knowledge of an injured or treated horse might ruin the horse's reputation in competition as well as as its potential resale value. It is known that even World Equestrian Games medal winning dressage horses have been treated with stem cells, but the riders refuse to go on record.
One high performance owner not afraid to talk was Belgian Brigitte De Deken, whose daughter Julie is a member of the Belgian WEG team. They own a Grand Prix competition horse which has recovered from a tendon injury using this approach. Fazzino, a Westfalian gelding by Florestan I x Rivellino xx, was bronze medalist as a 6-year old at the World Young Horse Championships in Verden, and went on to achieve much success at small tour International level. He won the inaugural Under 25 Grand Prix competition at the CDIO Aachen and was Julie's first international Grand Prix horse.
"His highlight at Grand Prix level was a second place at the CDI in Odense with almost 70%, and he participated in several World Cups," saidBrigitte.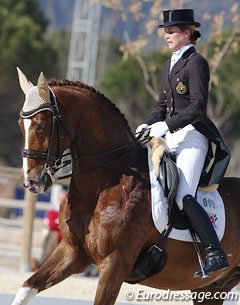 Unsure of exactly how the horse injured his tendon, Brigitte says at the time of injury he was being leased out to a junior rider in Germany.
"He suffered a double tendon injury: one in the middle of the front leg, and one on the same leg but on the knee. We have a very good vet, and he decided to treat the tendon directly with stem cells," said De Deken.
The vet injected stem cells directly into the tendon at the exact point where the injury occured using an ultrasound machine.
"After treatment he was prescribed walk only and we decided to bring him to a marvellous rehabilitation centre where he went every day into an aquatrainer to maintain his muscles, and he went on a vibration plate to increase bloodflow to the area," Brigitte explained.  "Besides this he walked on a hard surface 2 times each day for 10 minutes and this rehab lasted from the beginning of May to the end of September."
When he was ready to begin his work again, Julie started Fazzino with 2 minutes of trot for 7 days, and every 7 days 2 minutes more trot until she had reached 14 minutes of trotting.
"Then we where allowed to do one round of canter," Brigitte added. "The building up of training took threemonths, and every 6 weeks there was a check up from the vet with an ultra sound. Besides that we had a weekly physiotherapist coming in to check the acidification of the muscles and to keep them supple."
Certain that she would use this treatment again in case of tendon injury, Brigitte told Eurodressage that the whole kit and caboodle, including treatment and rehabilitation, costs around 15,000 euros. To lower the expenses one could do the rehabilitation at home by oneself.
Fazzino went on to compete for one more year as a small tour schoolmaster for one of Julie's student. The chestnutwas retired from sport in October 2014.
by Sarah Warne for Eurodressage - Photos © Astrid Appels - Andrea Wolters
Related Links
2011 Equine Regenerative Seminar in Wellington, Florida
International Veterinary Sport Horse Congress at 2011 CDI-W Amsterdam
End of the Year Questions and Answers 2006