Trakehner Breeding News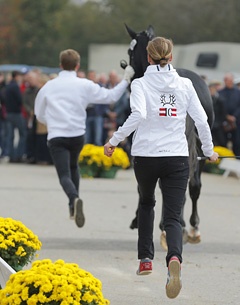 At exactly 1:30 in the afternoon on Thursday 16 October 2014 Petra Wilm, the President of the Trakehner Association, opened the 52nd Trakehner Stallion Market at the Holstenhalle in Neumunster, Germany.
And then hooves started to tap across the pavement: a total of 35 Trakehner stallions were presented to the five Approval Committee members for the first part of the licensing, the presentation on hard surface. Included were four 3-year old stallions who will be participating in the first ever Under Saddle Approval in the history of the Trakehner Association.

The large crowd of visitors from all over Europe and overseas followed the performances with interest. Languages are a must at the Trakehner Stallion Market since there are guests from 13 of the international daughter Associations as well as equine experts and those interested in the auctions from all over the world. All met up for the beginning of the Trakehner Stallion licensing and the presentation of the auction collection which ended the first day.
Many stallions were watched with great interest. For example, the first American Trakehner approval candidate Davidas (by Horalas, who was born in Illinois (USA) and is a grandson of the world class stallion Abdullah. Dr. Margaret McGregor is the breeder. Boulevard and Ghandi, both by Easy Game, are two Dutch bred Trakehner stallions that have also been allowed to take part in the 52nd Trakehner Stallion Market.
Friday's program began at 8:30 with the stallion free jumping. At 1:00 in the afternoo, the first competition of the TSF Dressage Championat at Prix St. Georges level will take place, as well as the presentation of the Riding Horse Collection that includes the Under Saddle Approvals. The four 3 year old stallions will be presented under saddle. The presentation of the brood mares and auction foals follows at 4:00 in the afternoon and it is followed by the third section of the Approvals, the presentation of the Trakehner stallions in the triangle.
Photo © Stefan Lafrentz
Related Links
2014 Trakehner Stallion Market with Top of the Bill Auction Collection
King Arthur, Trakehner Stallion of the Year 2014