WBFSH Breeding News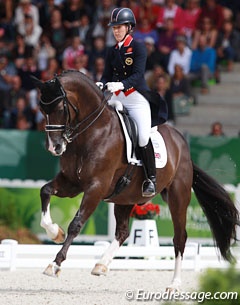 Every year in October the World Breeding Federation for Sport Horses (WBFSH) publishes the official WBFSH/FEI rankings for both individual horses and for studbooks for the past FEI competition year. The Dutch warmblood Valegro and the KWPN Studbook have topped the 2014 ranking for the third consecutive year.
Valegro topped the 2014 WBFSH/FEI Dressage Horse ranking with 3175 points. The Dutch warmblood gelding (by Negro x Gerschwin) is bred by Maartje and Joop Hanse in The Netherlands and owned by Carl Hester and Roly Luard from Great Britain. Second place has gone to the Westfalian Damon Hill (by Donnerhall x Rubinstein) and third place to Undercover (by Ferro x Donnerhall).
The KWPN breed society has topped the ranking for the stud books with a massive 15,365 points. KWPN bred horses that contributed to this top ranking are Valegro, Undercover, Totilas, Parzival, Siro and Johnson.
The Hanoverian society follows in a distance in second place with 13,179 points based on the points of Desperados, Don Auriello, Don Johnson, D'Agostino, Blind Date and Santana. The smaller Westfalian studbook has proven its worth by finishing third with 12,605 points thanks to Damon Hill, Bella Rose, Legolas, Fabriano, Lennox and Fleetwood.
The WBFSH/FEI rankings for horses and studbooks are published monthly and the final rankings for the entire FEI competition year are published every year in October. The WBFSH rankings are based on the point-awarding system of the FEI rider rankings. FEI rider rankings are produced every month and are an ongoing ranking. The WBFSH/FEI horse rankings will only take into account the number of points gained by a horse during a time limit of one year, from 1 October until 30 September. This makes it possible to have a best horse every year.
The complete results for dressage horses - studbooks
Related Links
KWPN in the Lead After Penultimate Release of 2014 WBFSH Dressage Ranking
KWPN Tops 2013 WBFSH Breeding Ranking for Dressage and Show Jumping
KWPN Society and Valegro Lead 2012 WBFSH Dressage Ranking
The Inaccuracy of the WBFSH Ranking
Maartje and Joop Hanse Honoured at 2013 Most Successful WBFSH Dressage Horse Breeders