Canadian Dressage News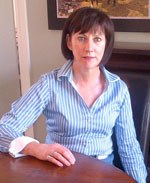 Karen Thompson-Harry has been appointed chair of Dressage Canada's Officials Committee. She  will serve a three-year term from January 1, 2015.
No candidates were nominated for the Officials Committee Chair position during the recent Dressage Canada Committee Election process; therefore, as per the Dressage Canada Governance the Board appointed Thompson-Harry to fill this position for the 2015-2018 term.
Thompson-Harry brings vast experience to this position as a past Chair of Dressage Canada and a long serving member of the Officials Committee.
"I am looking forward to working with the Dressage Canada Board again, and I am excited to take on a leadership role with the Officials Committee," Thompson-Harry said. "Thank you to the members of the Officials Committee for putting your trust in me to take this on, and the confidence and support of the Board. During my tenure on Officials Committee, I have had the opportunity to work with Lorraine MacDonald, Brenda Minor and, most recently, Joan Macartney in their roles as Chair, and they have all been excellent leaders. I have big shoes to fill."
Karen Thompson-Harry is a lawyer by profession and practices equine law. She rides her dressage horse Whisper Champion and used to sponsor Tom Dvorak, who competed her Corrigan (by Cordobes x Grosso Z) internationally in 2012. 
Related Links
Sarah Bradley Reappointed Chair of Dressage Canada Board
Three Candidates for Canadian High Performance Committee Chair
Gina Smith Elected Dressage Canada's High Performance Committee Chair
Bradley, Schoenhardt and Horgan on Dressage Canada Board, Smith Chair High Performance Committee