2015 FEI World Dressage Challange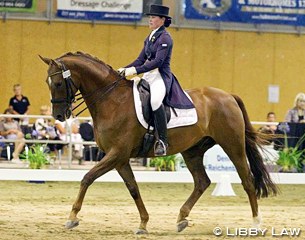 The Dressage Selectors of the New Zealand equestrian federation have announced a strong contingent of New Zealand riders that have been selected to contest the 2014 Zone 9 FEI World Dressage Challenge on 8 - 10 November 2014. The FEI World Dressage Challenge, which is an International Development Competition supported and organised globally by the FEI, will be hosted at the North Island National Equestrian Centre in Taupo. 
The 2014 Zone 9  International Judges are Mr Bo Ahman (Sweden) and Mr Alain Francqueville (France). New Zealand Judges Carol Eivers, Judy Alderdice and Julie Malcolm have been invited to shadow judge at the competition. Judges for the Team selection trial will be experienced NZL FEI listed judges, Sue Hobson and Betty Brown.
The NZL section comprises seven sections  including riders 12-15yrs at Preliminary & Elementary and Seniors 16yrs and above at Preliminary & Elementary, Medium, Advanced and Prix St Georges   (See nomination form and eligibility details here)

The FEI World Dressage Challenge is highly regarded by New Zealand riders as the opportunity to be assessed by international judges and if you are in the top placings, a lesson as well. In addition to these benefits there is the chance to compete against riders from Chinese Taipei, Hong Kong and the Philiipines and China. These countries are continuing to develop and have challenged for the lead in all sections over the past couple of years.
New Zealand is the first  team to compete in the 2014 FEI Zone 9 Challenge Competition and so the excitement will build as the Zone competitions progress during the weeks to follow in the Philippines, Taiwan, Hong Kong and China finishing on 23rd November.
Photo © Libby Law
The selected New Zealand riders are:
1    Lily Butler    Craighaven Dutchez       CHP
2    Morgan Beere    Wembleybrook Sergio        CHP
3    Madison Schollum    Kirkwood McAngus        CHP


1    Hannah van der Horst    I Romulus        CHE
2    Claudia Hurley    Skibereen Kentucky        CHE
3    Alena Dorotich    Kozee        CHE
1    Henrike Seifert    Diplomat MVNZ or Alexander M        AP
2    Greer Caddigan    Gymnastik Showdown        AP
3    Lisa Brown    Latino        AP
4    Lenore McIver    Mon Beau Bijou        AP
5    Chelsea Burns    JDF Master Dee        AP
1    Nicole Sweney    Pop Pop        E
2    Kirsten Laurence    Luna Bella        E
3    Rachel Stock    Bates Rimini Park Emerich        E
4    Caitlin Benzie    Le Connisseur        E
5    Charmian Pearson_White    Wimborne Conniston        E
6    Julie Flintoff    Belladonna MH        E
7    Sharlene Royal    Sonic Spirit        E
1    Aleisha Moroney    Sinderella FE        M
2    Kaye Ahsam    Dante MH        M
3    Toni Louisson    Snapshot FE        M
4    Rochelle Speirs    Vollrath Latimer        M
5    Rosanne Rix    Lindisfarne Laureate        M
6    Lisa Blackbourn    Lingh II        M
7    Sharlene Royal    New World Frankie J        M
1    Natalie Coles    Volleyball SL        ADV
2    Kaye Ahsam    Diva's Glory MH        ADV
3    Victoria Wall    Astek Gymnast        ADV
4    Mikayla Woods    Ramsbury        ADV
5    Scott McKenna    Regent Diamond        ADV
6    Angela Lloyd    Ruanuku R        ADV
7    Catherine Tobin    I Like It        ADV
8    Sheena Ross    Parkridge Disco        ADV
1    Sophie de Clifford    Ashbury Dolly        PSG
2    Nikita Osborne    Alacatraz        PSG
3    Catherine Tobin    Riverndell Romeo        PSG
4    Gaylene Lennard    Donzello        PSG
5    Holly Buckman    Devil's Chocolate        PSG
6    Debbie Barke    Lucrative SW        PSG
7    Andrea Martin    Hawkstone Sandringham        PSG
Reserves in Order
1    Rhiannon Scott    Oporae's Antoinette        PSG
2    Andrew Daines    Parkridge D Vine SW        AP
3    Alison Addis    Whistledown Kristopha        CHE
4    Mikayla Woods    LV Award        M
5    Lola May    Entourage        E
6    Cate Wilson    Frederico        M
7    Kayleigh Ryan    NRM Land Zea        E
8    Isadora Lamb    Miss Maddison        CHE
9    Kaye Ahsam    Decadence MH        E
Related Links
Thai Dressage Team On The Road to the 2014 Asian Games
Andrea Bank Rules Prix St Georges at New Zealand Leg 2012 FEI World Dressage Challenge
Riders Selected for 2012 New Zealand Section of FEI World Dressage Challenge
Chilean Virginia Yarur and Team South Africa win 2012 Zone 1 FEI World Dressage Challenge
First FEI World Dressage Challenge in Indonesia