British Dressage News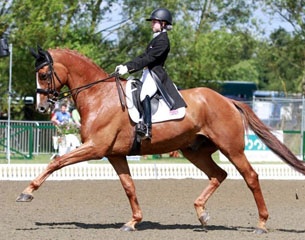 British Dressage has announced the updated British Junior and Young Riders squads from 2014 - 2015. The squads are divided into the prime squad (A-team), a progress squad (B-team) and a promising squad per age category.
The dates for the next round of BYRDS High Performance Training Camps designed to help top 'A' and 'B' Squad riders develop further have also been announced. Three camps are designed to 'sit' between BYRDS Regional Training, the BEF Excel Talent Programme and Squad Training and provide a platform for development. Dates for 2014/15 are: 1 & 2 November 2014, 20 & 21 December 2014, and 7 & 8 February 2015.
The 2014-2015 British squads are:
Junior Riders - Prime Squad
Charlotte Dicker - Sabatini and Catherston Springsteen
Chloe Vell - Kaja di Valentina
Erin Williams - Waverly
Junior Riders - Progress Squad
Imogen Ablett - Active S Express
Emily Bradshaw - Remarkable
Ella Cotterill - Sheepcoat Casablanca
Alice Edmonds - Broadstone Jackanory
Emily Hedger - O Donner
Ruth Hole - Winnetou GEP
Rose Hugh Smith - Florentino
Junior Riders - Promising Squad
Anna Jesty - Aquiro
Lily Latimer Smith - Classic Vazire
Megan Roberts - Dreamgirl
Bethany Shipley - Wanour S
Chloe Wrend - Luderitz
Young Riders - Prime Squad
Pippa Corbett - Saphier van het Overwater
Georgia Davis - Richman's Manta
Rebecca Edwards - Ufano II
Jessica Gale - Umbro S
Gaby Lucas - Laurentius II
Tamsin Vaughan - Casse Con
Young Riders - Progress Squad
Francesca Bradley - Baldovino
Elspeth Day - My Delilah
Charlotte Fry - Z Flemmenco
Lily Hewitt - Zaviev II
Anna Lawson - Bryan II
Ellie McCarthy - Churchill Casual
Young Riders - Promising Squad
Heidi Fellows - Prototype
Victoria Maw - Bon Rouge CH
Roxanne Shipley - Headmore Dream On
Jessica Wade - Lord Nelson IV
Related Links
Horobin, Blackmore, Thurman-Baker Win 2014 British Youth Riders Championships
Thurman-Baker Drops Out, Lucas On British Team for 2014 European Young Riders Championships
British Teams Selected for 2014 European Junior and Young Riders Championships