2014 CDI-W Devon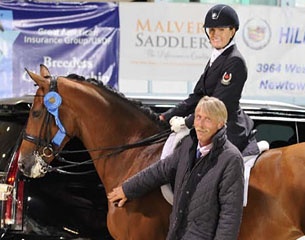 Canadian Ashley Holzer and her bay mare, Tiva Nana, winner of Friday's Grand Prix Qualifier, thrilled the crowd with their freestyle dressage performance in Saturday night's Grand Prix Kur to Music world cup qualifier at the 2014 CDI-W Devon. Earning a score of 76.125% the duo rode a test with a high technical difficulty and impressed the judges and crowds.
Their movements were challenging. For instance, they moved from canter to piaffe to passage without missing a beat of the epic, orchestral music. Apparently Ashley had made a last minute decision to enter the freestyle competition. She says that the electric atmosphere at Devon worried her mare a bit "but she is always willing to try anything as long as I set her up right. She is such a partner."
Canadian WEG Team rider Karen Pavicic and her gelding Don Daiquiri (by Don Cardinale) won second place with an energetic ride and a score of 73.375. She says, "Our experience at WEG gave us a lot of confidence." Third place went to Catherine Haddad Staller and her chestnut gelding, Hotmail (by Michellino) with a score of 72.5.

U25 Alexandra Dvorak Follows in Her Father's Footsteps
Alexandra Dvorak, from Hillsburgh, Ontario, rode to the top of Devon's Under 25 Grand Prix on Fling, a Westfalian gelding. Her father and trainer, Olympian Tom Dvorak, purchased Fling in Germany, intending to resell him. When it was time for Alexandra to graduate from a pony to a horse, however, they decided to keep him.
"I love his personality, and he doesn't have a mean bone in his body," said Alexandra.
Her dressage career rose quickly from Juniors in 2008 to Grand Prix level this year. Of her experience at Devon she says, "it's been a wonderful. The people competing here are the best of the best." While she has put many long days in to achieve her success, Alexandra is quick credit her father for his support. "He's the greatest father and coach. No one wants me to succeed more." And with that statement, Alexandra and her proud father come together for a big hug outside Fling's stall.
Rosevelt Dominates the Grand Prix Special
Allison Brock and Rosevelt, a black stallion owned by Claudine and Fritz Kundrum, won the Grand Prix Special. It was Alison's second trip to Devon, but the first time she rode in the Grand Prix. She was thrilled that Rosevelt handled Devon's charged environment like an old pro. As for her experience, she says, "to ride in the Grand Prix at Dressage at Devon is a childhood dream. Devon has a special atmosphere and tradition."
Allison has been riding Rosevelt for five years and is grateful for the support of the Kundrums as well as trainers, Michael and Vera Barisone. She notes that while horse and rider are in the spotlight, it takes a team to get them there. Will Allison and Rosevelt be back at Devon? "Absolutely! I want to come back next year and do the Freestyle," she says.
 
Ziegler Rules the Young Riders Classes
Canadian David Ziegler rode Penisula Top Man (by You Can Do x Kings Master) to the top position in the Young Rider Freestyle with an impressive score of 71.700, clocking his third victory of the weekend. Ziegler thrice placed ahead of country mate Tanya Soshtak-Strasser on her mother's former Grand Prix horse Aktion Tyme.
Related Link
Scores 2014 CDI-W Devon