2014 Swiss Dressage Championships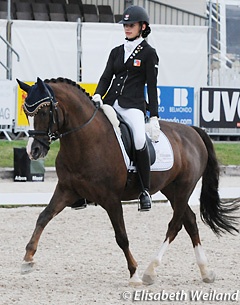 Putting the cheese and chocolate aside, the Swiss Dressage Championships in Humlikon on 29 - 31 August 2014 saw Naomi Winnewisser dominate both the Pony and Junior division, while Estelle Wettstein took the throne in the Young Riders' class. Jessica Neuhauser won the Under 25 and Anna-Mengia Aerne-Caliezi took home the Grand Prix title.
Winner of the Pony division was Naomi Winnewisser on her professor, the 17-year old Diamant NW who earned himself a 71,307% in the team test, 72,170% in the individual and 75,750% in the kur. Winnerwiser was very pleased with her last ever Pony championship. "My horses felt wonderful at the Championships and it was very special for me to win with Diamant as next year I'm out of ponies," she told Eurodressage.
After a ninth place at the 2014 European Pony Championships, claiming the Swiss title was the icing on a very fun cake, and has made a perfect end to a what Naomi says was a very happy pony career. "As he is now 17 he will remain in our family for the rest of his life," she added.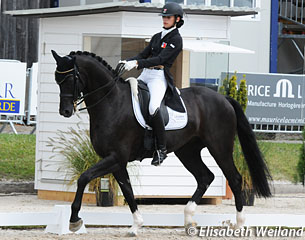 Also taking the Junior title on her 9-year old Hanoverian Furst Rousseau (by Rousseau x Weltmeyer), Naomi took over the ride on this  horse from her trainer Tiggy Lenherr just over a year ago. "He is a very very different horse to ride compared to my pony, Diamant, and so it has taken a while to adapt to him," she explained. "I will ride Fürst Rousseau in the juniors next year and hope to then continue with him in Young Riders. I am also very lucky to have two lovely young horses coming up for the future!"
Swiss Young Rider champion Estelle Wettstein felt that her 9-year old Friedrich der Grosse (by Florencio x Freiherr) was very motivated throughout the championships, and that he get better every day. "There was nothing special I really needed to work on, we just did the tests as well as we could and also took more risks each day," Wettstein stated about her freewheeling to gold in her division.
Starting the Under 25 division on this horse next season, Estelle feels he is a very special horse with a strong personallity. "However, as soon as you get onto his side, he will go through everything with you."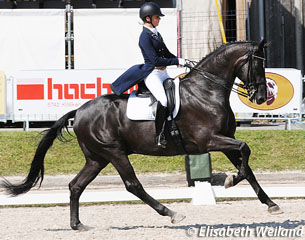 Training at home in Wermatswil with her parents, Estelle is a very versatile rider also contesting international show jumping classes. Estelle's mum Marie-Line is in charge of the dressage side, while her dad Ernst takes care of the jumping. "I hope that I can continue to ride both disciplines on an international level and get to Grand Prix as soon as possible," she added.
Overall champion of the Under 25 riders Jessica Neuhauser and 12-year old stallion Ferrero Kiss (by French Kiss x Don Gregory) were in top form. Jessica explained that Ferrero Kiss was very motivated to do the job in Humlikon. "He fought with me and for me and so he could show how talented he really is," said Neuhauser. "The result was proof of a very solid relationship between my trainer, horse, and myself."
Bred in Baden Württemberg, Ferrero Kiss is a true friend to Jessica. She says her horse is not only a partner in sport, but a friend in life. "He fascinates me every day with his dear and affectionate character and he is always willing to work and learn more."
Training with Uwe Schwanz at the beautiful Waldhauser Hof stable south of Munich, Jessica believes she has one of the best coaches and trainers in Germany, and that her success at the Swiss championships was only possible because of his help. "In the near future we have planned to participate in some important shows in Bavaria and perhaps, if possible, to start also at the Under 25 Championships internationally," Jessica added.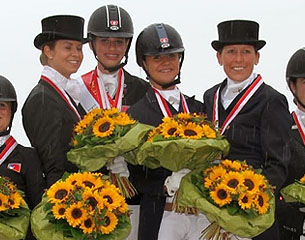 In the absence of all four Swiss team riders which competed at the 2014 World Equestrian Games in Caen, France, during the week before the Nationals, Anna-Mengia Aerne-Caliezi made her winning Swiss Championship debut ride on 13-year old stallion Raffaelo Va Bene (by Royal Diamond x Lanacar). They earned themselves a 69,220% in the Grand Prix and 72,875% in the Special to finish two points ahead of Joannou Antonella.
"The championships were the first competition with the horse, and I believe he did an amazing job," said Anna-Mengia. "He is a very gentle and intelligent horse who loves to cuddle anytime and is always willing to work. During the champs he was always concentrated on me and listening."
Since just last spring Anna-Mengia has been training with Silvia Iklé and with her coach's longtime experience and knowledge Anna-Mengia has felt the improvement.
"In the last few weeks we won the Elite division Grand Prix and Freestyle and now Raffaelo has earned some days in the field just enjoying himself and keeping an eye on his girls."
Photos © Elisabeth Weiland -  SM Dressur
Results - 2014 Swiss Dressage Championships - Humlikon
Pony Riders
1. Winnewisser Naomi - Diamant NW - 71,307 - 72,170 - 75,750 --- 219,227
2. Korsch Carl-Lennart - Dack von Wittgenstein - 68,974 - 69,878 - 70,975 -- 209,827
3. Krattiger Elena - Tiesto - 68,128 - 68,195 - 70,500 -- 206,823
4. Rogerson Carlotta - Vincento Royal - 68,256 - 67,536 - 67,100 -- 202,892
5. Bürgler Lars - Cristal Noir Primo - 62,076 - 63,658 - 65,050 -- 190,784
6. Scheufele Katarina - Vincente - 62,564 - 61,634 - 59,925 -- 184,123
7. Schneider Aida - Lema Dame Blanche - 59,179 - 59,951 - 59,100 --- 178,230
Junior Riders
1. Winnewisser Naomi - Furst Rousseau - 70,675 - 70,815 - 74,000 --- 215,490
2. Schmid Ramona - Honeur - 69,594 - 69,131 - 70,725 --- 209,450
3. Hartmann Stephanie - Darek - 67,270 - 66,473 - 69,500 --- 203,243
4. Guerra Léonie - Mocca - 67,918 - 65,921 67,775 --- 201,614
5. Grossenbacher Anja - Wichtel Hill - 63,945 - 64,184 - 64,925 --- 193,054
6. Ott Nicole - Ehrenwort Junior -  64,513 - 64,105 - 63,425 --- 192,043
Young Riders
1. Wettstein Estelle - Friedrich der Krosse - 69,710 - 71,368 - 73,550 --- 214,628
2. König Christina - Saturnus - 66,842 - 67,578 - 69,350 --- 203,770
3. Roos Tamara-Lucia - Amaretto XII - 65,236 - 64,026 - 68,750 --- 198,012
4. Röösli Johanna - Celine IV -  61,578 - 66,000 - 68,475 --- 196,053
5. Höltschi Sharon - Conteur's Charmeur - 65,421 - 64,026 - 65,925 --- 195,372
6. Lehmann Bigna Ladina - Ronaldino - 62,342 - 64,631 - 64,925 --- 191,898
7. Balmer Céline - Rosetti - 64,473 - 63,342 - 62,375 --- 190,190
8. Garzoni Lia - Calypso van 't Goorhof - 60,526 - 63,026-  63,875 --- 187,427
9. Scheufele Caroline-Marie - Quichotte - 61,473 - 63,921 - 60,450 --- 185,844
Under 25 Riders
1. Neuhauser Jessica - Frerrero Kiss - 67,869 - 67,651 --- 135,520
2. Aeberhard Simona - Private Dancer - 65,782 - 68,697 --- 134,479
3. Waldmeier Sina - Kavarell - 66,000 - 66,372 --- 132,372
4. Suter Andrina - Axiom - 67,739 - 63,395 --- 131,134
5. Aeberhard Carla - Donna Diandra - 64,608 - 63,976 --- 128,584
6. Müller Sophie Aiko - Wolkenstein's Junior - 64,913 - 63,581 --- 128,494
7. Hartmann Anthea - Rubinario - 64,282 - 64,116 --- 128,398
8. Ackermann Sabrina - Famous Boy - 61,152 - 62,697 --- 123,849
9. Bertschy Anne Rita - Tenson - 60,521 - 63,279 --- 123,800
Grand Prix Riders
1. Aerne-Caliezi Anna-Mengia - Raffaelo Va Bene - 69,220 - 72,875 --- 142,095
2. Joannou Antonella - Dandy del a Roche - 69,100-  71,825 --- 140,925
3. Graf Markus  - Ronaldo - 67,160 - 72,150 --- 139,310
4. Ngovan Gilles - Dream of Night Fluswiss -  65,280 - 69,925 --- 135,205
5. Wicki-Mäder Andrea - Five O'Clock -  65,900 - 68,325 --- 134,225
6. Schärli Patricia - Cappucino - 64,240 - 67,825 --- 132,065
Related Links
Huet, Winnewisser, Wettstein and Krinke-Susmelj Win at 2013 Swiss Dressage Championships
Wettstein, Lehmann, Krinke-Susmelj Win 2012 Swiss Dressage Championships
Surprise, Surprise: Markus Graf is the 2011 Swiss Dressage Champion
Corinth Did It Again at the 2010 Swiss Dressage Championships
Veronika Marthaler, 2007 Swiss Dressage Champion
Widmer, Reutimann and Wettstein, 2006 Swiss Dressage Championships