2014 World Equestrian Games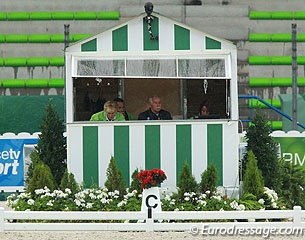 It was the first "real" work day today at the 2014 World Equestrian Games with the first group of riders contesting the Grand Prix for the team championship medals. As usual I regretted setting my alarm and snoozed for another 9 minutes before getting out of the bed and ready to leave the hotel.
No time for breakfast, but I did go to the area and grabbed a pain au chocolate and two apples as on the road snacks. Traffic was still good around the stadium and maybe it will be fine the entire week if one just comes early enough. I set up my computer in the press centre, locked the laptop to the table and headed out to the show ring.
I always prefer photographing the Grand Prix test from the short side at A as most of the movements head that way. A lot of photographers complain about empty stands, but I don't really mind. Here in Caen there are green colored seats and they bring a certain kind of atmosphere to the photo.
It's funny how small and meaningless I can feel in the presence of the real professional photographers here at WEG. I'm not talking about the press agencies sending horse illiterate staff out this these shows, but the real trade specialists who shoot in RAW, work with posh programs such as photo mechanic, photo station or Lightroom and always seem to get their colours right. Not all of them have the best timing, in my opinion, but they know their craft and I'm in awe to see them work on their computers after a day's shooting.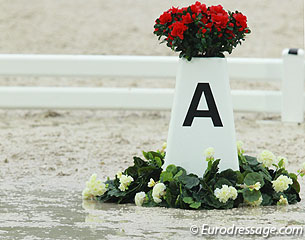 It was lightly raining when the first rider, Fabienne Lutkemeier entered the arena. Sue Stickle and I were the only two standing in the actual rain, but both of us decided after one ride to seek shelter in the covered stands. They provided ample opportunity to shoot from a good angle without getting drenched. The entire morning it was wet and I didn't move place.
After an hour of shooting I was finally joined by my mentor and the person who got me started in the equestrian journalism business, Mary Phelps of Dressagedaily.com. We've been friends since 1996, we both had the first dressage websites on the internet when most people were not even connected yet and she has taught me the first principles of horse photography and how to run an e-business. Mary also took me to my first WEG, the 2002 edition in Jerez de la Frontera. At the time I was crying over a break-up with a boyfriend and wanted to boycott WEG so that I had plenty of time to sob and moan and wallow in self-pity. Mary whooped my ass, told me to get over it and recommended me not to miss out on an experience of a lifetime! I'm still very grateful for her sound advice and guidance at the time and had a blast in Spain with her.
There was a short 1h15 min lunch break during which I ate that pain au chocolat and posted the first article on the morning session of the Grand Prix. When we returned to the ring round 1h45 it had really began to rain and after an hour it poured non-stop, creating massive puddles in the footing of the arena, even though the ring stayed reasonably ok. I photographed alone for a while and was then joined by Sara Lieser and Shannon Brinkmann, with whom I enjoyed chatting for a bit. Afterwards Mary joined me again and by 18h we were both very happy that the long day was over.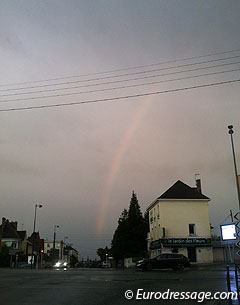 I returned to the press centre where I wrote my articles and edited some photos. I was only moderately pleased with my work of the day, but had to take the lousy rain into consideration. Canadian Shaun Hamilton, who was sitting next to me, could boast much nicer quality photos colourwise and I was envious of her work. Damn, I need to brush up my photo skills this autumn and go "raw" as well, I ordered myself.
I took two hours to finish the article and post the photos. You must all know that I hate proofreading my articles as it is so time-consuming, hence the typos. I drove back to the hotel and round 21h went to the local Indian restaurant where the U.S. Chronicle crew had gathered. They were so kind to invite me over to their table, but as they were finishing their dinner and I only starting, I politely declined and had dinner-for-one reading a few more chapters in Game of Thrones. I ate a daal soup (lentil soup) with a piece of naan and had chicken buryani as main course. No dessert this time (yes I do learn from my mistakes!) and just a coffee to finish things off.
In the hotel I wanted to write my blog for the day (this one) but as the internet was down, I could only type the draft of the text and actually post it tomorrow at the press centre.
Good night!
Text and Photos by Astrid Appels
Related Link
Eurodressage Coverage of the 2014 World Equestrian Games