2014 World Equestrian Games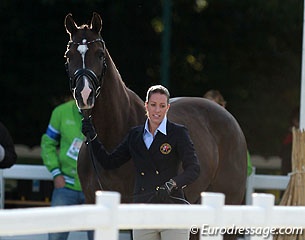 One hundred horses will be contesting the Grand Prix at the 2014 World Equestrian Games in Caen, France, as two horses failed to show fitness at the horse inspection on Sunday 24 August 2014. The jog started at 7.45 AM this morning and was quite "exciting" as more than a few horses failed to show good manners during their in-hand presentation.
Dressage at the 2014 World Equestrian Games is set to begin tomorrow with a huge field of competitors. The FEI rule says that a panel of judges is allowed to assess only 42 horses maximum per day, but for WEG an exception will be made with 50 horses competing per day.
The horse inspection took place in the early morning under an almost clear sky. The medal contesting nations all showed fit horses. Unfortunately Kazachtstan lost a combination as Natalya Yurkevich's Donpetro was unlevel during the trot-up. After a first failed jog, Norwegian team member Camilla Kalseth opted not to present her Carte d'Or for re-inspection.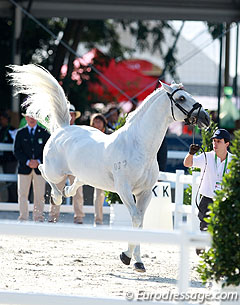 Several horses showed extremely poor manners and were jumping around, annoying their handlers by biting or freaking out. Three horses bucked so hard that the ground jury had to run for cover, with Maria Caetano's Xiripiti visibly targeting several kicks at by-standers. A few more failed to produce a proper walk or trot being too excited during the jog and they had to be represented a second time.
A handful of horses were shown in lethargic way, dragging their feet instead of properly trotting in hand. The warm-up ring was used for the horse inspection, on the same footing as in the show ring. It is the trend to accept softer footing for dressage year after year whereas international eventing horses are presented on actual "hard surface" which reveals lameness and unlevelness much more easily. One horse was presented in a double bridle while all the others were in a snaffle.
Text and Photos © Astrid Appels - NO REPRODUCTION ALLOWED
Related Link
Eurodressage Coverage of the 2014 World Equestrian Games