British Dressage News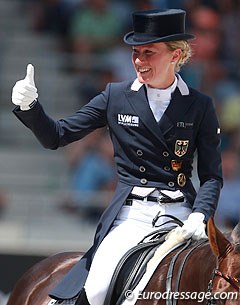 World number two rider Helen Langehanenberg will be hosting this year's British Dressage National Convention held at Hartpury International Arena in Gloucestershire on 8 – 9 November 2014.
Trips to Britain for the multi European and Olympic medallist are rare, as is the opportunity to witness at first hand her training methods and ethos, so this year's convention promises to be a memorable one.
Helen's riding prowess is well known and her amazing partnership with Christian Becks' Westphalian licensed stallion, Damon Hill, has captivated the dressage world. A former World Cup champion, Helen has a team Olympic silver from London 2012 and added team gold and a pair of individual silver medals to her tally at last year's European Championships in Denmark. However, she's less well known as a trainer and the convention is the ideal opportunity to find out what makes her tick. Born and based near Munster, Helen is a strong believer of the classic principals and the scales of training are at the heart of her methods but she also emphasises fun and enjoyment throughout. She cites 'communication of the joy of work to both horse and rider' as one of her training philosophies while suppleness and lightness are her trademark style.
David Hunt, BD's outgoing Training Director commented; "I'm delighted that BD is continuing to bring the best dressage riders in the world to the National Convention and very proud that we can give dressage fans the opportunity to see them train. German riders have always been at the forefront of international dressage and Helen is a part of a new wave of success on the world stage. It will be fascinating to hear her training ethos and what it takes to get the best from herself and her horses. I don't think she's visited the UK in this capacity before, so we're lucky to have this opportunity," he added.
Photo © Astrid Appels
Related Links
2014 Helen Langehanenberg Clinic in Berne: "Dare It, It's Only Training!"
Adelinde Cornelissen, Keynote Speaker at 2013 British Dressage Convention
A Demonstration of Correct Training at the 2010 Albion British Dressage Convention
Jan Bemelmans Keynote Speaker at 2008 British Dressage Convention