2014 CDIO Hickstead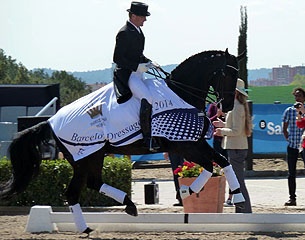 Danish WEG Team short listed Grand Prix rider Anders Dahl has been harvesting the fruit of success about his highly talented small tour mount Selten HW winning the international competitions in Barcelona and Hartpury. Dahl and Selten HW will contest the small tour one last time at the 2014 CDIO Hickstead this weekend before making the transition to Grand Prix level.
Bred in the United States, Selten HW is a Sandro Hit x Hohenstein offspring which has taken the European show circuit by storm this year. Probably the most successful small tour horse of 2014, Selten HW so far has been unbeaten with rare high seventy percentage marks at each show.
At the CDI 3* and 4* in Barcelona, Spain, in March Dahl and the black gelding led from start to finish as the competition progressed over the two weeks. In a strong field of international competitors, the pair scored 76.526% (PSG) and 77.763 (Inter I) during the first week of competition and posted top scores of 75,526% (PSG) and 77.289% (Inter I) on week two in Barcelona.
At the 2014 CDI Hartpury on 11 - 13 July 2014, the duo maintained its winning streak with scores of 74.316% and 74.00% and riding to their new freestyle music they took top honours with 78.00%.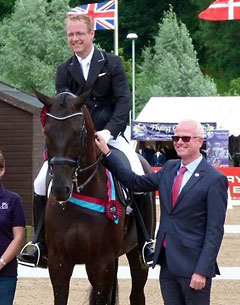 "Selten is a horse of a lifetime and is by far the best horse I have ever ridden," said an ecstatic Dahl. "I am very excited for what the future will bring."
Acquired at the 2012 Equine Elite Auction in Holland, Selten HW is confirmed in all the Grand Prix movements at home. After Hickstead he will get a short holiday and will then compete at Intermediare A and B in August and September.
"The plan is then to bring him out to some low key Grand Prixs and have him ready for the bigger international shows early next year," Dahl disclosed.  "The overall aim is obviously Rio 2016. With a horse of this quality and producing the scores he has to date it is a very achievable goal."
Anders is incredibly enthusiastic about his black beauty, who got his great looks from Sandro Hit and his athleticism and ability to collect from grand sire Hohenstein. The eye catcher has an impressive character and a fearless aura.
"He has a huge personality, he is a very cool character with a cheeky side who is brave, confident and inquisitive," Dahl explained. "He often gives his groom a challenge hand walking around the shows as he loves an audience and any excuse to show off. He is nicknamed her big black kite as often all four hooves are off the ground. Selten has exceptional power and is a very clever horse, once he knows what I want he rarely makes a mistake."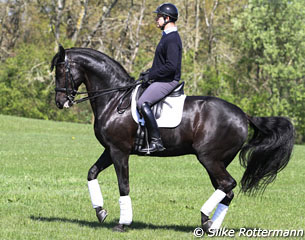 At the Hickstead Premier League earlier this year Selten scored twenty-five 9's between three judges in a Prix St Georges test. One judge wrote on his freestyle score sheet: "I could murder for him (Be careful). Music was stunning and the test was like a story." Dahl and Selten scored 81.42% for their kur at the time.
The 2014 CDIO Hickstead will be Selten's last small tour appearance internationally. "He has qualified for the 2014 British National Dressage Championships in Stoneleigh and we will decide nearer the time if he competes," Dahl added.
With Hickstead being a stone throw's away from Dahl and his wife Fiona Bigwood's home base Bourne Hill House in Horsham, Sussex, Anders is excited to ride on local soil and finish his international small tour show so close to home. After 18 years together and three children, Anders and Fiona got married on Saturday 26 July 2014 in the presence of family, friends and British Dressage's VIPs.
Related Links
Bourne Hill House: A Home for Happy Horses
Victory for Anders Dahl in Albany Trustee Prix St. Georges Kicks Off CDI3* BCN Dressage Tour 2014
Youngsters on the Road to Rio: Super Nova and Batuta Shine in CDI3* Grand Prix at Barcelona Dressage Tour 2014
Experience Versus Youth at CDI4* of the Barcelona Dressage Tour
What a Show, What a Night! 2014 Barcelona Dressage Tour a Real Boost for Spanish Dressage
Selten HW, Price Highlight of the 2012 Equine Elite Auction
Scores: 2014 CDI Hartpury