2014 CDI Barcelona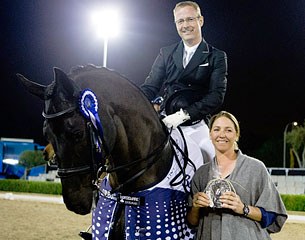 The Barcelona Dressage Tour kicked off with the victory of Danish Anders Dahl in the first test of the Small Tour on Wednesday 19 March 2014. Aboard Fiona Bigwood's Selten HW (by Sandro Hit x Hohenstein), a wonderful black Hanoverian with Trahkener origins, Dahl rode a beautiful test and his score of 76.526% put him in a league of their own in the St. Georges Albany Trustee prize.
Last night we saw quality in the Prix St Georges and a good opening to the new Dressage Tour in Can Alzina, near Barcelona, sponsored by Banc Sabadell, Mango and Audi Superwagen.
The Prix St Georges was the kick off for this great competition with 142 participants in the first week of the CDI3* which will be followed by a CDI 4* from 25 - 30 March 2014. The Dressage Tour started with 37 competitors and without doubt Anders Dahl did a wonderful performance. Right from the beginning of the test we could see Selten in a magnificent uphill frame showing great quality in the trot work. The walk pirouettes and the collected walk were very good. In the canter perhaps the weakest points were the half pirouettes, but on the other hand the flying changes and the extended canter again showed the potential this horse has. The judges' panel saw the Danish pair as the unanimous winner.
Anders was delighted with his victory: "I only got him a year and a half ago and he has improved so much and then winning with this high score is of course a real joy. We bought Selten at an auction and he was quite green when I got him, but now Fiona and I believe in him. He has competed very little so far and now I want to get him used to the show atmosphere, arenas and people. I am very happy - he was really good yesterday! I am not at all in a rush with him, he is my goal for Rio," Anders told us with a twinkling eye.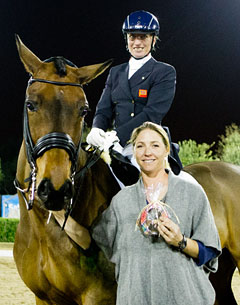 In second place with a 72.315% was Henriette Andersen representing Great Britain. She rode Flavio (by Florencio x Gluckspilz), a 9-year old Baden-Würtenberg gelding. In her performance she took care of even the smallest details and without major errors Flavio showed his magnificent movements and great balance. Henriette also brought along Louis D´Or, her 14-year old Grand Prix mount, owned by Paula Potter.
Third placed was the Dutch rider Remy Bastings with Zecchino (by Krack C x Vindicator) obtaining a well-deserved 71.026%. He made a very professional presentation, with a very elegant and uphill trot work despite having a few difficult moments in the extended movements.
The Clasica 1 national test, sponsored by Rob & Sue Fearis, also took place yesterday and was open to foreign riders. Dutch rider Joyce Lenaerts and Authentic claimed victory with a 71.000%, while second placed went to Portuguese rider Maria Caetano and her Lusitano Coroado. She scored a 68.341% with the lovely grey owned by Finca Tineo. Irish Roland Tong finished third with Ambience IV (by Trento x Metall) with a 68.049%.
Many of the foreign riders that have come from a long way are very happy with the top quality venue. Yesterday we talked with the first foreign and national riders, who stated that sunshine and perfect conditions for competing are all they could ask for. Diana Al´Shaer who came with her three horses a long way from Germany, where the Russian rider is actually based, said "what else can we ask for?"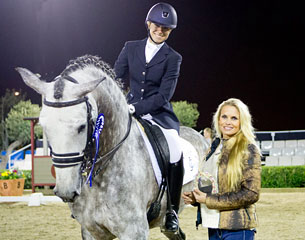 Many of the top riders are used to the highest standard of facilities and events where they compete and they have assured us that Barcelona Dressage Tour has nothing to envy to other top venues in Europe.
The BCN Dressage Tour has only begun. Today we will see the first part of the AUDI SUPERWAGEN Grand Prix at this CDI3*. The test is the highlight of the afternoon, starting at 17.00 o´clock. The competition started at 9.00 am with the 5-year old tests and finishes today at 20:30.
You can't miss it – if you can't join us at the show, click on www.topiberian.com for continuous live-broadcasting!
Speakers Bobby Fernández de Bobadilla, former head of Spanish Dressage at the national Federation and Francisco Cancella, international judge and trainer from Portugal, are commenting live the Grand Prix today as of 17:00.
More news at http://www.events-barcelonahorses.com
Text and Photos © Top Iberian
Related Links
Scores 2014 CDI Barcelona
Barcelona Horses Opens 2014 CDI Season in Spain with Barcelona Dressage Tour
Barcelona Horses Celebrated Marvelous King's Cup 2013, Warm Up for Spring Tour 2014