Belgian Dressage News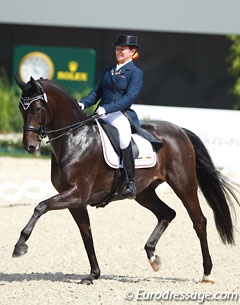 The technical dressage group of the Belgian Equestrian Federation has granted Claudia Fassaert and Donnerfee a bye for competing at the mandatory and last Belgian WEG team selection trial, the 2014 Belgian Dressage Championships this weekend.
The Belgian Dressage Championships in Meerdonk, Belgium, are set to begin on Thursday 31 July 2014 with the first round, the Grand Prix, for the senior dressage riders.
The dressage selectors have decided to "alter the preparation tract for Claudia and Donnerfee with regards to the World Equestrian Games," the KBRSF press officer stated. "This alteration should lead to Clauda and Donnerfee, who have been an anchor for the Belgian team for several years, to compete in optimal form at the World Equestrian Games."
The other Belgian WEG team short listed riders scheduled to compete in Meerdonk this weekend are: Julie de Deken (Lucky Dance), Jeroen Devroe (Eres DL), Philippe Jorissen (Le Beau), Françoise Hologne Joux (Wodan), Delphine Meiresonne (Wipsy van het Heihof), Simon Missiaen (Vradin) and Laurence Vanommeslaghe (Avec Plaisir).
Photo © Astrid Appels
Related Links
Belgian Long Listed Riders for the 2014 World Equestrian Games
Belgian Road to 2014 World Equestrian Games Set