2014 Bundeschampionate Qualifier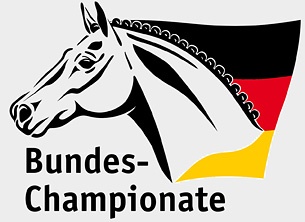 The 5-year old Charry O and the 6-year old Scolana were the winners of the Bundeschampionate qualification classes held at the regional show in Schenefeld on 4 - 5 July 2014. Twenty-eight dressage horses assembled in Schenefeld for the L and M-level Dressage Horse test.
The Spanish rider Juan Manuel Vidal Testal and the Oldenburg stallion Charry O (by Casiro x Silvio I) dominated the 5-year old division with a winning score of 8.1. The pair got 7.5 for trot, 8.5 for walk and canter and 8.0 for submission and general impression. Steffen Frahm and Leatherdale Farm's Hanoverian stallion Beltano (by Belissimo M x Hohenstein) were the runners-up with 8.0. They got 7.5 for trot, 8 for walk, submission, and general impression and 8.5 for canter. The pair tied with the Danish Katrine Kraglund on the Hanoverian gelding Hofprinz (by Hofrat x De Noir). They got 8.5 for trot and canter, 7.5 for walk and submission and 8.0 for general impression.
In the 6-year old division Juliane Brunkhorst and the chestnut Hanoverian mare Scolana (by Scolari x Don Marcello) won the M-level test with 8.3 in total. The pair got 8.5 for walk, trot, and general impression and 8.0 for canter and submission. Anna Sophie Fiebelkorn and the Hanoverian gelding Don Henry (by Don Henrico x Fishermans Friend) were second with 8.1. They got 8 for trot, 9 for walk, 8.5 for canter, 7 for submission and 8 for general impression.
Results - 2014 Bundeschampionate Qualifier - Schenefeld
5-year olds
1. Juan Vidal Testal - Charry O (by Casiro x Silvio) - 8.1
2. Steffen Frahm - Beltano (by Belissimo M x Hohenstein) - 8.0
2. Katrine Kraglund - Hofprinz (by Hofrat x De Noir) - 8.0
4. Anna Sophie Fiebelkorn - Schwarzgold (by Imperio x Consul) - 7.8
4. Esther Maruhn - Fortuna (by Fidertanz x De Niro) - 7.8
6. Kristina Bockmann - High Hopes (by Krokant x Caprimond) - 7.7
7. Henrik Humpel - Herzelinde (by Herzensdieb x Weltfriede) - 7.6
7. Anna Lena Kracht - Dow Jones (by Kasimir x Hohenstein) - 7.6
9. Kristina Bockmann - David Garrett (by De Niro x Caprimond) - 7.4
10. Dorothee Fischer - Dujardin (by Dancier x Rotspon) - 7.3
11. Frank Lange - Foritssimo (by For Compliment x Taragas) - 7.2
12. Shereen Giese - Capetown's Chaquita (by Cascari x Calido) - 7.1
13. Katharina Stern - Paola (by Lord Loxley x Friedensfurst) - 6.9
13. Jessica Otten Willers - Skyfall (by San Remo x A Jungle Prince) - 6.9
15. Wenke Tewes - Shirin's Diva (by Imperio x Ravel) - 6.8
16. Marlis Möwe-Jarren - Happy's Day (by Herzensdieb x Houston) - 6.3
6-year olds
1. Juliane Brunkhorst - Scolana (by Scolari x Don Marcello) - 8.3
2. Anna Sophie Fiebelkorn - Don Henry (by Don Henrico x Fishermans Friend) - 8.1
3. Esther Maruhn - Lance Armstrong (by Londontime x Weltmeyer) - 8.0
4. Theresa Wahler - Herbstkonig (by Interconti x Timber) - 7.8
5. Felix Kneese - Frigora (by Fidertanz x De Niro) - 7.5
6. Ilka von Ludowig - Fine Spirit (by Fidertanz x De Niro) - 7.5
7. Anna Sophie Fiebelkorn - Fritz (by Farewell III x Londonderry) - 7.4
8. Daniele Bruch - Senor Kampert (by Swarovski x De Niro) - 7.1
9. Esther Maruhn - Deep Purple (by Don Frederico x Weltruhm) - 7.0
9. Jordi Monux Mendoza - Siddharta (by Serano Gold x Rohdiamant) - 7.0
11. Anna Lena Kracht - San Giorgius (by San Amour x Carismo) - 6.8
12. Antonia von Hodenberg - Quentin Tarantino (by Quaterback x Lauries Crusador xx) - 6.3
Related Link
Eurodressage Coverage of the 2014 Bundeschampionate