Irish Dressage News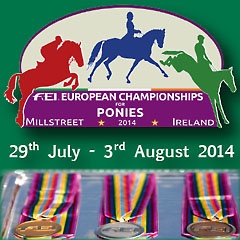 The Irish equestrian Federation, Horse Sport Ireland, has confirmed the pony dressage team that will represent the host nation at the 2014 European Pony Championships in Millstreet, Ireland, which take place from 29 July until 3 August  2014.
The Pony Dressage squad includes:
Katie Burns – Caracas II
Alana Cazabon Sullivan – Schermeer's Hof Arendsoog 
Linnea Larkin- Goofy
High Performance Pony Dressage Team Manager Anne Marie Dunphy said, "I am delighted to present the first team of the HSI High Performance Dressage Programme at the forthcoming European Championships. The support we are receiving from equestrian enthusiasts across all disciplines has been overwhelming and we look forward to welcoming the other nations to Millstreet."
Related Links
Eurodressage Coverage of the 2014 European Pony Championships
Horse Sport Ireland Implements High Performance Pony Dressage Squad