2014 Nordic Baltic Championships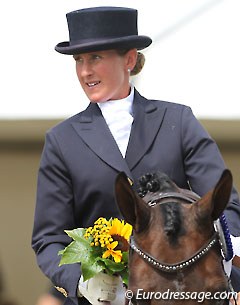 Individual Swedish rider Anna Svanberg and Hermes took gold in the Grand Prix Special and Kur test and become overall Grand Prix champion at the 2014 Nordic Baltic Championships in Kristiansand (NOR) on 25 - 29 June 2014 with Swedish team mates Charlotte Haid Bondegaard, Caroline Darcourt, Emilie Nyreröd, and Rose Mathisen uniting to claim victory for Sweden in the Nations Cup.
"Hermes felt really nice at the Nordic Baltic Championships (NBC)," Anna told Eurodressage. "I felt that he is travelling well and settled in nicely at the Kristiansand show grounds and was really focused on me during the three days. When he is strong and focused, he is really light and nice in his frame and he moves easily to the side and with a lot of ground cover."
Embracing her victorious performances in Krisitiansand, Anne remained critical about her own rides, focusing on both the strong and weak points in her tests.  The piaffe is now on a much higher level this season but that the pair is still trying to find the same height in the competition as they are achieving in training.
Selected as an individual rider and not considered for the eam, Anna was still happy that Sweden won the Nations' Cup and that she took third place in the Grand Prix even though she miscounted the one-tempis .
"I was sure that I had done the full series, but turns out I hadn't completed them," she admitted. "I was riding as an individual in the Grand Prix as the other riders have higher ranking and more experience for championships, so I think they played "safe cards". I have won several Grand Prix tests in Sweden this year, but I am not in the A-team, but on the Challenger-team based on my scores)"
Spotting and Training Sweden's Talent
Svanberg's 13-year old Swedish stallion Hermes (by Rambo x Urbino) is one of just a few horses at this level that is 100% Swedish. Anna has been with the horse since he was three.
"We have done so much together. He means a lot to us and we, to him," she said.  A natural talent, Hermes won almost everything as young horse and was two times finalist at the World Young Horse Championships with a fifth place as 6-year old, was successful in the small tour and is now well established in Grand Prix. "It is the first horse that I am taking to Grand Prix on my own so maybe it took an extra year," she explained.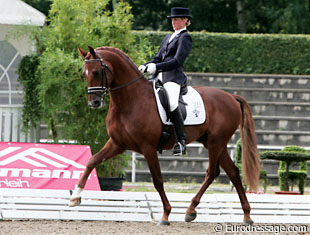 Anna is working with Hermes' breeders Ann & Torsten Pehrsson, who still own Hermes, and together they decided to give Hermes a break from breeding duties to focus on his competitive career this year.
"Aside from competing on Hermes, I am runnning a stable in the south of Sweden and last year we moved to a bigger yard. We have 25 horses at home and 15-18 are competing and/or for sale."
Now 42 Anna is proud of the reputation she has built in Sweden with horses such as Hermes, Deja (Patrik Kittel), Tabasco (Minna Telde), Bellman (Susanne Gielen), Diva (Lyndal Oatley), which all came from being trained in her stable.
"Our next show is Falsterbo and then I am nominated for the Grand Prix in Verden," she added. "I have five other young horses for Falsterbo and some of them are in the running to start in this year's WCYH. "
Fortunate to live close to her trainer Cecilia Kristoffersen, Anna credits her coach for their progress.
"She is a great friend. We are currently working on building strength, confirming our movements, and having a system where we have a high "lowest-level"."
Swedish Team Goes for Gold
Winner of the Grand Prix, Charlotte Haid Bondegaard with the Dutch warmblood gelding Triviant, was happy to lead the Swedish team to victory and felt that Triviant is in a fabulous shape, winning the Grand Prix and Kur the week before the NBC at a national show in Sweden.
"I have made my personal best twice this year in the Grand Prix," Charlotte told Eurodressage. "I'm still fighting to be a part of the Swedish team for the World Equestrian Games."
Proud of her very solid performance at the Championship, Charlotte felt a lot of joy to be a part of the Swedish team, particularly a team that won the Nations' Cup and team competition at the Nordic Baltic.
Fourth in the Grand Prix Swedish team member, Caroline Darcourt had "great fun" in Norway. As her horse is still quite young, the atmosphere made him a bit excited.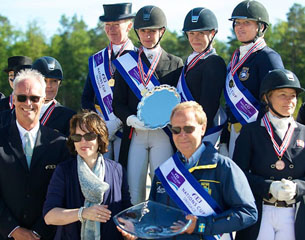 "To be a part of the winning team was really fun, I got to stand on the podium and hear the national anthem. This was a big experience and a first time for me.
Emilie Nyreröd, third team member for Sweden, finished 8th in the Grand Prix. Her horse Miata felt very good all three days.
"Miata is typically a very sensitive horse with a lot of nerves and energy, but I feel that after our two and a half years with him I am starting to know him better," Nyrerod explained.
Although happy with her performance at the NBC, Emilie says it is unfortunate that the judges were extremely uneven in her scoring, with a far gap between her place with one judge to another. She got 71,5 % from one of the judges (2nd place) and 65,5 % from another (18th place). Also in the Grand Prix Freestyle the judges were uneven, but from the C judge Miata and Nyrerod got their first nines, for piaffe and extended trot.
The 26-year old professional rider is also training a lot of youngsters at their farm in Sweden. "Right now we are preparing for Falsterbo with Miata and one of our 5 year olds, including U.Bolt," she added.
With the WEG team for Sweden still undecided, Anna Svanberg believes they will upgrade the team after Falsterbo so that the fourth rider can be chosen from the A-squad.
"As I see it, there are 4-5 candidates fighting for the place as fourth rider. If we make some nice rounds in Falsterbo we have to be considered, but maybe we will miss the spot because we haven't been showing in Europe during the spring season," Anne confessed. "On the other hand, the combinations who have been competing over spring are riding young horses and they should consider saving them for bigger achievements next year. I'm only speculating."
Text by Sarah Warne - Photos © Astrid Appel - Mette Sattrup
Related Links
Scores: 2014 Nordic Baltic Championships
Lena Leschly Amand Proud of her Perfect Match, Leads Denmark to 2013 Nordic Baltic Victory
Vallentin, Andresen, Mattsson Win 2013 Nordic Baltic Championships