2013 Nordic Baltic Championships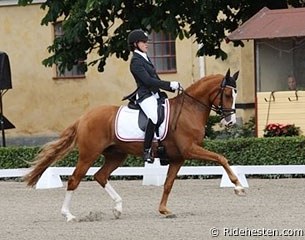 Spreading the individual wins across three of the four competing nations, the 2013 Nordic Baltic Championships in Flyinge, Sweden,  saw Denmark's Victoria Vallentin rise to victory in the FEI Pony division, with Norway claimed the gold spot in the Juniors thanks to Alexandra Andresen's stand-out performance. Sweden's Marina Mattsson took out the individual Young Rider star position.
While it was Sweden who took home the Nation's cup for the Category 1 Pony Riders, Victoria Vallentin and Not For Sale claimed a triple victory for the Danish nation and boosted her team into runner-up position with a 74.145% in the Team test, a 74.415% in the Individual, and a whopping 78.050% in the Kur.
"The Nordic Championships went fantastically well and the most amazing thing was to win gold," Victoria told Eurodressage. "The team competition is always very exciting, because we are all fighting for the team to do well. It was also a great experience to win individually in the freestyle with 78%. I felt that my freestyle went well and Not For Sale felt just lovely, particularly as it was the first time I had to ride this program, so I was very excited to see how it would turn out."
Vallentin's music has been composed by the Dutch Jacqueline Vriese and is brand new as Victoria has only been riding the Norwegian owned Not For Sale for little over four months. She knew that the challenge would be to get him to deliver good performances over all three days, but she felt that she succeeded in this goal.
"Owner Kristin Andreasen was present at the show, so I was a little anxious that she was going to see me riding and competing on him," Vallentin admitted. "But he was really nice all the days and I felt that he got better and better as each day came and went."
Competing at the Championships for the third time, each time on a different pony, Victoria has really good chemistry with the 9-year old gelding Not For Sale and looks forward to taking him to the 2013 Europeans Pony Championships in Arezzo, Italy.
"He is energetic and a real pal. I love to ride him," she explained. "In the barn, he is a very fun horse who is very affectionate."
Victoria trains with her father Søren Vallentin and works the classical way of training.  "Our training focuses on the combination of suppling and collection and I ride my horses 7 days a week ," she explained.

In addition to Not For Sale, Victoria has three international ponies, Røgilds Clarie, her 2012 European Pony Championships' mount Natalina, which suffered from an injury this 2013 show season, and the breeding stallion Dr. Doolittle. She also rides four other younger ponies and is already preparing herself for the junior riders' divison on the Kasprzak family's Grand Prix horse Select Ecco (by Sandro Hit).

Set to start college life at the end of this summer, Victoria will attend Aarhus University, where she will have to juggle her time for both homework and horse riding.  "After high school, I hope to spend some years working solely on my riding."
Alexandra Andresen Wins Junior Gold
Leading the Norwegian Juniors team to Nation's Cup victory, Alexandra Andresen and her Westfalian stallion Belamour (by Belissimo M x Lord Sinclair) made the winning hat trick to claim individual junior gold. With 74.216% in the team test, 76.132% in the individual and 76.875% in the kur, Alexandra felt that the Nordic Baltic Championships could not have gone much better.
"The NBC went very well, especially the Individual Test," said Alexandra. "It was the best test I have ever ridden and I felt that Belamour was super!"
A very special event for the young dressage riders from Scandinavia, Alexandra felt the expectations of the people around her and found that it was a little challenging to control her nerves.  "However, I now feel very happy and relieved to have won," she confessed. "I had very high expectations for myself as well, so I was pleased to fulfill them."
Certain that Belamour is going better than ever, Alexandra is really looking forward to the rest of the season. "We will continue our training, working on activity, suppleness and self-carrige," she said. "Our current focus is on keeping the activity and expression in the test movements."
With another horse in work, Alexandra balances her riding between Belamour and Don Massimp, a licensed stallion by Don Larino x Santander. Alexandra qualified both horses on the National team and her plan for the future is to develop as a rider and continue working for better and better results.
Mattsson Takes Young Rider Gold on Home Turf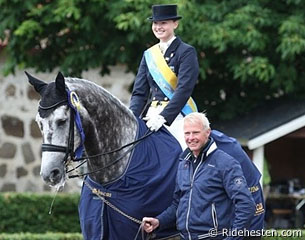 Second to lead her team into the gold position, Sweden's Marina Mattson and Cassio made triple victory in the Young Riders category, scoring 71.816%, 73.868%, and 75.550%. She was so happy to be part of the team that would finally bring Sweden back on top of the Young Rider section on home soil.
"The highlight of the Championships for me was that the Swedish Young Rider team won the gold medal over Denmark, as it has been 25 years since we did that," she stated proudly, adding "and of course my individual gold medal."

Cassio, an 8 year old grey gelding by Conteur x Calato,  is a big horse in body and character. Standing 182cm this giant has an incredible work ethic.
"The easiest thing for him is doing the piaffe and passage. It's like he was born with the talent for the hardest things," Mattsson explained. "I feel that he is developing very fast and I really believe we can do well at the Europeans."

Trained by Jan Brink, Mattsson considers her coach not only her trainer, but also her mentor. She knows that without Jan she wouldn't have this success.
"He comes up to our place south of Gothenburg several times every month and I also drive down to his place in the south of Sweden," Mattsso said about her training and commuting schedule. "
The focus right now in our training is to make Cassio stronger and more secure in the Prix St Georges movements."
Recently completing her school education, Marina is now focused on her work as a professional rider at Hannell Dressage Stable and plans to develop her horses and make the transition to Grand Prix.

Mattsson has no less than seven horses in training at the moment: Cassio, Beckham (which she competed the Europeans in Broholm and Bern), Cognac (a half brother to Beckham, by Rosevelt), Mainau (her U25 horse), Double Diamond II (her second YR horse), Dibrino (by Briar who has potential for Grand Prix), and Trampolin (a 4 year old by Temptation).
by Sarah Warne for Eurodressage - Photos © Ridehesten.com
Related Links
Scores: 2013 Nordic Baltic Championships
Lena Leschly Amand Proud of her Perfect Match, Leads Denmark to 2013 Nordic Baltic Victory
Danish Pony Teams Selected for 2013 Nordic Baltic Championships