German Dressage News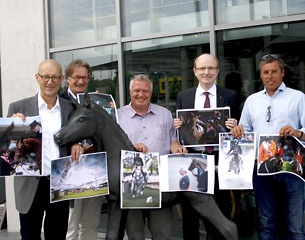 Belgian photographer Astrid Appels, Dutch photographer Arnd Bronkhorst and British photographer Pam Langrish have been nominated for the 2014 Silver Camera Award for Best Equestrian Photo of the Year.
Shooting the perfect photo is sometimes like winning the lottery jackpot; this also applies in the field of equestrian sport. The "Silver Camera" for the best equestrian sport photo will once again this year be conferred jointly by the Sparkasse Aachen, the Rheinische Sparkassen- & Giroverband and the Aachen-Laurensberger Rennverein e.V. (ALRV) during the CHIO Aachen.
The jury, comprising of Dirk Caremans (last year's winner), Ludo Philippaerts (Belgian show-jumper, who has competed at the Olympic Games several times), Andreas Müller (Executive Director of the newspaper publisher, Zeitungsverlag Aachen), Erich Timmermanns (Advertising & PR Director, Sparkasse Aachen) and Frank Kemperman (Chairman of the ALRV), was faced with the difficult task of selecting the best equestrian sport photos among the 72 photographs submitted from all over the globe.
"It is not easy to select just three nominees from such a selection of different and professional photos, because each individual photo captures a special equestrian sport moment," Frank Kemperman summed up. The nominations for the "Silver Camera" are (in alphabetical order): Astrid Appels (Belgium), Arnd Bronkhorst (The Netherlands) and Pam Langrish (England). The winner will be announced in the main stadium after the Prize of the Sparkasse, the hunting competition over ditches and banks. The winner will receive 2,500 Euro in prize-money, the first runner-up wins 1,000 Euro and the second runner-up 500 Euro.
-- Aachen press release
Related Link
Eurodressage Coverage of the 2014 CDIO Aachen