2014 U.S. Dressage Championships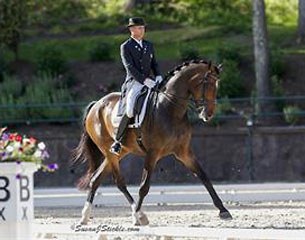 The 2014 U.S. Dressage Championships came to an exciting conclusion on the fourth and final day of competition as Grand Prix, Intermediaire I, and Pony Rider Champions were all crowned. In the Grand Prix championship, Steffen Peters and Legolas clinched their third consecutive national title with their best performance of the week. For the third consecutive test, the top placings remained the same as Peters scored Champion and Reserve honors in the Intermediaire I Championship. In the US Pony Championship, Katrina Sadis kicked off the morning by claiming her first national title.
Steffen Peters and Legolas Win 2014 U.S. Grand Prix Championship
The Grand Prix Championship hosted the third and final leg of competition as all 16 competitors earned the remaining 15% of their overall total for the Freestyle Tests.
Peters (San Diego, Calif.) entered the arena on Sunday like a man on a mission to not only add another Grand Prix National title to his resume but also to ride a completely clean test. In both the Grand Prix Test and Grand Prix Special, Four Winds Farm's 12-year-old Westphalian gelding displayed quality work but suffered a few mistakes in the two tests. In the Freestyle, the 2012 and 2013 National Champions performed their best test of the week to score 79.700% and win the class on their way to claiming their third consecutive title on a championship score of 76.036%.
Peters will spend the next two months competing in Europe as he looks to represent the U.S. at the World Equestrian Games in Normandy, France this summer.
"I would have loved to have that last one-tempi but the rest felt right on," said Peters of his Freestyle. "There's a bit of a different warm-up and I hope we can maintain that until August."
The double Bronze medalist from the 2010 World Equestrian Games believes that his partnership with Legolas has grown over the last two years and thinks that it has helped him as he warms-up the talented gelding. The added preparation has particularly paid off in the flying changes which often served as a weak spot for the pair in the past.
"I'm very, very happy with Legolas today. I'm very happy I don't have to compromise as much in the warm-up now," said Peters. "I'm at a point we can school more in the warm-up and it's certainly showing in the changes."
Finishing in second on Sunday were Laura Graves (Geneva, Fla.) and her own Verdades on a score of 78.425% in their second ever Grand Prix Freestyle. The pair also captured the Reserve honors with a championship score of 74.226% in only their first year competing on the Big Tour.
This was also the first time the 12-year-old Dutch Warmblood gelding had competed in three classes in the same show. While he was a bit tired on Sunday afternoon, Graves was nonetheless ecstatic with her horse's performance throughout the week.
"I don't know if I'm in a place to complain. I'm absolutely thrilled," said Graves. "My horse has come so far in a such a short time."
Finishing third in the Freestyle were Jan Ebeling (Moorpark, Calif.) and Beth Meyer, Ann Romney, and Amy Ebeling's 17-year-old Oldenburg mare Rafalca on a score of 76.900%. The London Olympic Games veterans also placed third in the overall championship on a score of 74.143%.
Steffen Peters and Rosamunde Win Intermediaire I Championship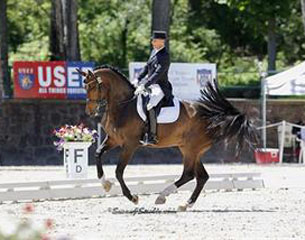 Peters ended up in a familiar place with his two mounts in the Intermediaire I Championship. Peters claimed the top two places in the  Intermediaire I Freestyle with Rosamunde and Apassionata, finishing first and second, respectively, as he has done in all three legs of the championship. He and Rosamunde were the final pair of the 17 Small Tour combinations to enter the ring and earn the remaining 15% of their championship score. Peters and Four Winds Farm's seven-year-old Rhinelander mare had a spectacular Freestyle with graceful music, receiving an impressive score of 79.300%.
"This was her second Freestyle. I've had a chance to do one in California and that worked out great. Today was even better," Peters stated. "What she did here today was absolutely phenomenal, very clean, expressive, and she felt supple. It just was one of those things you have to be thrilled with."
After coming down centerline, the pair wasted no time getting to the challenging movements, performing their three tempi changes across the diagonal. All of their canter work was excellent, highlighted by extended canter to their canter pirouettes. The pair's trot tour was top-notch as well and they finished with extended trot to their final halt and salute. After earning their third and final score, Peters and Rosamunde won the Inter I Championship title with an overall score of 76.082%.
With Rosamunde's stablemate, Tracy Roenick's Apassionata also had a fantastic freestyle with Peters in the irons. He and the eight-year-old Oldenburg mare rode to up-tempo classical music, getting down to business with their canter work right off the bat. They made a smooth, consistent effort, ending with strong trot work to earn a score of 76.175%. With solid performances throughout the championship, Peters and Apassionata received the Reserve Champion title with a final score of 73.540%.
Olivia Lagoy-Weltz (Reston, Va.) with her own Rassing's Lonoir finished third in the Intermediaire I Championship with an overall score of 72.407%. She and the 10-year-old Danish Warmblood gelding collect a score of 75.575% in the Freestyle and third place for their efforts.

Katrina Sadis and Poldy Win 2014 U.S. Pony Championships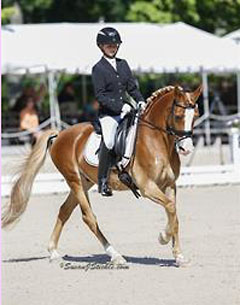 Sadis (Ann Arbor, Mich.) produced an excellent Pony Rider Individual Test with Poldy 10 to score 73.561%. The pair topped the field of 11, earning the remaining 50% of their championship score. Sadis and Dressage4Kids, Inc.'s 18-year-old German Riding Pony gelding had a fluid test with great canter work. For their efforts in the championship, she and Poldy 10 claimed the U.S. Pony Championship with an overall score of 71.973%.
"My ride was amazing," Sadis said. "He was with me the whole time. He was a little tired after this week but he really tried for me."
Sadis next has her sights set on Dressage at Devon at the end of this summer with Poldy 10, and then will likely move up to the Junior level.
"He's been amazing and it has been an amazing opportunity. He's always willing to work with me," Sadis stated of being able to lease Poldy 10, after never having shown above First Level before the start of their partnership.
Fifteen-year-old Jessica Fan rode Leslie Fan's Madoc Prince Phillip to a score of 66.049% after performing a smooth test with very nice trot work and a solid canter tour. The Lake Jackson, Texas native and the 11-year-old Welsh Pony gelding's consistent performance on Sunday clinched the Reserve Championship title with a final score of 65.999%.
"I had a very good ride today," Fan explained. "My pony was also a bit tired after the long week but he tried his heart out for me. I felt like he pushed it to the limit today."
Fan has partnered with "Phillip" for seven years but now will look for a horse as she plans to move up to the Junior ranks.
Hanna Benne (Satellite Beach, Fla.) and her and Susanne Benne's Helluva Dream Maker scored 63.537%. With an overall score of 65.051%, the 13-year-old rider and the seven-year-old Belgian Warmblood gelding finished third in the USEF Pony Rider Dressage National Championship.
Photos © Sue Stickle
Related Links
Scores: 2014 U.S. Dressage Championships
Peters Cruises as Buffini, Schmidt, and Dagge Claim National Titles at 2014 U.S. Championships
Buffini, Cyprus, and Sadis Overcome the Rain to Grab Early Leads at 2014 U.S. Championship
Peters Excels, Dagge Shines on Day One of 2014 U.S. Dressage Championships
2014 U.S. Dressage Champions and WEG Selection Trial Kick off Today