2014 Bundeschampionate Qualifier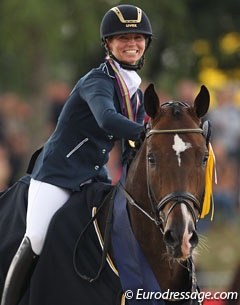 The 5-year old Formula One and the 6-year old Sir Rocco were the winners of the well attended Bundeschampionate qualification classes held at the popular regional show jumping and dressage competition in Hamm-Rhynern on 31 May 2014. Thirty-seven horses in total contested the L and M-level dressage horse test.
In the 5-year old division Eva Möller topped the leader board on Hof Kasselmann's Oldenburg bred Formula One(by For Compliment x Sandro Hit). The combination scored a winning 8.2 and was the only pair to obtain the qualification score to compete in Warendorf. Möller also finished second on Victoria Michalke's Hanoverian bred Flirtfaktor (by Furst Romancier x Prestige Pilot) with 7.7. Ann Christin Wienhamp and the Westfalian She's The One (by Schumacher) were third with 7.6.
Ann Christin Wienkamp and the Hanoverian bred Sir Rocco (by Sir Donnerhall I) led the 6-year old division with an 8.2 earning test. Tiatiana Kosterina and the Hanoverian mare Diavolessa vA (by Don Frederica) were second on 7.3, tying with Lillian Schilling on the Westfalian mare Diba (by Damon Hill).
Photo © Astrid Appels
Results - 2014 Bundeschampionate Qualifier - Hamm/Rhynern
5-year olds
1. Formula one (by For Compliment) -  Möller, Eva -   8.2
2. Flirtfaktor (by Fürst Romancier) - Möller, Eva -  7.7
3. She's the one (by Schumacher) - Wienkamp, Ann-Christin - 7.6
4. Dauphin (by Damon Hill) - Stieglmaier, Franziska -   7.5
5. Samoura M   (by San Amour) -  Wienkamp, Ann-Christin -  7.4
6. Dark Fellow (by Desperados) - Despontin, Julien -  7.3
7. Rational (by Rock Forever I) -  Wilimzig, Anja -   7.2
7. Ray Dance   (by Rockwell) -  Wienkamp, Ann-Christin - 7.2
9. Boujour Lieberty (by Beltoni) -  Mittelviefhaus, Magnus  -  7.1
9. Charry-O   (by Casiro I ) -   Vidal-Testal, Juan Manuel -   7.1
11. Dream of Tomason  (by Diamond Hit) - Schulze Topphoff, Karin -  7
11. Quatre-Pieds-Blancs   (by Quaterback) -  Mimberg, Mareike -   7
11. San Cherie V (by San Amour) -  Hartmann-Stommel, Wibke -   7
14. Fürst Nymphenburg II  (by Florencio I) -  Klippert, Johanna-  6.9
14. Captain Collin  (by Captain Fire) - Ridder, Christian  -  6.9
14. Rock For You (by Rock Forever I) -  Schulze Sutthoff, Lars -  6.9
17. Simplicity B (by Sandro Hit ) -  Biehn, Lena  -  6.8
18. Federball  (by For Compliment) - Pomares, Victor Alfonso  -   6.7
19. Supreme (by San Amour) - Bültjer, Erik -  6.3
19. Barclay (by Benetton Dream) -  Ostermeyer, Achim -  6.3
Sweet Caroline (by Sir Donnerhall I) -  Koch, Lisa Marie - RET
Raul  (by Rosandro) - Korte, Annika  - RET
Scavi Noir  (by Sir Donnerhall I) - Mimberg, Mareike  - DNS
6-year olds
1. Sir Ricco (by Sir Donnerhall I) - Wienkamp, Ann-Christin - 8.2
2. Diavolessa vA (by Don Frederico ) - Kosterina, Tatiana -  7.3
2. Diba (by Damon Hill ) - Schilling, Lilian - 7.3
4. La Florence (by Lord Loxley I) - Hüppe, Monika - 7.2
4. Hollister  (by   Hotline) -  Klippert, Johanna - 7.2
6. Don Daxau  (by Diamond Hit) -  Möller, Eva - 6.9
7. Davidoff (by Diamond Hit) - Ulmker, Andrea - 6.8
8. Rock For Germany (by Rock Forever I) - Dierkes, Ariane  -   6.7
8. Back in Black O (by   Painted Black I ) - Oberscheidt, Verena -   6.7
10. Daytona E  (by Dream On) - Emmerich, Luisa -  6.5
10. Little Loon (by Lugato) - Wöllner, Michaela -  6.5
10. Sydney HR (by San Remo) - Korte, Annika  -  6.5
13. San Salvador (by Spielberg) - Löer, Johanna -  6.3
14. High Point  (by Hotline) - Hammann, Christina    RSC Osnabruecker Land e.V.     5.9
Flavius (by Fidertanz) - Palomäki, Ville   - RET
Donnerwetter (by Dimaggio) - Mohr, Frank - DNS
Related Links
Eurodressage Coverage of the 2014 Bundeschampionate