2014 World Championships for Young Dressage Horses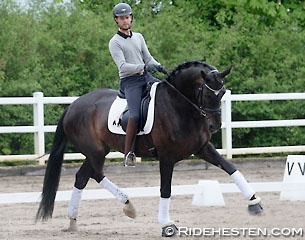 The Danish observation trials and training sessions for candidates aiming to qualify for Team Denmark for the 2014 World Championships for young dressage horses are in full swing. After two selection trials in May, a long listed group of horses was invited to participate at special training sessions at the end of May and in June. With the third session set for 14 June, 18 combinations are still in the running.
With two training sessions on 17 and 31 May done and dusted, the Danish selection committee has reduced the long list to 18 combinations in total in the 5 and 6-year old category. At the last session on 14 June in Vilhelmsborg, the riders will have to perform the young horse test in front of a panel of judges including Birthe Lyder and Susanne Baarup. Young horse trainer Finn Greve will be helping the riders in the warm up.
The judges will provide oral commentary to the test and at the end of the day the final group of horses will be announced eligible to perform in the very last selection moment on 22 July in Vilhelmsborg.
Still in the running are:
5-year olds
Elmegårdens Rivaldi (by Rush Hour x Resident) - Mette Hørmann Iversen
Lady Gaga (by Quaterback x Landwind) - Nana Berg Christensen
Gasolin (by Doolittle x  Tiberias) - Sanne Henningsen
Adrenalin (by Skovens Rafael x  Zalmiak) - Helene Melsen
Zaragossa (by Zack x Waldsohn) - Maik Kohlschmidt
Litvinenko Sjælstofte  (by Imperio x  Pidroneur) - Anne Troensegaard
Zaza Diawind  (by Don Schufro x Zardin) - Karoline Louise Skøt
Uno Double Cream (by Don Diablo x  Weltmeyer) - Thomas Lassen
Hot Question (by Hotline x  Londonderry) - Gitte Happel
Atterupgaards Capirossi (by Caprimond x  Stedinger) - Selina Hundstuen Solberg
6-year olds
Nørregårds Denzel (by Don Romantic x M.W. Ibi-Light) - Lars Bækgaard
Zick Flower (by Zack x Romanov) - Allan Grøn
Svalegårds Hottie  (by Hotline x  De Noir) - Maria A. Andersen
Lehmanns Lilo (by De Noir x  Midt-West Ibi-Light) - Stine Døssing
Edberg (by Connery x  Kaiser Wilhelm) - Antje Hell
Zick-Zack Toftegård (by Zack x Don Schufro) - Maik Kohlschmidt
Fredensdals Zig Zag  (by Zack x Don Schufro) - Jan M. Christensen
Rosetti e (by Romanov x  M. W. Ibi-Light) - Jan M. Christensen
Related Links
Eurodressage Coverage of the 2014 World Young Horse Championships
Nine Horses Long-Listed after Second 2014 Danish WCYH Observation Trial
Eight Horses Long-Listed after First 2014 Danish WCYH Observation Trial
New Danish Selection Process for 2014 World Young Horse Championships