KWPN Breeding News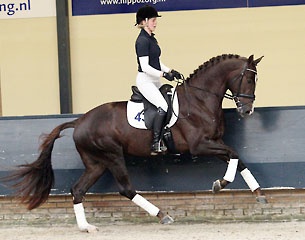 Fourteen young colts have successfully passed the 2014 KWPN Spring Stallion Performance Testing in Ermelo, The Netherlands, and are now officially licensed to breed for the KWPN society. Two stallions became the winners of the testing with 86 points.
Giovanni and Toto Junior were the high scorers in the end with a total of 86 points and they are now sharing the title of winner of the performance testing. Twenty one colts started the testing, fourteen completed the 50-day testing with success.
Bred and owned by C. van Etten, the liver chestnut Dutch warmblood Giovanni (by Chippendale x Scandic x Negro)  scored 8 for walk and trot, 9.5 for canter, 8.5 for suppleness, 9 for self carriage and ridability and 8.5 for dressage potential.  The testing committee described the colt as "an honest and reliable stallion with a very good disposition." They recommend him for mares to improve "movement technique, the canter and rideability."
The Hanoverian bred Toto Junior (by Totilas x Desperados x Rotspon) scored 9 for walk and canter, 8 for trot and suppleness, 8.5 for self carriage, 9 for rideability and 8.5 for dressage potential. The committee praised him for his "willingness to work" and recommended the stallion for the improvement of "basic gaits, rideability and disposition."
Wim Ernes, who is the chair of the testing committee, commented that "both are different stallions with excellent qualities. Giovanni can canter extremely well, for which we gave him a 9.5. Toto Junior is not the most spectacular horse but has a great character, and has a good ability to collect and is easy to ride."
In general Ernes was happy with the quality of the collection. "We started with a large group of horses and we were able to license a large amount," he commented.
The 2014 KWPN Licensing Champion Glamourdale (by Lord Leatherdale x Negro) finished with the second highest score of 85.5 points. He earned 8 for walk, 8.5 for trot, 9 for canter, 8.5 for suppleness, 9 for self carriage, and 8.5 for rideabiity and dressage potential. Galaxie (by Jazz x Future) scored 85 points, just like Ferguson (by Floriscount x Lauries Crusador xx).
Full report and scores here (in Dutch)
Photo © Sandra Nieuwendijk
Related Links
Glamourdale, Champion of the 2014 KWPN Stallion Licensing
KWPN Opens Stallion Performance Test to 3 to 5-Year Olds
Twenty-One Dressage Colts Begin 2014 KWPN Spring Stallion Performance Testing