2014 CDI Kapellen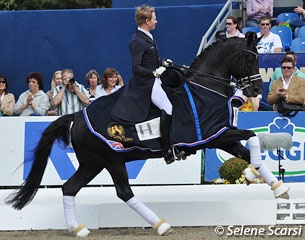 Matthias Rath and the world's most famous dressage horse Totilas will be making their long awaited show come back tomorrow Thursday 22 May 2014 at the 2014 CDI Kapellen in Belgium. Rath and Totilas will contest the Grand Prix and put themselves back in the game. They last appeared in the show ring in June 2012.
Rath and the 14-year old Dutch warmblood stallion (by Gribaldi x Glendale) were a late entry in Kapellen. His come back was deliberately kept silent to avoid pressure and media attention. The horse arrived on the Kapellen show grounds in time for the 17h00 vet check for the CDI 3* horses on Wednesday 21 May 2014.
Definitive entries for Kapellen officially closed on 15 May, but a national federation can push for a late entry if they get FEI approval. This is a procedure occasionally applied and does not imply preferential treatment. For Kapellen an Australian pair also got fei approval to compete.  This FEI Approval has to arrive at the show secretary before the start of the vet inspection.
Rath was entered on time for Kapellen with his small tour horses Bretton Woods and Danonchen.
Rath and Totilas last competed almost two years ago at the 2012 German Dressage Championships in Balve, Germany, in June that year. Since then the pair has struggling with injuries and health problems.
Rath is trained by Dutch Sjef Janssen. His decision to move from the classical dressage trainer Klaus Balkenhol to a foreign, more "modern" coach caused much commotion and this decision was ill received amongst German fans at the time.
Rath and Totilas were members of the German team at the 2011 European Championships but failed to qualify for the 2012 Olympic Games.
Photo © Selene Scarsi
Related Links
Rath Returns to the Show Ring with Bretton Woods
Rath and Totilas Removed from German A-Team
Matthias Rath and Totilas Withdrawn from 2012 Olympic Contention
Matthias Rath and Totilas Withdrawn from Competing at 2012 CDIO Aachen