2014 Bundeschampionate Qualifier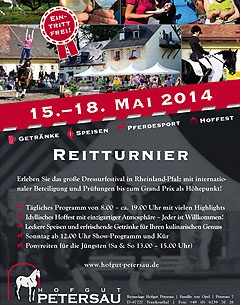 The 5-year old St. Fernando and the 6-year old Salazar were the winning horses in the Bundeschampionate qualification classes held at Hofgut Petersau in Frankenthal, Germany, on 17 - 18 May 2014. Twenty-five horses in total rallyed at this venue to contest the dressage horse L and M-level test.
Professional dressage rider Pieter van der Raadt steeds Jacqueline Fastner's Oldenburg gelding St. Fernando to victory in the 5-year old L-level division. The Sir Donnerhall I x Weltmeyer gelding scored a total of 8.2. and was far ahead of all competition. The second placed horse, Arjan van Loon's Baden Wurttemberger stallion Despereaux (by Don Diamond x Abanos) finished on 7.5 which did not suffice for an entry ticket for Warendorf.
Claudia Rassmann and Elke Schweizer's Hanoverian stallion Salazar (by San Remo x Wittinger) bested the field in the 6-year old M-level division. The duo posted a score of 8.3 to take home the trophy.  Roxana Mohr and Claudia Gehm's Hanoverian mare Seraphine (by Scolari x Landfrieden) were the runners-up with 7.8.
Results - 2014 Bundeschampionate Qualifier - Frankenthal
5-year olds
1.  St. Fernando (by Sir Donnerhall I x Weltmeyer) - Raadt,Pieter van der  - 8.20
2. Despereaux (by Don Diamond x Abanos) - Loon,Arjan van - 7.50
3. Sir Wellington (by Sir Donnerhall I x Weltmeyer) - Treffinger,Santina  - 7.40
3. Filona  (by Florianus x  Weltmeyer) - Menze,Ingo - 7.40
5. Rossini (by Royal Blend x Bolero) - Wetzler,Charline - 7.30   
6. Distelgraf (by Kronprinz x Gelria) - Lehnert,Peter - 7.20   
6. Baptiste (by Benetton Dream x Wolkentanz I) - Mohr,Roxana) - 7.20   
6. Feiner Kerl (by Fürst Piccolo x Dimension) - Wetzler,Charline - 7.20   
9. Polarzar (by Distelzar x  Sixtus) - Anselstetter,Annkatrin - 7.10   
10. DJ Delux (by Diamond Hit x Certus) - Henschen,Veronique  - 7.00   
11. Fengari de la Comtesse (by ) - Lang,Meike  - 6.90   
12. Fabiano (by Florentianer x Van Deyk) - Sammer,Verena  - 6.80   
13. Quentano (by Quaterback x Dartagnan) - Zurheide,Madita  - 6.50   
14. Amicello (by Arpeggio x Fleurop) - Hüppe,Monika  - 6.40   
15. Aimee (by San Amour x Latimer) - Conrad,Catharina  - 6.30   
6-year olds
1. Salazar (by San Remo x Wittinger) - Rassmann,Claudia - 8.30
2. Seraphine (by Scolari x Landfrieden) - Mohr,Roxana  -  7.80
3. Don Diamonts son (by Don Diamond x Regazzoni) - Lang,Meike   - 7.70
4. La Florence (by Lord Loxley I x Rhytmus) - Hüppe,Monika  -   7.60
5. Quiamo (by Quaterback x Graphitano) - Christmann,Meike  -   7.10   
5. Sir John (by Sandro Hit x Wolkenstein II) - Weiland,Bettina -  7.10   
7. Loresko (by Locksley II x Marlo) - Christmann,Meike - 6.90   
8. Kilimandscharo (by Kaiser Karl x Weltmeyer) - Wetz,Fernand  - 6.70   
De Burgh (by Don Schufro x Sandro Hit) - Häschke,Antje - RET/ELI              
Lord Frodo (by Lord Loxley I x Dr.Jackson D) - Lang,Meike - RET/ELI
Related Link
Eurodressage Coverage of the 2014 Bundeschampionate