British Dressage News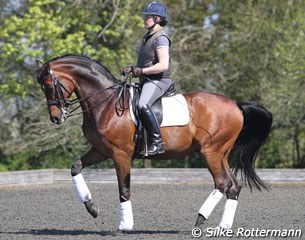 British 2010 WEG team rider Fiona Bigwood has been hospitalized with a severe concussion after falling off Sir Donato during a morning training session at the Keysoe national show on Saturday 26 April 2014.
The fall left Fiona concussed for 10 minutes. The staff at Keysoe did a fantastic job of getting her in the ambulance and to Bedford Hospital.
Later that day she was let out of hospital in the evening. Fiona's head scan had came back fine even though the rider felt slightly confused.
However, her condition later deteriorated and Fiona's fiancé Anders Dahl took her to Brighton Hospital.
"She is still suffering from double vision, but her condition has improved significantly today [Monday] from yesterday and her scans have come back clear, which is a huge relief," Dahl told Horse and Hound.   "Sir Donato is such a quiet horse — more placid than some of Fiona's other rides — so I can only imagine it was one of those freak things. The helmet she was wearing now has a large split in it, so it is dreadful to think about what might have happened if she hadn't been wearing one."
On Monday evening, Dahl wrote that "Fiona is still in hospital but we hope she will be discharged tomorrow. She has suffered a major concussion but is improving daily."
Bigwood had won two classes at the Keysoe premier league competition: the Prix St Georges on the 7-year old KWPN bred Cashmir (by Serano Gold x Michelangelo) with 76.711% and the Intermediaire A on Atterupgaards Orthilia (by Gribaldi x Donnerschlag) with 73.1429%.
Photo © Silke Rottermann
Related Links
Fiona Bigwood Makes Show Come Back with Sir Donato at 2014 CDI Addington
Fiona Bigwood Acquires Rising Grand Prix mare Orthilia