2014 World Cup Finals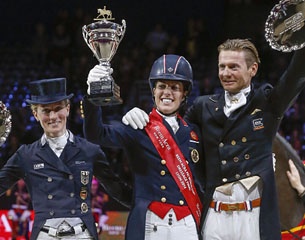 (FEI press release) -- World No. 1, double-Olympic and European champion and the rider who holds all three world records in the sport, Charlotte Dujardin, became the first-ever Briton to win the 2014 World Cup Dressage title at Lyon in France today.
To the strains of a newly-created musical score she steered Valegro, the horse that has taken her to the very top and beyond over the course of the last two spectacular years, to a mark of 92.179 that left her well ahead of defending champions Helen Langehanenberg and Damon Hill NRW from Germany in second place.  The Netherlands' Edward Gal and Undercover revealed more of their increasing potential when slotting into third ahead of Sweden's Tinne Vilhemson-Silfven and the elegant Don Auriello in fourth.
But it was Dujardin and Valegro who owned the stage and clinched the coveted World Cup trophy after receiving a standing ovation from the crowd.  "I'm over the moon, coming here to my very first World Cup Final - it's so fantastic!  This was my first time with my new Freestyle and it was so much fun, this music is great and it was so emotional - it's all you can ask for...a dream come true really!" the new champion said.  
Rising star
Rising Dutch star Danielle Heijkoop, who celebrated her 27th birthday last Wednesday, set the first strong target when sixth of the 17 starters into the arena.  Riding the 15-year-old Siro she produced a much more impressive performance than in yesterday's Grand Prix, the gelding settling to his job to post an impressive 77.946 which would eventually prove good enough for sixth place.
Russia's Inessa Merkulova opened the second half of the programme with 73.786 from the gracious 10-year-old Trakehner gelding Mister X whose easy passage was complemented by lovely passage toward the end of his programme. 
The Netherlands' Hans Peter Minderhoud then followed with a great presentation from Johnson who posted 77.625 before Germany's Jessica von Bredow-Werndl went even closer to Heijkoop's leading score with 77.768 from Unee BB.
Top of the leaderboard
But it took Sweden's Tinne Vilhelmson-Silfven and Don Auriello to demote Heijkoop from the top of the leaderboard.  The World No. 4 rider and her elegant bay set off with the most extravagant extended trot and powered their way into the lead with a score of 80.946.  With three left to go that was now the mark to beat, and third-last in, Gal and Undercover did just that, maximising their points potential with strong and consistent piaffe although, as the 2010 champion admitted afterwards, a bit of a muddle towards the end saw him lose a rein which hampered his final sequence.
"He (Undercover) was still a little too excited, it was difficult warming up in this environment, he was too over-active and in end (of his test) I lost my rein!" the Dutchman said. His score of 83.696 was immediately overtaken by the penultimate partnership of Helen Langehanenberg and Damon Hill NRW, but the defending champions temporarily lost communication at the beginning of their test and their eventual score of 87.339 fell short of expectations.
Langehanenberg remained stoic however.  "I had two mistakes today, and two is too many.  In between I had a great feeling but I took risks and when you take a risk then anything can happen.  On the centreline we didn't start together, but that's the way it goes - but I'm absolutely happy!" the 2013 champion insisted.
Door wide open
That left the door wide open for Dujardin and Valegro whose presence alone sets hearts beating a little faster. There was enormous curiosity about their new musical score, put together by Tom Hunt using the soundtrack from the Dreamworks animated film "How to train your dragon".  And it proved delightful, with Valegro demonstrating all his hallmark grace, balance, strength, obedience and lightness along with no small measure of personal charm as he cruised through passage and canterwork that was joy to watch before finishing with a daring final piaffe/pirouette.  The crowd loved it, and roared their approval at the end, while the Ground Jury responded with the winning mark that left the British duo almost five marks ahead of last year's winners.
"I had only ridden the test twice at home so I wasn't as confident as I would be with my other music but I definitely think this is better than my old music.  We were just messing around at home when I came up with the idea of the piaffe/pirouette at the end which is technically difficult but, being the super-star he is, Valegro can do it!" said Dujardin afterwards. 
Some weekend
It has been some weekend for the 28-year-old who yesterday broke her own world record score to win the Grand Prix. 
She talked about the importance of her new Freestyle music and floorplan this evening. "I think it really is story telling and you know, it really highlights his (Valegro's) highlights, his powerful extended canter, it really kicks in for that and obviously the end was the piaffe/pirouette.....I was thinking today, what if we make a fluff of it! You think it's all a good idea until you've actually got to do it in there and you're like 'uh-oh, what if it goes wrong' but thankfully it didn't and what a superstar Valegro is" said Great Britain's first-ever FEI World Cup™ Dressage champion as she proudly grasped the prestigious World Cup trophy.
Quotes:
Dr Jean-Michel Roudier, Ground Jury President - "the competition was exceptional, from start to finish it was a very high level.  The draw was a coincidence (winning rider Dujardin drawn last), but it hinted at the places on the final podium". 
 
Sylvie Robert, Event Director - "I couldn't imagine anything better than the Olympic champion in number one spot, last year's winner in second and Edward Gal in third.  You were wonderful, as were your horses!"
 
Trond Asmyr, FEI Dressage Director - "I've been to all the last Finals and we had never had any group of riders of this level on the podium.  We have also had some young horses here who are still developing in a very good way and we look forward to seeing them later this year - they can go on for many years to come, so it's very exciting".
 
Charlotte Dujardin GBR - "I'm very excited to be here and I'd like to thank Reem Acra and of course Carl (Hester, her trainer and mentor) and Roly (Luard, co-owner of Valegro) for all their help and support.  This has been a special show and to have the crowd behind us was very special".
 
Edward Gal NED - "Undercover was still a little too excited, it was difficult warming up in this environment, he was too over-active and in end I lost my rein. I know I can do much better so I'm now looking forward to the next time!"
 
Helen Langehanenberg GER when asked about creating the choreography for Freestyle - "you start with the highlights and build it up, fitting it to the music so you create a little story that fits with the music, then you come down a little again before introducing more highlights".
 
Helen Langehanenberg GER "I'm not disappointed at all about second place at the World Cup Final.  Yesterday I thought I could have had higher marks but today we made two mistakes and that was it.  We (herself and Damon Hill NRW!) are both human after all, and it happens!"
by Louise Parkes
Related Links
Scores 2014 World Cup Finals
2014 World Cup Finals - Table of Contents