2014 World Cup Finals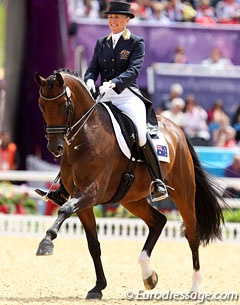 Four-time Australian Olympian Mary Hanna this week takes to the world stage once more to contest the 2014 World Cup Final for Dressage in Lyon, France. The event has attracted 18 of the world's leading combinations, including Hanna, who is the sole Australian representative amongst the field having earned a start after winning the Pacific League World Cup Final at the December 2013 CDI-W Werribee.
 Hanna and her mount Sancette will be drawing on their experience from the London 2012 Olympic Games when competition gets underway.
"My goal is to do a personal best.  I cannot control what the other riders do, but hope to maximise my own performance. These past few days Sausage (Sancette) has given me a great feeling and is full of energy, so right now I am feeling very positive. I have a great team around me, and the atmosphere here with so many Australians is very supportive. The quality of the riding and the horses is outstanding which really pushes me to become better, and pay attention to every little detail to maximise my performance," said Hanna. 
Since arriving in Europe in early March, Hanna has been staying with fellow Australian dressage rider Lyndal Oatley and her husband Patrik Kittel, and with preparations not all going to plan, Hanna says the familiar faces have been a boost to morale.
"The problem with him (Sancette) standing on a nail from his shoe on the plane really has affected my planned preparation.  Initially I intended to go to France to get in an outdoor competition before Lyon, however that was not to be and the hoof injury was a devastating blow.  However I have tried to make the most of it and as a consequence I have had more time to work with my trainer Patrik Kittel.

Hanna continued, "Patrik's lessons have been really good and hopefully that will make up for our lack of ring practice.   Lyndal and Patrick have been great hosts and we have enjoyed getting to know Brianna Burgess and her family (Brianna is also based with Oatley).  It's really a very good "team Aussie" feeling happening here, which will hopefully lift me to achieve a best possible outcome."
A four time Olympian and three time World Equestrian Games representative, Hanna has the big competition experience to perform well at the World Cup Final.
"The World Cup has a huge atmosphere which cannot be replicated in any other event. In many ways it is more difficult than an Olympics, being fewer riders and an overall very high standard. With 18 of the best from around the World one cannot hide in the crowd. I trust Sancette however not to let me down and I treat it with the same importance as every other event. To me they are all important and I always put in maximum effort."
Photo © Astrid Appels
Related Links
2014 World Cup Finals - Table of Contents
Mary Hanna Wins 2013 Pacific League World Cup Final in Melbourne