Japanese Dressage News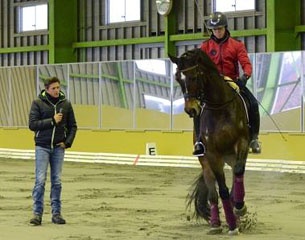 German 2010 WEG team rider Christoph Koschel was the keynote speaker at a training clinic and forum organized by the Japanese equestrian Federation at the Gotemba Equestrian centre on 28 February - 5 March 2014. 
Right after returning home from a month and a half of coaching in Wellington, Florida, Christoph Koschel immediately hopped on a plane again to fly to Japan for the clinic. Koschel is a returning clinician in Japan, having been there twice before for these training sessions.
The Gotemba Equestrian Sports Center is located at the outskirts of Mount Fuji, which was proclaimed world heritage last year. The area was still covered in snow but that did not prevent from the riders and an eager group of dressage enthusiasts to attend the course.
There was also a judging course coinciding with the training seminar for national judges and riders on 1 March 2014. The training course was open to national team members and 10 riders participated with 11 horses.
The participating riders are aiming to qualify for the 2014 Asian Games. At the clinic they trained the Prix St Georges level movements.
Riding in the clinic were  Shingo Hayashi, Akihiro Shimoda, Yukiko Noge, Maria Takada, Tomoko Nakamura, Hisayuki Kato, Yasuhiro Tsuyuzaki, Takao Sugimoto, Kazuki Sado, and Yoko Nishijima.
Related Links
Scores: 2013 CDI Gotemba
Amazing Star Sold to Japan
In Memoriam: Eizo Osaka, 1933 - 2013
Hiroshi Hoketsu Aims for an Empathic Connection with the Horse
Yuko Kitai Claims 2012 Japanese Dressage Champion's Title
Brett Parbery Escapes Disaster in Japan