2014 Palm Beach Dressage Derby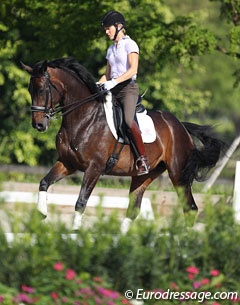 With time to kill in between the 2014 CDIO Nations' Cup and 2014 Palm Beach Dressage Derby in Wellington and a great reluctance to sit inside behind the computer while the sun is shining outside with 30 ° C temperatures, I rose early on Wednesday morning 26 February 2014 to catch a day of high performance training at Tuny Page's Stillpoint Farm on South Shore Boulevard.
Owned by U.S. Grand Prix rider Arlene "Tuny" Page, Stillpoint Farm is a home base to international dressage rider Susan Dutta and a winter base for Canadian David Marcus and his Australian partner Nicholas Fyffe. Trainers such as Oded Shimoni and Robert Dover often teach their students there and with the Dressage in Florida show circuit in full swing, the U.S. high performance riders in town trailer to Stillpoint Farm for coaching sessions.
With all riders, except one, very graciously allowing me to sit in on their lessons and photograph their horses, it was a marathon day of pure educational joy!
Enjoy my pictures of America's confirmed and rising stars as well as several amateur riders seeking professional training at this Wellington equestrian centre.
Photos © Astrid Appels - no reproduction allowed
Prints of the Stillpoint Farms' photos can be ordered by emailing me at info@eurodressage.com
Related Links
Tuny Page Makes Winning Debut on Woodstock at 2013 CDN Wellington
2014 Palm Beach Dressage Derby to Move to Wellington