2014 CDIO Aachen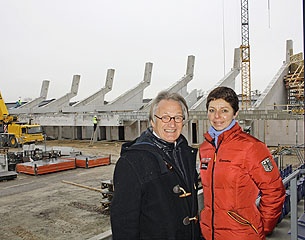 German Grand Prix team trainer Monica Theodorescu travelled to the show grounds in Aachen today to check upon the progress of the construction works to the Aachen dressage arena - the Deutsche Bank stadium. The Aachen show organisation is expanding the seating capacity of the dressage arena as each year it sells out already one year in advance.
Aachen show director and chair of the FEI Dressage Committee, Frank Kemperman, gave Theodorescu a tour of the construction site. The only open part of the stadium, the short side at C, is now being closed with extra seats so the entire stadium will have a capacity of 6,300.
The concrete foundation for the stands has been poured and still much work lies ahead. The stadium has to be ready by 11 July 2014 for the CHI0 and is part of a construction plan intended for the 2015 European Championships which will be held in Aachen.
"The atmosphere will be even more impressive," Theodorescu commented. "For the horses a closed arena is easier."
More construction will take place after the 2014 CHIO Aachen. The main stadium will be expanded to a capacity of 40,000 and the stable buildings will be reconstructed.
"The most important thing for all our projects is that they are sustainable," Kemperman commented. "Of course we have the European Championships in mind, but everything has to be designed long term for the annual CHIO Aachen."
Related Links
Date Set for 2015 European Dressage Championships
Aachen to Host 2015 European Dressage Championships
Helen Langehanenberg, Queen of 2013 CDIO Aachen