2014 CDI Wellington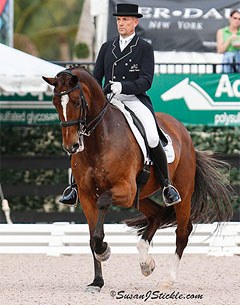 Lars Petersen (DEN) and Mariett have become familiar faces in the winner's circle in Wellington and Thursday evening was no exception. Petersen topped the Grand Prix 4* with Marcia Pepper's 16-year-old Danish Warmblood mare with a score of 70.960%. Katherine Bateson-Chandler (USA) rode Jane Clarke's Wellnetta to victory in the Grand Prix 3* with 69.280%.
Petersen Tops CDI4* Grand Prix
 
While Petersen is on a winning streak, Adrienne Lyle was the top finishing American rider, placing second with Wizard on a score of 69.600%. Mikala Munter Gundersen (DEN) and My Lady rounded out the top three with their score of 69.460%. 
Petersen's win kicked off competition for the CDI 4*/3* in Wellington at the Palm Beach International Equestrian Center on Thursday 6 February.  The Danish rider admitted that while they topped the class today, it was not the best test he and Mariett have executed.
"She was very hot today. I don't think I've ever had her that hot! She really wanted to go, so there were [a few mistakes] here and there, but overall, you know what, when they get a little older and they want to go like that, that's actually a good thing," Petersen remarked.
Petersen has high hopes for Mariett, who he hopes to compete with at the 2014 World Equestrian Games for his home country of Denmark before potentially changing his citizenship to the United States in 2015. With such a strong start to 2014, Petersen will be carefully choosing which CDIs to contest with the mare. "She's going to do two more shows and that's it. She's done enough," Petersen noted.
 
Having an experienced partner affords Petersen the ability to give Mariett plenty of well-deserved time off, since there's no need for much more than a tune-up in between shows. "When they get older, and they know everything, it's not so much like you're drilling things every single day. If you're smart, it doesn't have to be harder to go to a show. Actually, it's less [difficult], often. It's keeping them happy and supple and in condition," Petersen detailed. 
While Petersen felt he had to deal with too much horse during his test, second place finisher Lyle confessed she had to contend with the suddenly hot and sticky weather in Wellington. "I was really happy with parts [of our test]. I think we ran out of gas in the warm-up. Last time we showed it was really cold - we were in down jackets - and I tried to pare down my warm-up time [this week], and I think I need to do half of that still," Lyle commented.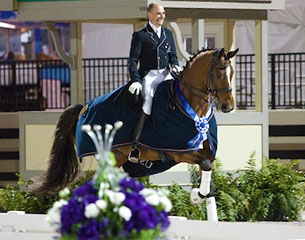 Lyle was especially satisfied with their canter work and is thrilled to see her long-time partner coming back into work well. "I think he feels great. Physically, mentally, he seems really good. We don't know our exact plan yet going forward, so I think we'll reconvene and figure out where we want to go [with the rest of the season], so we can get enough experience in the ring without wearing him out, which is always the fine line, the balance, you have to find," Lyle explained.
Lyle and Wizard, a 15-year-old Oldenburg gelding owned by Peggy Thomas, have been together for nine years and have worked their way up the ranks together as they both learned the grand prix. "For better or for worse, we know each other really well. Sometimes I think that's harder when you know the horse so well that you kind of second-guess some stuff, but he's a super horse. I'm very lucky to have him," Lyle expressed.
Lyle is also grateful for the opportunity to have a circuit of such high caliber as in Wellington. Not only is the competition convenient, there's no other place that Lyle has the capability to witness so many grand prix rides first-hand. "I think it's wonderful. It's not a huge stress to bring [Wizard] here. It's not like you're hauling him ten hours to a show and that wipes him out for the next week. If you think you're ready, you just pop on over. And I think getting to watch the rides is huge for me. To watch that many grand prix (rides) for the last few shows, I've learned so much already," Lyle detailed.
Munter Gundersen and My Lady are another familiar pair that have seen top three rankings so far. Munter Gundersen was also pleased with her mare, a 14-year-old Danish Warmblood owned by Janne Rumbough. "I think I had a really good ride today. I wanted to be polite to Lars, so I stopped counting in the one [tempis]. Actually, I never started counting," Munter Gundersen laughed. She continued, "I had some pretty good one [tempis] going, and I forgot to count. Other than that, I had very little things. I was really, really happy with her."
Like Petersen's ride, My Lady was extra spicy for Munter Gundersen during their test, but Mikala was relieved to see her light up after the mare seemed a little dull earlier in the morning. By the afternoon, My Lady was raring to go. "I took her out this afternoon for the [test] and she was hot and ready to go. I'm so, so happy with the mare. She really didn't make any mistakes in there; the mistakes were all mine. I think we are on a really good roll," Munter Gundersen explained.
Bateson-Chandler and Wellnetta Take First International Grand Prix Victory
Earlier on Thursday, Kathrine Bateson Chandler (USA) rode Wellnetta to the top of the Grand Prix 3* class. The pair won with a 69.280% while Australian rider Kelly Layne narrowly finished second with a 69.240% on Udon P. Michael Barisone (USA) rounded out the top three on Ellegria. The pair finished with a 67.200%.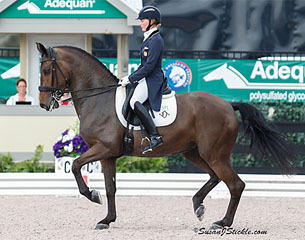 Bateson-Chandler admitted she's still getting to know Wellnetta, an 11-year-old KWPN mare owned by Jane Clark, but the two have meshed well so far. Thursday's test was only the second grand prix test the pair had ridden together and thanks to Florida's ever-changing weather, Bateson Chandler has had to learn to adapt quickly.
"I'm really happy with my horse. We're still getting to know each other. Last time I rode her in the test, it was very cold, very windy. Everything was a bit wild everywhere. This weekend, it was quite hot and humid, so it's a sharp learning curve for me with her, knowing how she's going to be in different temperatures and environments," Bateson Chandler explained.
After only six months, their relationship is still new, but Bateson-Chandler used to ride Wellnetta's father and can see the similarities between the horses. "[Hexagon's Louisville] had such an incredibly sweet temperament, and she definitely got that from him," Bateson-Chandler smiled, "She's the sweetest, snuggliest horse. "That's an interesting thing," she continued. "With a mare, it takes a bit longer I think, than with a gelding. She's getting to know me and I'm getting to know her."
Bateson-Chandler most appreciated Wellnetta's always eager-to-please attitude, which she credited with getting them through the test today. "I have the flu, which isn't helpful. But you know what, you gotta toughen up and ride through it. I thought about scratching for a minute and then thought, 'No. What if this happened at the World Equestrian Games? You'd just have to get over it.' So that's what we did. She helped me out a lot," Katherine acknowledged. 
Second place finisher Layne was also feeling under the weather during Thursday's competition, although she was still quite pleased with Udon P's performance.
"He was so focused on me in the test. There is always room for improvement, but there really is the feeling that he's becoming a combination with me. This was our seventh grand prix; we've done three international. He really trusts me in the ring. I just have to keep asking the right questions," Layne detailed.
The biggest milestone for the pair was their full completion of the required piaffe steps for the test. "I really was happy with my piaffes. They were on the spot. I could make all 15 steps. This was a very big step for us. The feeling was good, and I was happy," Layne remarked.
Layne, who trains out of the Palm Beach Equine Sports Complex across the street from The Stadium, was especially appreciative of her entire team's hard work at in getting her and Udon P to the big tour. "So many things have to come together to make this work. That's the hard part. I had to pull out of the CDI two weeks ago because I had a bell boot rub. You just keep focusing forward and I have a great team behind me; I have really supportive people. It makes it really cool," Layne commented.
Layne is happy to have reached the grand prix, but is ever-eager to continue to improve. "I think our results have shown that each time our score is going up a little bit by little bit. Next time I hope we crack 70%! I would like to get into that club," Kelly concluded.
 
-- press release edited by Eurodressage
Photos © Sue Stickle
Related Links
Scores 2014 CDI Wellington