American Dressage News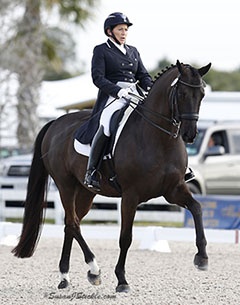 Patricia Stempel's picturesque Roundabout Farm was the site of the formulation of a sponsorship agreement between Walsh Company President/CEO Paul M. Treiber, joined by Sales/Marketing specialist Lindsey Weber and U.S. Grand Prix rider Shelly Francis.
As a veteran Walsh product user, Shelly expressed her appreciation for the support of the Walsh Company. The Walsh product line, all of which are made in the USA, has a tradition of 100 years of fine craftsmanship behind them. The Walsh product line not only looks good but also will hold up to the rigors of riding and stand up to the harsh elements associated with horse training in Florida.
"The entire team at Walsh is excited about our new relationship with Shelly Francis. We welcome the ability to sponsor athletes who embody the same characteristics we put into our products; Quality and Winning Performance. There is no doubt these words go hand in hand with Shelly and Roundabout Farm," said Walsh company president Paul Treiber.
"Shelly is an amazing athlete who is truly an inspiration. The opportunity to visit her at the farm solidified my impression that she is a remarkable horsewoman. This is not only exciting for Walsh, but also me personally. I believe Walsh produces the finest Equestrian products in the industry, and I also believe Shelly is a true champion in Dressage," sales/marketing specialist Lindsey Weber added.
Shelly currently rides and trains at Roundabout Farm owned by Patricia Stempel, in Loxahatchee, Florida. Her equestrian background and accomplishments span more than 25 years. In 1995 Shelly earned a USET grant to train and compete in Europe at the Grand Prix level. In 1996 she achieved the status of second alternate for the US Dressage team competing in the Olympics in Atlanta, Georgia.  In 1998 Shelly was a member of the US Dressage team competing at the WEG in Rome, Italy.  Between 1991 and 2014 Shelly has achieved top rankings in the US Festival of Champions,with horses she trained, in the Big and/or Small tours.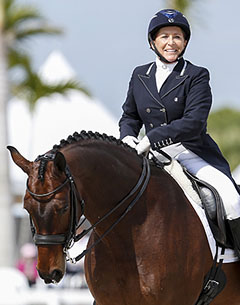 Shelly continues to partner with Patricia Stempel, as she has for the past 10 years. Their combination has a proven history of success. Another winning combination that Shelly has had for the past 25 years is with Michael Ripploh. Michael has been instrumental in locating horses of the finest quality including Doktor (by Diamond Hit) and Danilo (by De Niro).
In 2013, as a result of her success during the Florida Winter Dressage circuit, riding Doktor at first season of Big Tour and Danilo in Small Tour, Shelly was chosen to be a member of the US Dressage team for Aachen, Germany and Hickstead, England. In 2014, she will continue to compete Doktor and Danilo in the Grand Prix. Additionally, on the horizon, Shelly and Patricia have two more Roundabout Farm horses set to make their debut.
Based on past success and good fortune, Shelly is eager to accept the opportunity and challenge of representing the USA at the 2014 World Equestrian Games.  Currently, Shelly trains with Robert Dover. Past clinics and training opportunities have included greats such as Johann Hinnemann, Harry Boldt and Klaus Blakenhol.
Shelly thanks Walsh Company for their sponsorship. Also, veterinarians Dr Robert Boswell and Dr Geoffrey Tucker, farrier James Burrell, equine masseur Jean-Pierre Hourdebaigt and Cherri Reiber for her longlining expertise.
Shelly is sponsored by Walsh products through their contact person Roseann Richardson.
Photos © Sue Stickle
Related Links
Eurodressage Photo Database: Shelly Francis
High Performance Riders Participate in 2014's First USEF Dressage Observation & Strategic Planning Session
Riders Chosen for Third Annual Dressage Horsemastership Week Led by Robert Dover
Eight USEF Developing Dressage Program Participants Awarded Training Grants
2013 U.S. Dressage Festival of Champions Ready to Begin