2014 Preis der Besten Qualifier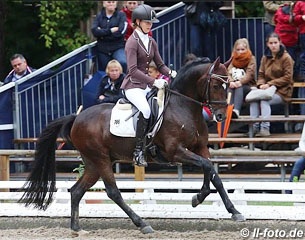 For German FEI pony riders to compete in the 2014 Preis der Besten in May, they need to go through a laborious selection process of qualifiers-for-qualifiers, seminars, and qualifiers. Firstly they need to compete in a selection show to get noticed and invited to the "qualification seminar", where the regional team trainers trains the candidate pairs and makes a selection of riders that can contest in one of two qualifiers for the Preis der Besten. Last weekend, the Weser Ems based pony riders got the opportunity to qualify for the PDB selection seminar in Verden on 18 - 19 January 2014 and Maike Mende twice rode herself to top of the leaderboard.
The Preis der Besten is an inofficial German youth riders championship, held in Warendorf in May. While no national title is to be won except for the prestige of winning this event, the Preis der Besten is a very important German team selection trial for the upcoming European Championships. At the Verden PDB qualifier the northern based team listed riders as well as five extra riders from the Hanoverian riding society were eligible to compete.
One clear winner came to the fore and that was Maike Mende on Nobel Nagano (by Nagano x Nobel). The 2013 Bundeschampionate reserve champions in the 6-year old division, Mende and the now 7-year old Nobel Nagano won both L-level tests with 69.750% and 72.350%.
The runner-up in the first test was Jacob Schenk on the former 2011 European Pony Champion Cinderella (by Constantin x Donnerhall), who finally seems to be making a solid return to the show ring after a period of injury. Schenk and Cinderella scored 69.542% to finish second in the first test. The pair did not compete in the second test.  Luna Laabs and Dow Jones were the runners-up in test two with 70.470%.
Results - 2014 Preis der Besten Qualifier - Verden
L-test 1 (top 10 only)
1. Maike Mende - Nobel Nagano - 69.750
2. Jacob Schenk - Cinderella W - 69.542
3. Ninya Wingender - Nickelback - 67.958
4. Vivian Lou Petermeier - Designer - 66.625
5. Nadine Falke - Carlchen P - 66.500
6. Vivien Lou Petermeier - Don Dai Quiri - 66.458
7. Celina Schluter - Bocelli  - 66.417
8. Louisa Marie Engelke - Grenzhoehes Ivory - 66.125
9. Luna Laabs - Dow Jones - 65.458
10. Helen Wempe - Syriana - 65.375
L-test 1 (top 10 only)
1. Maike Mende - Nobel Nagano - 72.350
2. Luna Laabs - Dow Jones - 70.470
3. Louisa Marie Engelke - Grenzhoehes Ivory - 68.889
4. Ninya Wingender - Nickelback - 68.419
5. Liselott Marie Linsenhoff - Massimiliano - 68.034
6. Nane Grunwald - Hemingway B - 65.726
7. Marlen Schramm - Popcorn - 65.513
8. Celina Schluter - Bocelli - 65.385
9. Nane Grunwald - Der Clou B - 64.957
9. Katharina Ottenwess - Mondsilber - 64.957
Photo © LL-foto
Related Links
Photo Report: Rothenberger, Von Danwitz, Niemann Win 2013 Preis der Besten Title
Rothenberger, von Danwitz, Piotrowski Win 2013 Kronberg Preis der Besten Qualifier
Pony Riders Selected for 2013 Preis der Besten Qualifiers