Luxembourg Dressage News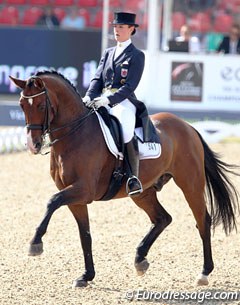 Luxembourg Grand Prix riders Veronique Henschen, Diana Erpelding and Isabelle Costantini have been submitted to the Elite Team of the Luxembourg Olympic Sports Committee (COSL). Their names were released at a press conference on 23 January 2014.
Henschen and Erpelding are newcomers to the team, Costantini was already a member. In 2012 Gastion Chelius was a member but he has been dropped from the list.
COSL gathers approximately 75 athletes across all Olympic discplines into two teams, the elite and promotion team. COSL supports these athletes with additional help for medical assistance, training and competition.
COSL provides almost 10,000 euro financial support to the three dressage riders, which they can spend on training, competition and physiotherapie. The athletes are also ofered free fitness and massage.
"I will take advantage of the massage and physiotherapy," COSL Elite team rider Veronique Henschen told Eurodressage. "It really has a big impact on my riding. I will also use the money for the travels to the CDI's in Europe which cosst a lot, and of course for a lot of training with my coach Pertin Pötter."
Photo © Astrid Appels
Related Links
Gaston Chelius Submitted to Luxembourg's COSL High Performance Elite Team
French, Swiss, Luxembourg Team Selected for 2013 European Dressage Championships